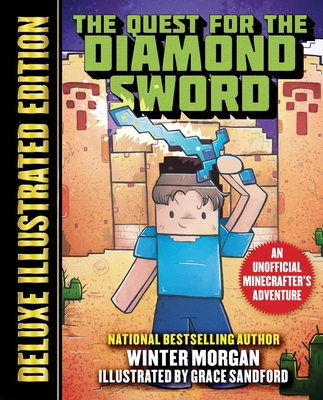 The Quest for the Diamond Sword (Deluxe Illustrated Edition)
An Unofficial Minecrafters Adventure (An Unofficial Gamer's Adventure)
Hardcover

* Individual store prices may vary.
Description
A brand-new illustrated edition of the bestselling adventure novel by author Winter Morgan with 75 full-color illustrations. Perfect for every boy and girl who loves Minecraft!

Steve lives on a wheat farm. He has everything he needs to live in the Minecraft world: a bed, a house, and food. Steve likes to spend his mornings in the NPC village and trade his wheat for emeralds, armor, books, swords, and food. One morning, he finds that Zombies have attacked the villagers. The Zombies have also turned the village blacksmith into a Zombie, leaving Steve without a place to get swords. To protect himself and the few villagers that remain, Steve goes on a quest to mine for forty diamonds, which are the most powerful mineral in the Overworld. He wants to craft these diamonds into a diamond sword to shield him and the villagers from the Zombies.

Far from his home, with night about to set in, Steve fears for his life. Nighttime is when users are most vulnerable in Minecraft. As he looks for shelter in a temple, he meets a trio of treasure hunters, Max, Lucy, and Henry, who are trying to unearth the treasure under the temple. Steve tells them of his master plan to mine for the most powerful mineral in the Overworld—the diamond. The treasure hunters are eager to join him. Facing treacherous mining conditions, a thunderstorm, and attacks from hostile mobs, these four friends' question if it's better to be a single player than a multiplayer, as they try to watch out for each other and chase Steve's dream at the same time.

Will Steve find the diamonds? Will his friends help or hinder the search? Should he trust his new treasure hunter friends? And will Steve get back in time to save the villagers?
Sky Pony, 9781510759749, 128pp.
Publication Date: November 24, 2020
About the Author
Winter Morgan is the author of numerous children's books including national bestseller The Quest for the Diamond Sword, the bestselling unofficial novel for Minecrafters published by Sky Pony Press. She is the author of five other series for Minecraft fans: an Unofficial Gamer's Adventure, the Unofficial League of Griefers Adventure, the Lost Minecraft Journals, the Unofficial Minecrafters Academy Series, and the Unofficial Minetrapped Adventure. Morgan has a video game-addicted son, who inspires her. She lives in Brooklyn, New York.

Grace Sandford is an illustrator and designer whose clients include Palmer Hargreaves, Stew magazine, Green Android Ltd., and Paper and Apparel. Her books include the two previous books in the Secrets of an Overworld Survivor series; Tough Cookie, written by Kate Louise; and The Egg, which she both wrote and illustrated. She currently resides in Norwich, England.