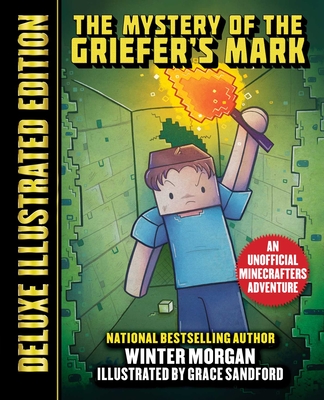 The Mystery of the Griefer's Mark (Deluxe Illustrated Edition)
An Unofficial Minecrafters Adventure (An Unofficial Gamer's Adventure)
Hardcover

* Individual store prices may vary.
Description
A brand-new illustrated edition of the bestselling novel by author Winter Morgan with 75 full-color illustrations! Perfect for every boy and girl who loves Minecraft and adventure!

Steve is back and ready for more adventures! But this time the excitement lands closer to home. While walking home from the village, Steve is surprised to hear a loud BOOM! When he returns home, he finds his wheat farm destroyed and a huge crater where the wheat once grew. And his diamond sword is missing! Steve believes it's the act of a griefer with a lot of TNT. Devastated, Steve wants to rebuild and find his sword, but with his wheat destroyed, he must call on old friends to help him.

All together again, Lucy, Max, and Henry tell harrowing stories of their treasure hunts and conquests, and Steve discusses his strategy for rebuilding. They all go to sleep, excited to begin their plans; but when they wake up, Henry is missing! Looking for Henry in the village, two of Steve's neighbors, Kyra and Adam, have been targeted as well: Kyra's barn was flooded with lava, and Adam's friend Thomas is missing too!

Who is the griefer terrorizing Steve and the villagers? And how will Steve find the resources to rebuild his prosperous farm? With suspicion circulating and no answers to be found, Steve finds himself wrongly suspected of these crimes—and so he must discover who the mischievous griefer is before something even worse happens.
 
Sky Pony, 9781510759756, 128pp.
Publication Date: January 5, 2021
About the Author
Winter Morgan is the author of numerous children's books including national bestseller The Quest for the Diamond Sword, the bestselling unofficial novel for Minecrafters published by Sky Pony Press. She is the author of five other series for Minecraft fans: an Unofficial Gamer's Adventure, the Unofficial League of Griefers Adventure, the Lost Minecraft Journals, the Unofficial Minecrafters Academy Series, and the Unofficial Minetrapped Adventure. Morgan has a video game-addicted son, who inspires her. She lives in Brooklyn, New York.

Grace Sandford is an illustrator and designer whose clients include Palmer Hargreaves, Stew magazine, Green Android Ltd., and Paper and Apparel. Her books include the two previous books in the Secrets of an Overworld Survivor series; Tough Cookie, written by Kate Louise; and The Egg, which she both wrote and illustrated. She currently resides in Norwich, England.