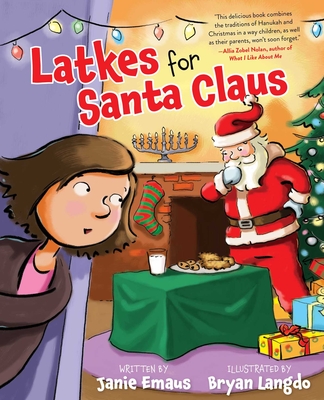 Latkes for Santa Claus
Hardcover

* Individual store prices may vary.
Description
//*// Finalist for the 2022 International Book Awards in Children's Picture Book and Children's Religious categories \\*\\

To: Santa
From: Anna

My new dad and stepbrother celebrate Christmas, so you're coming to my house for the very first time. And I think you must be REALLY tired of cookies. I'm going to leave you the best Santa treat ever.

Anna is excited that Santa will be visiting her house for the first time, and she wants to leave Santa a treat that blends the holidays her new family celebrates: Christmas and Hanukkah.

She expresses this idea to her stepbrother, Michael, who insists that Santa doesn't need anything but his sugar cookies. Anna imagines Santa has to be bored with cookies by now and is determined to find a Jewish recipe that he'll enjoy. The catch? It has to be something easy for Santa to grab and go.

It can't be matzo ball soup—soup in a sleigh with galloping reindeer will never do.

It can't be noodle kugel—imagine that by the handful. What a mess!

And as certain as Anna is that Santa would devour tzimmes, she knows he just doesn't have the time to sit and enjoy a hearty stew on Christmas Eve.

Anna retreats to her thinking corner to figure out the perfect finger food for Santa, not wanting to disappoint him on his very first visit to her house.

In this humorous and endearing picture book, blending both Christmas and Hannukah, a little girl and her stepbrother compete to leave Santa the best treats ever.

Latkes for Santa Claus concludes with Anna and Michael's winning recipes, ready for children to replicate for Santa in their own kitchens.
Praise For Latkes for Santa Claus…
"This charming story has all the ingredients of a sweet and tender perennial holiday classic. With whimsical rhymes, kid-friendly text, and illustrations guaranteed to appeal to little ones, this delicious book combines the traditions of Hanukah and Christmas in a way children, as well as their parents, won't soon forget. What's more, the latkes and sugar cookie recipes are the icing on the cake. I have twelve nieces and nephews, who will, for sure, find this yummy book among their holiday gifts." —Allia Zobel Nolan, author of What I Like About Me: A Book About Acceptance and Cat Confessions: A Kitty Come Clean Tell All Book
"Latkes for Santa Claus is a joyful, engaging read perfect for culturally blended families and delightful for all readers. The playful rhymes will keep kids giggling, and the delicious recipes especially add a wonderful touch for anyone who might want to leave a treat for Santa."  —Jess Rinker, author of Gloria Takes a Stand and Send a Girl

"Ideal for blended families, but definitely delightful for anyone to read, Laktes for Santa Claus is a clever Hanukkah meets Christmas spin on leaving cookies out for Santa on Christmas Eve. Even if it's not Chrismukkah (when Christmas and Hanukkah overlap), this picture book still shows a way for Jewish children living with a non-Jewish step-sibling and/or step-parent how fun it is to share a bit of their Jewish holiday traditions during Christmastime. . . . I enjoyed every page of this charming new picture book because it showed how there is not only room for compromise in every family, but how easily a new tradition can be created bringing everyone closer." —Good Reads with Ronna
Sky Pony, 9781510759886, 40pp.
Publication Date: October 13, 2020
About the Author
Janie Emaus is the author of the young adult novel Mercury in Retro Love, and her articles and stories have been published in numerous magazines and websites including The Los Angeles Times' Reading Room Page, The Washington Post, The Huffington Post, Purple Clover, In the Powder Room, Scary Mommy, Country Living, Good Housekeeping, Woman's Day, Fineline, NextTribe, and The Sunlight Press. She resides in Winnetka, California.

Bryan Langdo has illustrated more than twenty-five books, including Animal Planet's Zoo Camp Puzzle, Farm Friends Escape, Dolphin Rescue, and Puppy Rescue Riddle. He resides in Titusville, New Jersey.