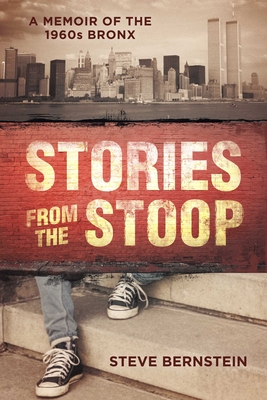 Stories from the Stoop
A Memoir of the 1960s Bronx
Hardcover

* Individual store prices may vary.
Description
The Outsiders meets This Boy's Life, in this coming-of-age memoir about growing up in the Bronx during the 1960s among racial tension, street violence, and trouble at home.
Growing up in the 1960s in a troubled Bronx neighborhood, the stoop outside the apartment was a gathering place, a safe haven, and a window to the world beyond home. This small piece of granite real estate holds memories for all New Yorkers and tells a story from decades gone. Within these pages, you'll see life from a new perspective—through the eyes of a young boy— straight from his Bronx stoop.
Stories from the Stoop
features seven unforgettable true-life adventures; stories told with humor, grit, and candor that will fill you with hope and remind you that we are all in this together. The author asks himself: 
How can I overcome the violence on the streets?
Will I ever break the chains of being born into my cursed and chaotic family?
Am I always going to be an outsider?
It was Steve Bernstein's fortuitous and profound friendships—many of which crossed boundaries of race, gender, and religion—that enabled him to navigate these tumultuous questions and develop a hopeful perspective on life.
Without his dog, Wolf, Steve would not have survived the wrath of a street gang. On the day Martin Luther King, Jr. was killed, it was Anthony who recognized how dangerous it was for Steve (the only white kid on the basketball court that April evening) to be out shooting hoops. An epic bike trip with Joe breathed life into Steve's dream to be free, a lifelong friendship that only 9/11 could extinguish.
Stories from the Stoop
is a triumphant and tender coming of age journey that will capture your heart and feed your soul. Steve's voice, spare and street smart, resonates across age and ethnicity, to offer the possibility that life circumstances need not predict destiny. All you have to do is find enough courage, compassion and chutzpah to win out.
Praise For Stories from the Stoop: A Memoir of the 1960s Bronx…
"These stories will captivate you, you will feel like Steve is sitting across from you sharing his life with you. Buy this book for all your avid readers in your life, they will love it!"
--Diane Carroll Amazon Verified Reviewer

"This book was magnificent. I ran the gamut of great sadness,calmness. warmness,and happiness.congratulations Steve Bernstein."
--Ralph Levine Amazon Verified Reviewer

"Steve Bernstein takes us through his life with a series of stories from childhood through current day. He tells of childhood bravado, insecurity, adventure, love gained, love lost and eternal friendship. Well worth the read and opportunity to examine the things that have made the biggest difference in his and perhaps our own lives."
--Bookworm1808 Amazon Verified Reviewer

"These stories brought me to tears as well as laughter."
--Tellmelfel Amazon Verified Reviewer

"I very much enjoyed reading about Steve's amazing life. I would recommend this to anyone who blames there past for behavior.
--Amazon Verified Reviewer
Skyhorse, 9781510759961, 220pp.
Publication Date: August 30, 2022
About the Author
Most authors don't have a master plumbers license and a master's degree. Steve Bernstein has both. As a kid, he survived the turbulent Bronx streets of the 1960's and chaos at home. Since his early twenties, Steve has been a mentor, teacher, and advocate for teens in trouble. Steve is also a humane educator and animal rights activist who shares his home in Western Massachusetts with Dodger and Jonnie, his non-human family.