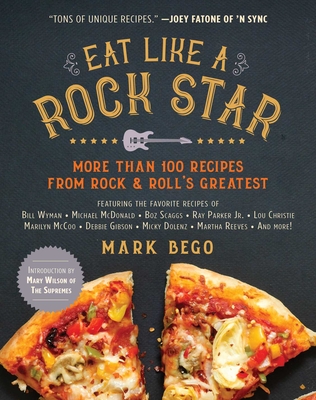 Eat Like a Rock Star
More Than 100 Recipes from Rock & Roll's Greatest
Paperback

* Individual store prices may vary.
Other Editions of This Title:
Hardcover (10/17/2017)
Description
You may not be a rock star in real life, but now you can cook and eat and drink like one!

Who knew that Bill Wyman (The Rolling Stones) makes an amazing Lamb Chops with Endive and Blue Cheese Salad, that Michael McDonald (The Doobie Brothers) loves Pasta with Ham and Parmesan Cheese, or that Boz Scaggs eats Tuscan Grilled Chicken?

With more than a hundred recipes from seven decades of rock 'n' roll, pop, country, RnB, and disco, Mark Bego, along with Mary Wilson of The Supremes, gathers beloved recipes from legendary rocker friends and invites the ultimate music fan to put on an apron and join them at the table. Featuring each rock star's biography, their favorite recipe, and other fun facts, Eat Like a Rock Star is a must-have for every die-hard rocker-at-heart who loves to eat.

There is nowhere else you will find Ray Parker Jr.'s Salmon and Eggs, Joey Fatone's (NSYNC) Rice Balls, Micky Dolenz's (The Monkees) Micky 'D' Cocktail, and Angela Bowie's (David Bowie's ex-wife's) Rosti Hash Brown Potatoes all in one book. Whether it's brunch, lunch, dinner, or desert, learn to cook:

• Michelle Phillips's (The Mamas & The Papas) Organic Lemon Chicken
• Lou Christie's Linguine with Fresh Tomatoes
• Marilyn McCoo's (The 5th Dimension) Leg of Lamb
• Glen Campbell's Favorite Mexican Chicken Casserole
• Sarah Dash's (Patti LaBelle and the Bluebelles) Peach Cobbler, and more!

With a section on head-spinning cocktails, full menu suggestions, as well as author Mark Bego's own culinary concoctions such as Spicy Szechuan Sesame Noodles and Boozy Banana Cream Pie, look no further for the all-in-one cooking and rock 'n' roll companion. As Martha Reeves says about her Smoked Turkey Necks & Lima Beans, "Honey, this is real soul food!"
Praise For Eat Like a Rock Star: More Than 100 Recipes from Rock & Roll's Greatest…
"Eat Like a Rock Star is a great way to highlight different genres of music and connect them with different types of food! . . .Tons of unique recipes."
—Joey Fatone of 'N Sync
"Mark's dining is always a treat. A cookbook of his rock & roll friends and international recipes spun from his travels make a wondrous contribution to a palate of the pantry. Viva Chef Bego!"
—Angela Bowie

"I love that my friend Mark Bego has published a cookbook that includes recipes from some of my favorite stars! He even asked me for a couple. I can't wait to get cookin'! I love it, and you will, too."
—Tanya Tucker

"Wow! What a wonderful, wonderful project. The photos just jump off the pages at you and make you want to run into the kitchen and start cooking. Eat Like a Rock Star gave me a warm feeling!"
—Thelma Houston

"Mark Bego has outdone himself once again, with this stellar collection of rock star recipes. After I got him to taste my Caprese Bruschetta with my manly Minestrone, followed by a couple of my signature Hollywood Cocktails, he is now convinced that although I may live in a cowboy hat and boots with chaps, I definitely left the old 'chuck wagon grub' far behind years ago. Kudos, Bego. Cook it up and rock on! Let's eat!"
—Randy Jones, the original Cowboy of the Village People

"Eat Like a Rock Star [is] the perfect project. Cornering his high profile friends to dish out and share their beloved favorites and recipes, Bego dove in to play cook, photographer, writer, and taste tester. . . . Thanks to Bego, even if you can't sing like a rock star, you sure can eat like one."
—Parade magazine
Skyhorse, 9781510760004, 296pp.
Publication Date: November 24, 2020
About the Author
Mark Bego is a New York Times best-selling author of sixty-two books on rock 'n' roll, country music, and show business. Heralded in Publisher's Weekly as "The Prince of Pop Music Bios," his biographies have covered Aretha Franklin, Whitney Houston, Michael Jackson, and Billy Joel, with 11 million copies of his books in print. Bego lives in Tucson, Arizona.