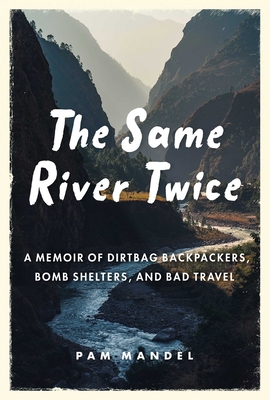 The Same River Twice
A Memoir of Dirtbag Backpackers, Bomb Shelters, and Bad Travel
Hardcover

* Individual store prices may vary.
Other Editions of This Title:
Digital Audiobook (4/26/2021)
MP3 CD (4/27/2021)
Description
Acclaimed travel writer Pam Mandel's thrilling account of a life-defining journey from the California suburbs to Israel to the Himalayan peaks and back.

Given the choice, Pam Mandel would say no and stay home. It was getting her nowhere, so she decided to say yes. Yes to hard work and hitch-hiking, to mean boyfriends and dirty travel, to unfolding the map and walking to its edges. Yes to unknown countries, night shifts, language lessons, bad decisions, to anything to make her feel real, visible, alive.

A product of beige California suburbs, Mandel was overlooked and unexceptional. When her father ships her off on a youth group tour of Israel, he inadvertently catapults his seventeen-year-old daughter into a world of angry European backpackers, seize-the-day Israelis, and the fall out of cold war-era politics. Border violence hadn't been on the birthright tour agenda. But then neither had domestic violence, going broke, getting wasted, getting sick, or getting lost.

With no guidance and no particular plan, utterly unprepared for what lies ahead, Mandel says yes to everything and everyone, embarking on an adventure across three continents and thousands of miles, from a cold water London flat to rural Pakistan, from the Nile River Delta to the snowy peaks of Ladakh and finally, back home to California, determined to shape a life that is truly hers.
An extraordinary memoir of going away and growing up, The Same River Twice follows Mandel's tangled journey and shows how travel teaches and changes us, even while it helps us become exactly who we have been all along. 
 
Praise For The Same River Twice: A Memoir of Dirtbag Backpackers, Bomb Shelters, and Bad Travel…
"Messy but provocative, Mandel's chaotic coming-of-age story is emotionally hard to read, but also hard to put down."—Publisher's Weekly

"Mandel is adept at describing her surroundings, really putting readers right there with her. She also excels at capturing teenage turmoil and the feeling of being a secondary character in your own story. Memoir and travelogue readers will devour this."—Booklist

"This is not your usual travel memoir, but a narrative of a teen on a lonely and sometimes brutal journey to discover herself. . . . Her voice is compelling, authentic, and heartbreaking at times. . . . Young adults and college students who are considering a gap year will be interested in this cautionary coming-of-age story."—Library Journal

"The Same River Twice may be set in a time before Google Maps, but the experiences Pam Mandel generously shares are timeless. By turns wondrous and harrowing, her story of travel without a safety net perfectly captures the experience of finding your way into adulthood, halfway around the globe. Mandel has managed to remind me of both the poignant uncertainty of my not-quite-adult years and the great thrill of discovering that the world is a beautiful, welcoming place. The Same River Twice is a generous lesson for any traveler."—Zora O'Neill, author of All Strangers Are Kin: Adventures in Arabic and the Arab World

"Pam Mandel's remarkable memoir is a love letter to travel, to youth, and to a certain kind of beautiful aimlessness. It's about getting lost and finding your way. Most of all, it reminds us of how thrilling, perilous, and important it is to be a traveler, to go off on that journey and discover our place in the world. The Same River Twice is an extraordinary and poignant work of travel writing."—Jason Wilson, series editor The Best American Travel Writing, author of Godforsaken Grapes

"A vivid, raw, and lyrical book that cuts deep from the very start, and reminds you that there are no shortcuts to healing. If you were skeptical of fairy tales as a kid, the moral of this gritty story will resonate: that sometimes, the only person coming to save you is yourself."—Geraldine DeRuiter, author of All Over the Place

"In The Same River Twice, Mandel beautifully conveys how we can be both free and trapped, liberated and lost. This book snuck up on me. Yes, it's a travel memoir, full of vivid details of faraway lands. But at some point I realized Mandel was also writing her way through one of adulthood's key lessons—forgiving ourselves for missteps and mistakes. She writes with empathy and resilience about the path to adulthood, which is often meandering and messy, but always full of adventure."—Rachel Friedman, author of The Good Girl's Guide to Getting Lost
 
Skyhorse, 9781510760059, 240pp.
Publication Date: November 3, 2020
About the Author
Pam Mandel launched her career as a travel writer with a blog; Nerd's Eye View. She's since had her stories published by AFAR, Lonely Planet, AAA, Seattle Met, Sunset, and across the web. She's been to all seven continents and is as surprised by that as anyone. She lives in Seattle, Washington, with a rescue dog named Harley and too many ukuleles.