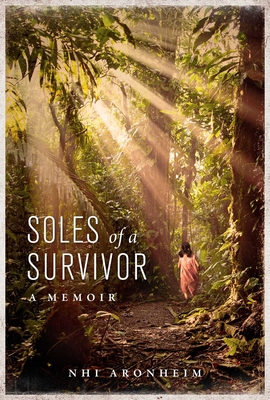 Soles of a Survivor
A Memoir
Hardcover

* Individual store prices may vary.
Description
The Unbelievable True Story of a Vietnamese Refugee Who Not Only Made the United States Her Home, But Learned the True Value of Hope, Love, and Religion Along the Way

The soles of Nhi Aronheim's feet still bear the scars of her escape from Vietnam—trudging through the jungles of Cambodia as a twelve-year-old with a group of strangers seeking the land of opportunity: America. Her quest for survival through the Cambodian jungle eventually led her to a boat that took her to Thailand and an orphanage where Nhi lived for two years until she qualified for refugee status in the United States. Years later, she returned to Vietnam with a film producer to reunite with the family she never thought she'd see again. A second trip to Vietnam brought her two mothers, birth and adopted, face to face.

Yet Soles of a Survivor isn't just another inspirational survival story. It's about the lessons Nhi learned about humanity, diversity, and unconditional love since arriving in the United States. She now has a deeper appreciation for the parallels between the Jewish and Vietnamese cultures, and others. After she met her Jewish beau, they got married. She eventually converted to Judaism, though the process was challenging for an Asian woman adopted into a Christian household. Her story shows it matters less what religion we're part of, as long as we radiate goodness to those we meet.

Now she relishes being a Vietnamese Jew.

Having come full circle from prosperity to poverty and back, Nhi hopes to encourage others to believe that in spite of overwhelming odds, all things are possible if one has an intense desire, focused energy, and the audacity to grasp presented opportunities.
Praise For Soles of a Survivor: A Memoir…
"From one corner of the world to another, the global community is experiencing the worst refugee crisis in history. For too many of us, the reality refugees face seems far away and hard to imagine. That's one reason Nhi Aronheim's compelling new book is so helpful right now. By sharing her own story, she makes the refugee crisis real, personal, and understandable for the rest of us. Her resilience and path to a new life should give us hope that the same path is possible for others. We need Nhi's message now, because millions of refugees need our help now more than ever."
—Michael J. Nyenhuis, president and CEO, UNICEF USA
 
 "Nhi Aronheim has lived many lives: the privileged daughter of a physician in Vietnam, frightened child who escapes bare­foot through the jungles of Cambodia, refugee in Thailand with only two pieces of clothing to her name, adopted daugh­ter of an American family in the South, and now wife, mother, and writer. In Soles of a Survivor, she writes beautifully about war and its aftermath, adversities and misfortunes to be over­come, the vicissitudes of religion and fate, and, ultimately, resil­ience, endurance, and gratitude. Her life and her words are an inspiration."
—Lisa See, New York Times bestselling author of Snow Flower and the Secret Fan, The Tea Girl of Hummingbird Lane, Peony in Love, Shanghai Girls, Dreams of Joy, and China Dolls
 
"Using candid and courageous language, Nhi Aronheim weaves a tale of perseverance and fortitude against the backdrop of a country torn apart by war and a mother's desire to seek the best for her children. Part coming of age, part personal and family saga, Soles of a Survivor tells the story of a resilient, exceptional girl growing up, growing away, and becoming the woman she was destined to be."
—Cynthia Swanson, New York Times bestselling author of The Bookseller and The Glass Forest
 
"Soles of a Survivor is a story of awe-inspiring bravery, grit and love. Nhi Aronheim has navigated worlds within worlds—from the jungles of Cambodia to the suburbs of Kentucky and more—and she brings each one to life with cinematic clarity. Soles of a Survivor is an astounding book, one I will never forget."
—Domenica Ruta, New York Times bestselling author ofWith or Without You and Last Day
 
"It's said that refugees lead three lives: their life before being driven from their home; their life on the move, seeking refuge; and, if they survive, a new life adapting to a foreign land. Nhi Aronheim lives all those lives and more in this memoir of per­sistence, hope, and healing."
—Alan Gratz, New York Times bestselling author of Refugee
 
"Aronheim's indomitable spirit and determination to survive what many cannot bear to even imagine is truly extraordi­nary. Her astounding survival, astonishing grace, and radi­ant gratitude are a triumph of the human spirit and tribute to the incredible strength of this extraordinary woman. Her message of strength and positivity is needed now more than ever. We must never forget the horrors that humans can exact on each other so as to learn from the past and do better in the future. Aronheim's courageous tell-all is a vital first-person preservation of a part of history that is too-often overlooked, and a powerful reminder of the vital and wonderful part that immigrants play in American life. Soles of a Survivor is a must-read for memoir-lovers, survival-lovers, and those who believe in the power of women's voices, and women's stories."
—Sara DiVello, author of Where in the OM Am I?

"Nhi Aronheim's Soles of a Survivor is a powerful, uplifting memoir. The story traces the harrowing journey of a young girl from her life as a political refugee on the run to the pinnacle of the American Dream. The book is a beacon of light for dark and trying times."
—Tiffany Reisz, USA Today bestselling author
 
"Nhi Aronheim overcame almost unimaginable odds escaping her homeland as a twelve-year-old in 1987. This inspiring story of her harrowing escape through the jungles of Cambodia, sur­viving the squalid refugee camps in Thailand, and then thriving in the United States is a valuable addition to the expanding literature of the post-American war Vietnamese diaspora."
—Marc Leepson, arts editor and columnist,The VVA Veteran magazine
 
"Every spring, as the world itself reveals the possibility of renewal, the Jewish People gather around their Passover tables and retell the story of a miraculous journey from degradation to liberation. Our Haggadah is the guide for this annual tell­ing. In her riveting narrative, Soles of a Survivor, Nhi Aronheim has penned a version of her own Haggadah detailing a stun­ning and unlikely path from the war-torn streets and jungles of Vietnam to a new life in America. As her story unfolds we learn of good people she encountered whose kindness and goodness ultimately love her into a sturdy belief in herself, even when merging the two worlds of her personal history proves complicated. Nhi's is a story of redemption pulled from her most intimate memories. It is at once a personal and universal journal in which we learn how the author ultimately finds a home for her heart with her beloved, and a home for her soul within the Jewish community, a community she makes stronger and kinder. In its pages, the reader cannot help but feel that renewal is ever a possibility."
—Rabbi B. Elka Abrahamson, president, The Wexner Foundation
 
"Nhi has shown all of the characteristics that define her life—toughness, resilience, compassion, and hope. Those traits come through in this record of an extraordinary young woman's con­tinuing journey. Vietnam and the United States will be linked in many ways for generations to come—most powerfully in the lives of people like Nhi. Soles of a Survivor is an important addi­tion to our continuing exploration of that relationship. Even more, it is a story that should inspire us all."
—Clarence R. Wyatt, author of Paper Soldiers: The American Press and the Vietnam War and president, Monmouth College
 
"High talent alongside high energy and strong values are a tough combination to beat …. amazing and inspiring story."
—Dr. John Roush, president emeritus, Centre College
Skyhorse, 9781510760288, 344pp.
Publication Date: May 25, 2021
About the Author
Nhi Aronheim stands at only four feet, nine inches tall, but her story is immense. Several anthologies, including Kentucky Women: Two Centuries of Indomitable Spirit and Vision, and a documentary aired on PBS, Vietnam 101, have profiled her harrowing journey as a child refugee who escaped war-torn Vietnam in search of the American dream. Nhi worked for four years as a telecommunications consultant, during which time she met and married a Jewish man and converted to Judaism in 2004. Nhi has two beautiful children who she has raised to embrace Vietnamese and Jewish cultures. After transitioning to sales and marketing in the mortgage industry—where Nhi worked for over sixteen years—she retired from the mortgage industry as a marketing specialist at the age of forty-one to have opportunities to pay it forward. Next to her family, Nhi's passion is to make a positive difference in people's lives. She volunteers as a mediator for courts and the Better Business Bureau in Colorado, in addition to being an interpreter. Wanting to improve her public speaking skill, Nhi has been an active member of Toastmasters for over five years where she has held positions as President, V.P. of Public Relations and V.P. of Education for her chapter. Visit her at her website: www.NhiAronheim.com.