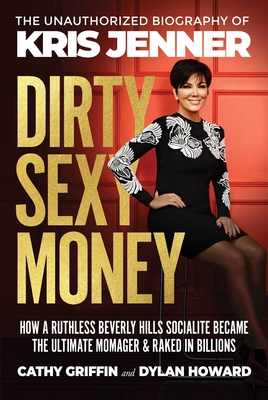 Dirty Sexy Money (Hardcover)
The Unauthorized Biography of Kris Jenner
Skyhorse, 9781510761995, 312pp.
Publication Date: September 1, 2020
* Individual store prices may vary.
Description
A True Story of Ambition, Wealth, Betrayal and how a Ruthless Beverly Hills Socialite Became the Ultimate Momager and Raked In Billions

Dirty Sexy Money: The Unauthorized Biography of Kris Jenner is the definitive account of how a Beverly Hills socialite with little formal education built herself a global empire.
 
This tell-all tome unravels the family's meteoric rise to fame and the dark secrets they've struggled to hide . . . until now. Together, Howard and Griffin delve behind the headlines and social media hype to tell the true story of Kris's life—rather than the rosy picture she likes to paint.
 
Dirty Sexy Money is an unflinching look at Kris's triumphs and losses, her crises and celebrations, her famous friendships and family conflicts. It examines in unprecedented detail Kris's troubled two decades with Bruce Jenner and the end of their marriage as Bruce transitioned to Caitlyn; it exposes the truth about her current affair with a much younger man . . . and it reveals what she really thinks of her daughter's very public marriage to Kanye West.
 
Inside are a wealth of previously untold stories, including intimate details of how Kim's sex tape jump-started her career, of the real reasons Kris sold her long-running television reality series—as well as shocking, never-before-heard revelations about her friendships with O.J. Simpson and murdered wife Nicole.
 
The result is a dramatic narrative account of Kris's real story as you've never heard it before . . . in all its dirty, sexy glory.

 
About the Author
As a man with unprecedented access to the facts and a reporter who is one of the most feared journalists in Hollywood, investigative reporter Dylan Howard has cracked open scandals that have brought down the careers of Mel Gibson, Charlie Sheen, Hulk Hogan, Paula Dean, and numerous others.

Howard's sense for news saw him rise to become the undisputed most powerful gossip editor in the world, publishing dozens of salacious tabloid magazines each week, including Us Weekly, The National Enquirer, Star, In Touch, Life & Style, RadarOnline.com, and more.

Described by the New Yorker magazine's Jeffrey Toobin as "a tabloid prodigy" and AdWeek as "the king of Hollywood scoops," Dylan also brought to light: the hate-fueled audiotapes of Oscar-winning actor/director Gibson blasting former girlfriend Oksana Grigorieva; the scandal-plagued death of screen darling Farrah Fawcett; the naming of the mother of Arnold Schwarzenegger's love child; the demise of star-on-the-rise politician Anthony Weiner; and the Tiger Woods sex scandal. He also broke the story of the A-list high-stakes poker scam that was later made into the Oscar-nominated film Molly's Game.

Most recently, Howard made a name for himself with a stunning exposé of Sheen that revealed Hollywood's most unapologetic hedonist was HIV positive. It also was a story of extraordinary corruption, violence, lies, intimidation, death threats, and millions of dollars paid out in hush money—a story that he chronicled in a first-person essay for The Hollywood Reporter that AdWeek called "jaw dropping."

He also develops and executive produces premium unscripted television shows and podcasts, including last year's blockbuster podcast series Fatal Voyage: The Mysterious Death of Natalie Wood, which garnered over 10 million downloads and 50 million media impressions worldwide. The series was named to Apple Podcasts' Most Downloaded New Shows of 2018 and was named a 2019 Webby Best Series honoree by the International Academy of Digital Arts and Sciences.

In 2011, Howard was named Entertainment Journalist of the Year at the National Entertainment Journalism Awards, where the judges labelled him the "go-to guy for authoritative showbiz news and analysis on cable and over-the air television." Howard is also the author of Diana: Case Solved. He currently resides in New York City.

For fifteen years, Cathy Griffin was the West Coast leg-woman for syndicated entertainment columnist Liz Smith, and her own bylined column Society Bytes appeared for many years in Los Angeles Confidential and Beverly Hills 213 magazines. Griffin was the Los Angeles Bureau Chief for the Australian publication New Idea for almost a decade and was Editor-at-Large of Bauer Publication's Life and Style magazine. She currently lives in Los Angeles. 
Praise For Dirty Sexy Money: The Unauthorized Biography of Kris Jenner…
"Dylan Howard is the rare combination of cutting-edge journalist, true crime commentator, and relentless investigator. Howard passionately brings comprehensive and groundbreaking analysis to the most compelling mysteries of our time."
— Dr. Phil McGraw, host of TV's #1 daytime talk show, Dr. Phil

"A tabloid prodigy."
—Jeffrey Toobin, staff writer at the New Yorker, CNN senior legal analyst, and New York Times bestselling author
 
"The king of Hollywood scoops."
— AdWeek 

"Dylan Howard is one of the finest journalists writing today. His depth and breadth of experience are second to none; he follows every intricate angle of a story and exposes the truth. As a former detective, I know firsthand the skills that make an exceptional investigator and Dylan has them in spades."
—Bo Dietl, former NYPD homicide detective who made over made over 1,400 felony arrests   

"The go-to guy for authoritative showbiz news and analysis on cable and over-the air television."
— Los Angeles Press Club