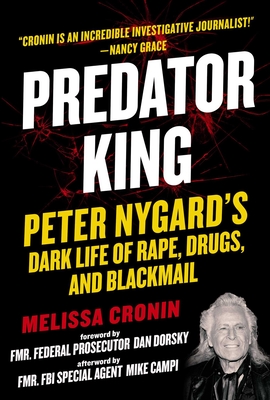 Predator King
Peter Nygard's Dark Life of Rape, Drugs, and Blackmail
Hardcover

* Individual store prices may vary.
Description
Jeffrey Epstein. Harvey Weinstein. Bill Cosby. Peter Nygard.

With this book, the infamous hall of fame for billionaire sex predators has inducted another member.
 
Peter Nygard is the most famous and successful fashion designer that you might never have heard of. A Finnish-Canadian crowned the "polyester phenom" by Forbes, he built a nearly billion-dollar fortune shilling pants and blouses for the thirty-five and older set. Dillard's, Sears, and Wal-Mart all called him one of their top providers, and he boasted a massive flagship store in the heart of Times Square.
 
As he was building his fashion empire, however, Nygard also was allegedly building a dark international web of sexual predation and corruption―one that countless girls and women around the world claim destroyed their lives.
 
Like in so many similar cases, Nygard stands accused of using his power, influence, and the trappings of success to ensnare and victimize vulnerable young women.
 
Dangling the promise of a glamorous international modeling career before them, his victims—some allegedly as young as fourteen—claim that Nygard lured them to his California beach house, Canadian bachelor pad, and massive Caribbean estate, only to subject them to horrors they never could have imagined.
 
Those are just some of the terrible acts that Nygard allegedly perpetrated behind the closed doors of his dens of evil. Meanwhile, Nygard's invited guests—such as Britain's Prince Andrew, former President George H. W. Bush, Robert De Niro, and Sylvester Stallone—were supposedly none the wiser.
 
Predator King shines a spotlight on how money, power, and political clout can come together to create a monster, one that leaves shattered lives in its wake once unleashed upon the world. How can we find such predators, as they prowl in the darkness? And more importantly, how can a man like Peter Nygard be stopped?
 
Praise For Predator King: Peter Nygard's Dark Life of Rape, Drugs, and Blackmail…
"Melissa is one of the most talented, hardworking journalists I've ever had the pleasure to work with."
―Richard Johnson, Page Six, New York Post
 
"Best investigative reporting on the Kardashian imperium."
―James Wolcott, Vanity Fair
 
"Melissa Cronin is one of the most talented investigative reporters in history. Her relentless pursuit of the truth has helped crack the most confounding mysteries of our time. She's a star―her work is just awe-inspiring."
―Dibs Baer, former Executive Editor, In Touch magazine.
 
"Cronin almost forensically tracks PR metrics." 
―New York magazine
 
"True Crime Junkies Won't Be Able to Get Enough!"
 ―US Weekly
 
Hot Books, 9781510762329, 192pp.
Publication Date: April 10, 2020
About the Author
Melissa Cronin is an investigative journalist whose ingenious reporting and dynamic writing have been behind some of the world's biggest and most scandalous stories. After graduating with honors from Harvard, Cronin became a leader of the tabloid world, making her mark at Star magazine, In Touch, The Daily, Page Six, and OK! magazine. She was the first woman to lead RadarOnline.com. Cronin was the first journalist to confirm the FBI's human trafficking investigation into Scientology, publishing hundreds of pages of secret reports. She also was the first to report that Beyonce lip-synched at the Super Bowl in 2013. Named one of FOLIO's Top Women in Media for 2018, Cronin has served as producer on several record-breaking television, podcast, and digital media projects. She is the coauthor of Epstein: Dead Men Tell No Tales.
 
Dan Dorsky is a highly decorated former Assistant United States Attorney in New York, who spent the bulk of his career successfully investigating and prosecuting complex criminal enterprises, white collar crime, and members of all five mafia families in New York.  Dorsky took to trial more cases against the mafia than anyone, and obtained a conviction in every one, including twice convicting the legendary boss of the Genovese Crime Family, Vincent "The Chin" Gigante. Among his additional trial convictions were Colombo Crime Family Boss Andrew "Mush" Russo; Colombo Crime Family Underboss Jackie DeRoss; legendary Gambino Crime Family mobster Joe Watts; Lucchese Crime Family Soldier Michael Spinelli; and Gambino Crime Family Soldier Thomas "Huck" Carbonaro.
 
Mike Campi had an exceptional career as an FBI agent with the New York Division whose investigations addressed financial fraud and political corruption. His main focus was the Genovese Crime Family, the most powerful and secretive organized crime family in the country. His investigations resulted in the convictions of the hierarchy of the Genovese LCN family multiple times devastating this most sophisticated criminal enterprise. Mike retired as the Coordinator of the Organized Crime branch of the New York Division, managing in excess of 150 agents in the FBI's largest and most successful OC program.  He was subsequently recruited by a Swiss bank for the position of vice president, Corporate Security of the Americas Region.
or
Not Currently Available for Direct Purchase