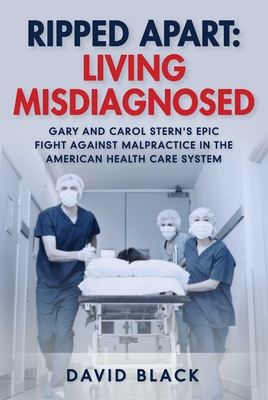 Ripped Apart
Living Misdiagnosed: Gary and Carol Stern's Epic Fight Against Malpractice in the American Health Care System
Hardcover

* Individual store prices may vary.
Description
RIPPED APART: LIVING MISDIAGNOSED

This is what it is like to suffer due to doctor mistakes and their refusal to admit the mistakes. It is a story of American hospitals, in which 50% of the patients are in the hospital due to having been in the hospital. It is a personal story with a wider look at the failure of our health care system.

This is no polite narrative. The book tells what suffering is – Gary Stern spent three years with his internal organs on the outside of his body – but despite the medical misery and the landmark legal case, the book is a love story, how Carol Stern's love for her husband overcame the horrors of what they went through. The story of a wife who would not let her husband die until he told her he was ready. A wife who refused to give up, someone who fought the health care system including struggling – successfully – with the White House.

There has never been a more honest book written about the dark side of American health care and about love that knows no boundaries.
Skyhorse, 9781510762657, 296pp.
Publication Date: June 22, 2021
About the Author
David Black is an award-winning journalist, novelist, screenwriter, and producer. His novel Like Father was named a notable book of the year by the New York Times and listed as one of the seven best novels of the year by the Washington Post. The King of Fifth Avenue was named a notable book of the year by the New York Times, New York Magazine, and the A.P. NPR's Weekend Edition called his novel, The Extinction Event, one of the five best books of the summer.

TV Guide chose one of Black's Law & Order shows – "Life Choice" – as one of the 100 best episodes in the history of television. He received the Edgar Allan Poe Special Award from the Mystery Writers of America for best fact crime book for Murder at the Met. His second Edgar Allan Poe Award nomination was for "Happily Ever After," an episode of Law & Order. His third Edgar Allan Poe Award nomination was for "Carrier," also an episode of Law & Order. In Rolling Stone's 50th Anniversary history, Black is one of only six writers profiled.

He won the Writers' Guild of America Award for The Confession. He was also nominated for the Writers' Guild of America Award for an episode of "Hill Street Blues." He received an American Bar Association Certificate of Merit for "Nullification," a controversial episode of Law & Order about Militia groups, which the Los Angeles Times called an example of "the new Golden Age of television."

Among his other awards, he has received a National Endowment of the Arts grant in fiction, Playboy's Best Article of the Year Award, Best Essays of the Year1986 Honorable Mention, Forward's Book of the Year Special Mention, and an Atlantic Monthly "First" award for fiction. He has received a Pulitzer Prize nomination for The Plague Years, a book based on a two-part series that he wrote for Rolling Stone that won a National Magazine Award in Reporting and the National Science Writers Award.

Researching articles, David Black has risked his life a number of times, including being put under house arrest by Baby Doc's secret police in Haiti, infiltrating totalitarian therapy cults, being abandoned on a desert island, and exposing a white slave organization in the East Village.

Among the television shows he has produced and written are the Sidney Lumet series 100 Centre Street, which was listed as one of the 10 best shows of the year, the Richard Dreyfuss series The Education of Max Bickford, CSI-Miami, the new Kojak, Hill Street Blues, EZ Streets, Miami Vice, Bluebloods, Law & Order: Criminal Intent, Law & Order: Trial By Jury, the original Law & Order, which received an Emmy nomination for Best Dramatic Show and a Golden Globe nomination, and Copshop, an innovative PBS series filmed in one-take, three camera real time, which won a Prism Award in 2005. He has been nominated for the PGA Golden Laurel Award.

His TV movie, Legacy of Lies, a drama about three generations of Jewish gangsters and cops in Chicago, which starred Eli Wallach, won the Writers Foundation of America Gold Medal for Excellence in Writing. It also received an ACE Award for Martin Landau for Best Actor.

His feature, The Confession, starring Alec Baldwin, Ben Kingsley, and Amy Irving was praised in New York Magazine by John Leonard and in The Hollywood Reporter, among other places, and was described in Metroland as "an almost miraculous act of storytelling."

He has published eleven books and over 150 articles in magazines, including The Atlantic, The New York Times Magazine, Harper's, and Rolling Stone. His novel, An Impossible Life, has been praised by, among others, Nobel Prize winning author Czeslaw Milosz, Erica Jong, Bruce Jay Friedman, and Leslie Epstein, who called it the best writing about Jewish gangsters since Isaac Babel.

His novel, The Extinction Event, got a starred review in Publishers' Weekly, won the New England Book Festival General Fiction Award, and was named by Scott Simon on National Public Radio as one of the five best books of the summer. It has been praised by Alec Baldwin, Graydon Carter, Richard Dreyfuss, Larry Bond, Stephen Coonts, Stuart Woods, Ralph Peters, Frederic Morton, and Gary Taylor (co-editor of the Oxford Complete Shakespeare), among others.

His most recent novel, Fast Shuffle, published this July (2015) has been praised by Ron Rosenbaum and Carl Bernstein (among others), was chosen by Amazon as one of the Best Books of the Month, and got a rave from Kirkus, which also did an interview with Black. Contemporary Authors describes Black as "a versatile, multi-media writer who has distinguished himself in both fiction and non-fiction."

He has taught writing at Mt. Holyoke, NYU, Columbia, the Norman Mailer Colony, Yale, where he was a Fellow at Pierson College, and Harvard, where he is a scholar-in-residence at Kirkland House. He is a Senior Fellow at The Schuster Institute for Investigative Journalism. He is a former board member of the Mystery Writers of America and former Vice President of the Table 4 Foundation. He is a member of the Century Association, PEN, the Writers' Guild, the Explorers' Club, and the Players.
or
Not Currently Available for Direct Purchase