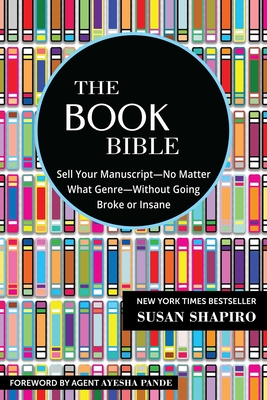 The Book Bible
How to Sell Your Manuscript—No Matter What Genre—Without Going Broke or Insane
Paperback

* Individual store prices may vary.
Description
A Brilliant, Buoyant Guide to Publishing Your Book
Hundreds of thousands of books come out every year worldwide. So why not yours? In The Book Bible, New York Times bestseller and wildly popular Manhattan writing professor Susan Shapiro reveals the best and fastest ways to break into a mainstream publishing house. Unlike most writing manuals that stick to only one genre, Shapiro maps out the rules of all the sought-after, sellable categories: novels, memoirs, biography, how-to, essay collections, anthologies, humor, mystery, crime, poetry, picture books, young adult and middle grade, fiction and nonfiction. Shapiro once worried that selling 16 books in varied sub-sections made her a literary dabbler. Yet after helping her students publish many award-winning bestsellers on all shelves of the bookstore, she realized that her versatility had a huge upside. She could explain, from personal experience, the differences in making each kind of book, as well as ways to find the right genre for every project and how to craft a winning proposal or great cover letter to get a top agent and book editor to say yes.  

This valuable guide will teach both new and experienced scribes how to attain their dream of becoming a successful author.  
Praise For The Book Bible: How to Sell Your Manuscript—No Matter What Genre—Without Going Broke or Insane…
"Shapiro succeeds in dishing out hard-earned wisdom with plenty of verve. Would-be authors, take note." --Publishers Weekly

"A great pick for public-library collections, both as a refresher for publishing veterans and a valuable resource for those new to the field or unsure where to start." --Booklist

"Quite simply Sue Shapiro's great advice is spot-on and responsible for launching my writing career. And that's an understatement." —SETH KUGEL, author of Rediscovering Travel

"Sue's advice is sharp, her writing family is vast, and she sees the writer in everybody—even before they see it in themselves." —LEXIE BEAN, author of The Ship We Built and Written on the Body

"I credit Susan Shapiro's brilliant advice for my success. She is the 'how to get published' guru that all writers need!" —TIFFANIE DRAYTON, author of Black American Refugee
Skyhorse, 9781510762701, 240pp.
Publication Date: February 1, 2022
About the Author
Susan Shapiro, an award-winning writer and professor, freelances for the New York Times, Wall Street Journal, New York Magazine,  Washington Post, Newsweek, Salon, Tablet, Wired, Oprah, & New Yorker magazines online. She's the national bestselling author/coauthor of 15 books her family hates including Unhooked, Five Men Who Broke My Heart, The Byline Bible, World In Between, and The Forgiveness Tour. She and her scriptwriter husband, a New York University professor, live in Greenwich Village where she teaches her popular "instant gratification takes too long" courses at The New School, NYU, Columbia University, and now privately online. Follow her on Twitter at @susanshapironet and Instagram at @Profsue123.