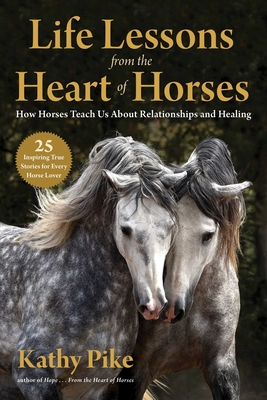 Life Lessons from the Heart of Horses
How Horses Teach Us About Relationships and Healing
Paperback

* Individual store prices may vary.
Description
Inspiring true stories of how horses teach humans and heal their hearts.
 
Horses are sensitive creatures with hearts ten times larger than humans and much more to share with us than meets the eye. Life Lessons from the Heart of Horses offers poignant short stories about the trials and tribulations of befriending horses. Equine expert Kathy Pike brings you on a healing journey that includes lessons a wild horse taught her, how horses teach humans in her equine facilitated learning programs, and personal insights about living off the land and engaging with the dynamics of a herd each day.
 
Every story in this inspirational book highlights lessons about trust, surrender, timing, and building relationships. Some stories are light and playful, others are insightful, and some are even a bit heart-wrenching, bringing you on the journey as if you are in direct relationship with each horse. Questions offered after each chapter invite you to apply this book's lessons to your own life or relationships.
 
Life Lessons from the Heart of Horses will deepen any horse lover's understanding of the invisible and emotional bond between horse and human.
Praise For Life Lessons from the Heart of Horses: How Horses Teach Us About Relationships and Healing…
"Through enchanting storytelling, Kathy Pike immerses us in the magical relationship that humans can experience with horses. They reveal themselves as shamans and teachers who help us to build positive relations, become intelligent and compassionate leaders, and even bring healing, understanding, and clarity. This book is a rare and beautiful journey into Kathy's artistry of coaching with horses; her storytelling transforms the reader into experiencing the opening of their hearts through the horses' way." —Aldo Civico, PhD, anthropologist and executive coach

"Praise to Kathy Pike! What a delightful book rich with stories of life lessons she has gleaned from her special horse herd, not only of her personal treasured adventures, but also of her profound work coaching with horses that changes people's lives. I feel like I get a glimpse into her passionate life with horses and I am on the journey with her. Each chapter ends with self-reflective questions that you can journal about, making the book all the more powerful. From leadership to self-compassion, dancing with horses to living life fully, she offers so many inspirations. I highly recommend this important book that chronicles the horse as healer and teacher." —Ariana Strozzi Mazzucchi, founder of Equine Guided Education

"What a beautiful book! From wild child to the direct, smart, and honest voice of the spirit of creation that she has become, Kathy Pike shares a lifetime of love for the giving and benevolent nature of horses as guides, healers, and teachers. They show us the way to the sustainable health, well-being, and vitality that are essential to solving the many problems facing our world. This book is a celebration of the path of mutual benefit that is now necessary for the sake of life itself, and an essential reading experience." —Francis Rico, author of A Shaman's Guide to Deep Beauty and founder of Applying Shamanism
Skyhorse, 9781510762831, 256pp.
Publication Date: April 20, 2021
About the Author
Kathy Pike is an internationally known teacher, new thought leader, and published author of Horse Spirits Speak,Hope . . . From the Heart of Horses, Horse as Teacher, and Pathways to a Radiant Self. She has more than twenty-seven years of experience in personal development, healing, life coaching, and equine-based learning. Her school, The Academy for Coaching with Horses, has certified facilitators in more than eighteen countries.