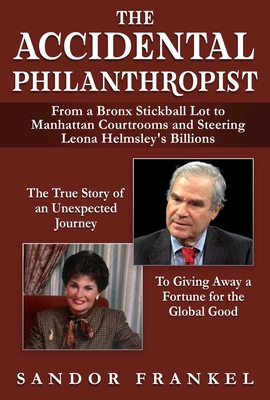 The Accidental Philanthropist
From A Bronx Stickball Lot to Manhattan Courtrooms and Steering Leona Helmsley's Billions
Hardcover

* Individual store prices may vary.
Description
The True Story of an Extraordinary Journey from the Bronx to the Helm of the $5 Billion Helmsley Charitable Trust, Doling Out Unimaginable Amounts of Money for the Good of the World.

             The Author met his client in the prison's visitors' room: he, the lawyer, and she, his client, now being patted down by a guard following the first night of a four-year sentence. Identified here by an inmate number, she was known worldwide: the notorious Leona Helmsley, owner of a gargantuan real estate portfolio; the woman who had reputedly scoffed "Only the little people pay taxes"; the "queen of mean" whom Newsweek described as "rhymes with rich." 
       Wolfing down popcorn the author bought her from the prison vending machine, she was one of the most maligned people on the planet. What he saw, though, was a frightened 71-year-old inmate, alone and in need of something altogether absent from her life: someone she could trust. 
       In her eyes, he was perhaps the closest thing. Two years earlier, he had joined her legal team following her conviction for tax crimes. Just two days before, in her sumptuous Manhattan penthouse, she ferociously fired one lawyer while the others quit. He was the last man standing. 
       In time, he became not just her go-to lawyer but her consigliere. He now had to deal with the countless people trying to dip a pinky or a shovel into her fortune. She also presented him with a host of personal issues. Ultimately, she named him as one of her executors, charged with overseeing and liquidating her multi-billion dollar estate, and also one of the trustees of a charitable trust she would fund "to improve lives…around the world." 
       That is how, on Leona Helmsley's death in 2007, the author became a steward of her $5 billion fortune, which he and his co-trustees were duty-bound to give away to causes and recipients they alone would determine. 
       Little in his life had prepared him for such a role. He grew up in a lower middle-class section of the Bronx, wound up at Harvard Law School, and built a successful career as a trial lawyer, representing some of the rich and famous and some ordinary folks.  But overseeing perhaps the largest private real estate empire in the country, selling all those properties and the assorted bonds, diamonds, and other playthings of the rich, and choosing the goals of a vast charitable trust funded with those sales' proceeds, was something else altogether. He tasted the nectar of instant popularity, and became incontrovertible proof that when you control billions of dollars, you become wittier, funnier, far more profound than you've ever been, and always worth listening to. Friends, pseudo-friends, former friends, would-be friends, quasi friends, friends of friends—everyone comes knocking. 
       The Accidental Philanthropist tells how all this happened.  
Praise For The Accidental Philanthropist: From A Bronx Stickball Lot to Manhattan Courtrooms and Steering Leona Helmsley's Billions…
"Gobs of people call him "Mister  Frankel, Sir" for  reasons you'll understand once you have read this unbelievable but true book.  But ever since he pulled me from a burning building, he's just been  "Sandy" to me   – a down-home kind of guy with an open face, a friendly smile,  and billions of dollars to give away.  Yes, indeed: Mere pikers like Horatio Alger and Croesus have had their day.  Here's the stuff of myth that really happened.   And it starts, of all places,  in the Bronx, where local boy makes good – and never stops doing good." — Bill Moyers
"Words of wisdom from legal legend Sandor Frankel....  There's an art to telling legal war stories, of hapless clients and improbable claims, knavish opposing counsel and hard-earned wins.  Sandor Frankel is a master of the genre.....  Frankel shares often hilarious, sometimes poignant and always insightful observations drawn from more than 50 years of legal practice." — Reuters

"Informative and entertaining....  written in a balanced style that is accessible to both lay readers and lawyers....  One of the great pleasures of the book is Frankel's wit and self-deprecating humor....  rich detail...."—New York Law Journal

"Eye-opening stuff....an incredible story that a lot of people know nothing about....  Quite a tale."— i24 News TV

"A fascinating story of an improbable series of events that led a first-class lawyer to the pinnacle of charitable giving.  While Leona Helmsley's larger-than-life notoriety was controversial, her philanthropic legacy under dedicated leadership, including with regard to the State of Israel, is inspiring.  This is an incredible story about how a lawyer truly can rehabilitate a client's reputation." — David Friedman, former U.S. Ambassador to Israel

"Like a fairytale....  enthralling....  Frankel's witty sense of humor is mixed in deliberately in his compelling book." — Jewish Business News
Skyhorse, 9781510762855, 360pp.
Publication Date: August 10, 2021
About the Author
Sandor Frankel is a practicing lawyer in New York City and a graduate of NYU (Phi Beta Kappa) and Harvard Law School. He has served as a staff member of the White House Task Force on Crime; as Temporary Counsel to the National Commission for Reform of Federal Criminal Laws; and as an Assistant U.S. Attorney in Washington, D.C. He is the author of several books, and received the Edgar Allan Poe Award for Beyond A Reasonable Doubt. Frankel represented Leona Helmsley and the Helmsley organization for many years. He is a trustee of the Helmsley Charitable Trust, one of the largest private philanthropies in the United States.