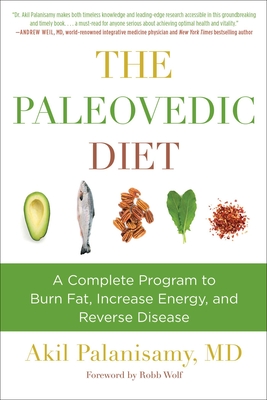 The Paleovedic Diet
A Complete Program to Burn Fat, Increase Energy, and Reverse Disease
Paperback

* Individual store prices may vary.
Other Editions of This Title:
Hardcover (1/5/2016)
Description
A groundbreaking total-body program that incorporates principles of Paleo nutrition, Ayurvedic medicine, and cutting-edge research.
In
The Paleovedic Diet
, Dr. Akil Palanisamy, MD, offers a comprehensive roadmap to optimal health combining the most effective aspects of the Paleo diet with Ayurveda, the time-tested traditional medical system of India, and the latest scientific research. Making complex ideas understandable and accessible, Dr. Akil delivers a simple, customized diet and lifestyle program to fit your unique body type.
Drawing upon on his extensive training and clinical experience, Dr. Akil skillfully separates fact from fiction, providing clarity on issues such as:
Gluten sensitivity,
Misconceptions about carbs,
Meat-eating versus vegetarianism,
Good and bad fats,
Unknown superfoods (you'll be surprised to see what's included)
Nutritional supplements,
Gut bacteria comprising your microbiome.
The Paleovedic Diet
provides definitive, practical guidance on what to eat, how to move, how to sleep, how to manage stress, and even how to breathe. Dr. Akil's revolutionary three-week program (with meal plan and recipes) utilizes delicious nourishing foods, powerful healing spices, and intensive detoxification techniques to help you transform your body and mind.
Praise For The Paleovedic Diet: A Complete Program to Burn Fat, Increase Energy, and Reverse Disease…
"Palanisamy, a Harvard-trained physician who uses holistic methods, bases this fitness guide on the tenets of the popular paleo diet (fruits, vegetables, lean meats, healthy fats, etc.) but also incorporates the ancient Indian system of ayurveda. Presenting ayurveda as a framework for customizing the paleo diet to individual body types, he includes a quiz to help readers determine whether they need vata (movement energy), pitta (metabolic energy), or kapha (strength-providing force). The author shares his own struggles as a former vegetarian who experienced dramatic improvements with his numerous health issues when he began consuming broth, meats, and eggs. Palanisamy covers familiar topics such as carbs, gluten, fats, and protein, but takes his text into less traveled territory with a chapter on 12 spices he identifies as having particularly powerful healing qualities. Noting that paleo doesn't emphasize medicinal spices, Palanisamy offers cooking tips about using spices to enhance health (e.g. adding turmeric to rice and soups), as well as a thorough discussion of gut health (according to ayurveda, all disease originates in the gut), a detox program, and recipes. Palanisamy, a personable and knowledgeable writer, clarifies paleo, demystifies ayurveda, and provides readers with practical methods for customizing the diet to create a compatible body-type fit." —Publisher's Weekly

"This compelling combination of the principles of Ayurveda with the diet of our hunter-gatherer ancestors explains how various spices lessen the toxic effects of inflammation-inducing foods. While fascinating, the book may be a bit heavy for casual readers." —Library Journal

"Integrative medicine expert Dr. Akil Palanisamy makes both timeless knowledge and leading-edge research accessible in this groundbreaking and timely book. The Paleovedic Diet is rich with useful information on such diverse issues as gluten sensitivity, the human microbiome, detoxification in modern times and the rise of autoimmune disease. The Paleovedic Diet is a must-read for anyone serious about achieving optimal health and vitality." —Andrew Weil, M.D., world-renowned integrative medicine physician and bestselling author

"The Paleovedic Diet represents the best of integrative medicine, combining ancient wisdom with modern science and functional medicine to create a definitive roadmap to health. In an engaging and easy to read style, Dr. Akil presents the most up-to-date, evidence-based health information available today. He sheds light on topics such as optimal nutrition, the 100 trillion bacteria that make up your microbiome, the best way to exercise, and powerful detox practices. He reveals the hidden healing powers of spices and shows you how to use Ayurveda to customize a diet that's best for you. The Paleovedic Diet can help you lose weight, increase energy, and reverse disease." —Mark Hyman, MD, eight-time #1 New York Times–bestselling author and functional medicine expert

"Dr. Akil deftly weaves the ancient wisdom of Ayurveda together with the principles of a nutrient-dense, Paleolithic diet to create a practical, individualized approach to wellness. If you've been looking for a way of eating and living that is tailored especially for your body and mind, this book is for you." —Chris Kresser, LAc, New York Times–bestselling author of The Paleo Cure

"In The Paleovedic Diet, Dr. Akil integrates his extensive clinical experience, the latest scientific research, and the most effective aspects of the Paleo diet with Ayurveda, the time-tested traditional medical system of India. He has created an enlightening, customizable, and easily actionable roadmap to optimal health that will open your eyes. The Paleovedic Diet has changed my approach to healthy living—and it'll change yours, too." –Michelle Tam, New York Times–bestselling author of Nom Nom Paleo: Food For Humans

"The Paleovedic Diet is a powerful synthesis of the healing wisdom of a thousand years of ancient medicine and the precision and clear thinking of the best of scientific method. In elegant and easily accessible language, Dr. Akil Palanisamy makes available to us a wealth of previously unknown information about ourselves and the resolution of our most common problems. It is impossible to read this book without finding something in it that will heal you. A brilliant contribution to the health of every one of us." —Rachel Naomi Remen, MD

"If you have been increasingly confused about what to eat, this is the book for you! Dr. Akil provides a sage and easy to follow middle way that blends the best of medical science with the wisdom of ancestral traditions." —Victoria Maizes, MD, Executive Director, Arizona Center for Integrative Medicine

"Long before Evolution via Natural Selection became the dominant paradigm of biology, traditional cultures developed sophisticated systems for understanding nature and human health. In India this system is called Ayurveda, which means 'knowledge of life.' In The Paleovedic Diet, Dr. Akil has integrated our original human diet (Paleo) with the insights of Ayurveda to offer a framework whereby we may optimize our nutrition and lifestyle." —Robb Wolf, New York Times–bestselling author of The Paleo Solution

"Dr. Akil has beautifully blended the ancient, timeless wisdom of Ayurveda and Ayurvedic principles of healing with the light of modern medicine, integrated so that anyone can use it for his or her total healing." —Vasant Lad, B.A.M.S., internationally recognized Ayurvedic physician, author of Ayurveda: Science of Self-Healing
Skyhorse, 9781510763111, 320pp.
Publication Date: January 12, 2021
About the Author
Akil Palanisamy, MD, is a Harvard-trained physician who practices integrative medicine, blending his conventional medical expertise with evidence-based holistic approaches, including functional medicine and Ayurveda. He studied biochemistry at Harvard and completed his medical training at the University of California, San Francisco (UCSF) and Stanford University. He is widely known as a dynamic speaker and educator and resides in San Francisco, California.
or
Not Currently Available for Direct Purchase