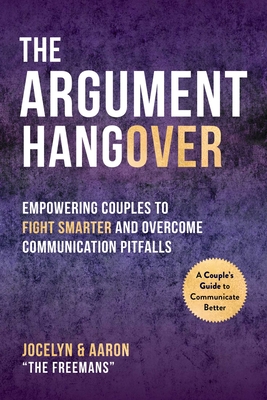 The Argument Hangover
Empowering Couples to Fight Smarter and Overcome Communication Pitfalls
Hardcover

* Individual store prices may vary.
Description
Learn how you and your partner can fight smarter, communicate like pros, and handle any challenge as a team!
You know that feeling right after an argument you've had with your partner? You feel kind of sick to your stomach, your head is buzzing, and you're zoned out. You regret what you said or how you said it, and you're hurt by their actions as well. Almost like a food or alcohol hangover, right? Aaron and Jocelyn Freeman, your new favorite relationship mentors, call this "the argument hangover."
In this relatable,
no b.s
. book for couples, the Freemans explain what an argument hangover is, what causes it, and how to clearly communicate your needs to feel understood, without having to change each other. This modern guide includes step-by-step tools and exercises you can implement right away, so you can handle the challenges that so many couples face today. Topics include:
Why conflict doesn't have to be something you avoid
How to keep arguments from escalating
How to resolve those nagging two or three disagreements that keep coming up
Embrace conflict and grow from it with the right communication skills―and say goodbye to argument hangovers once and for all.
Praise For The Argument Hangover: Empowering Couples to Fight Smarter and Overcome Communication Pitfalls…
"The Argument Hangover is for any couple that wants to communicate better, resolve disagreements faster, and have a relationship that others admire. The Freemans provide practical skills and exercises that both men and women will enjoy!" —Brenton Evans, president of XO Marriage

"Tired of all the conflict and drama? Jocelyn and Aaron, 'The Freemans,' have a solution. The Argument Hangover gives you a complete roadmap for understanding and moving beyond relationship conflict. You won't just learn why you so often end up in arguments, you'll learn powerful new tools to shift from the dreaded 'argument hangover' to what you really want: greater connection, intimacy, and love." —Nate and Kaley Klemp, authors of The 80/80 Marriage

"This isn't just another relationship book with concepts or clichés. The Argument Hangover provides you with skills and guidance that you can use in your daily life. You'll notice an immediate shift in the way you see and handle conflict as you read this amazing book from the Freemans." —Tony and Alisa DiLorenzo, hosts of ONE Extraordinary Marriage Show
Skyhorse, 9781510763418, 208pp.
Publication Date: March 16, 2021
About the Author
Jocelyn and Aaron Freeman are known for being the "couple that coaches couples" for their non-counseling, skills-based relationship coaching approach. They are the creators of The Couples Workshop, a workshop for busy couples to get the skills and tools they can implement immediately, and Empowered Couples University, which hosts online courses. They have an accredited certification for aspiring relationship coaches. Their teachings have reached hundreds of thousands of people across the world, and their mission is to make proactively "working" on your relationship the new norm, and ultimately lower the divorce rate.