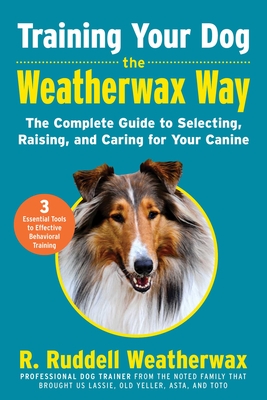 Training Your Dog the Weatherwax Way
The Complete Guide to Selecting, Raising, and Caring for Your Canine
Hardcover

* Individual store prices may vary.
Description
A training manual for any dog owner using the tried, true, and trusted Weatherwax methods.
The name "Weatherwax" is widely known in the dog world. The author is a third-generation professional dog trainer and owner of Weatherwax Dog Training. The family has trained the original "Lassie" (actually a male named "Pal"), Toto for "The Wizard of Oz," and also "Old Yeller." These theories and tactics are applicable to any dog lover and owner, not just those on the big screen!
This is a complete guide to dog ownership and basic training manual using the Weatherwax method, which hasn't changed in almost a century; though Robert has added a few enhancements over the years from his exposure to other great trainers. This book will teach readers to:  
Learn how to raise and train their dog using an approach customized to their dog's needs.
Understand the correlation between our behavior and our dog's behavior.
Implement techniques that will allow their dog to interact well in all situations. 
Find answers to the questions that plague the common dog owner.
Train their dog the right way—from day one—as well as address any inherited behavioral issues.
Send the right message to their dog, even when no verbal commands are being given.
Alter the negative reaction their dog may have to certain situations.
Understand the most appropriate tools for their own dog and dispel some of the rumors that exist regarding dogs in general.
Praise For Training Your Dog the Weatherwax Way: The Complete Guide to Selecting, Raising, and Caring for Your Canine…
"If you love happy, obedient dogs, read Training Your Dog the Weatherwax Way, a well written, understandable owner's manual from a seasoned professional and heir to the royal family of Hollywood Dog Trainers—Robert Weatherwax. I was witness to his remarkable results with 'Hooter,' the young dog from my sitcom Just the Ten of Us, and highly recommend this book."
—Bill "Coach Lubbock" Kirchenbauer

Client Testimonials 

"It was clear when we met Robert he was a no nonsense guy, who showed our dogs respect, kindness, and attentiveness . . . he was consistent, patient, and very calm; within two sessions, Robert gave us the tools, tips, and direction to effectively change a few behaviors to relieve our puppy's anxiety."

"I am extremely happy with his method of training and the genuine affection he shows for my dog. My dog really enjoys his training and has
come so far since Robert started working with him."

"After two visits with our two-year-old boxer mix, Rocky was doing much better on a leash and was beginning to listen to commands such as stay, sit, and come. After about four visits, we thought we had a new dog! We also like the methods Robert used—reward and praise being key."
Skyhorse, 9781510763432, 208pp.
Publication Date: November 23, 2021
About the Author
R. Ruddell Weatherwax grew up surrounded by dogs that were either pets or being trained by his father for some movie or television project. There could be as many as 25 dogs at a time living at "Lassie Ranch" that he grew up caring for and training. He is a third-generation professional dog trainer, the grandson of famed Lassie trainer Rudd Weatherwax, and owner of Weatherwax Dog Training. Robert is a member of the Screen Actors Guild (SAG) and is a former Canine Stunt Performer. His movie credits include "Beethoven," "K9," "Dennis the Menace," "Top Dog," and "Lassie: Best Friends are Forever," and his tv credits include "The Flash," "Married with Children," "Just the Ten of Us," and "The New Lassie."