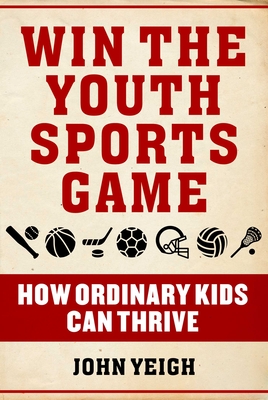 Win The Youth Sports Game
How Ordinary Kids Can Thrive
Hardcover

* Individual store prices may vary.
Description
How to Ensure That Your Children Are Given The Opportunity to Succeed at Sports 

Fifty million parents are hopeful their little superstars are on track to play college sports and win a scholarship, but more than forty-nine million may end up being disappointed. Win The Youth Sports Game is the first title ever to provide an honest reality-check for parents—a What to Expect When You are Expecting for youth sports. Fifty incredibly common, adult-imposed obstacles are exposed so that parents can help their athletes navigate and overcome these challenges along their own sports journeys.

Win The Youth Sports Game objectively narrates how ordinary kids can progress, survive, and thrive within today's $17 billion, youth-sports industrial complex. The fifteen-year developmental trek from toddler to collegiate athlete is chronicled while juxtaposing the real-life challenges that athletes in all sports must endure and overcome.

Share this book's table of contents with any sports parent, and they'll immediately identify with some of the seemingly outrageous storylines. The unfortunate outcome is that more than 75 percent of kids quit sports by age fourteen, with over-zealous adults being a big contributor.
Praise For Win The Youth Sports Game: How Ordinary Kids Can Thrive…
"For any parent who wants a detailed personal chronology of what's involved in raising a 5-year-old athlete through all the demanding rigors of youth, club, and high school sports and then achieving the dream of becoming a college athlete, I fully encourage you to read John Yeigh's new book. This is both a refreshing - as well as sobering - account of all the demands that parents and their aspiring athlete will have to endure in order to keep pushing ahead in order to succeed." — Rick Wolff, host of WFAN Sports Radio Rick Wolff's Sports Edge, the critically-acclaimed and longest-running sports parenting show in the country.
 
"From pee-wee sports, to travel team roulette, to playing toward college, John's book will provide valuable guidance and help restore some sanity regardless of your child's age. This book should be on your nightstand! " — John O'Sullivan, founder Changing the Game Project.
-------
"A great primer for anyone entering the world of youth sports. Win the Youth Sports Game is an honest deep dive into the triumphs and failures of parenting your athlete. John Yeigh's journey is so relatable to all of us veterans, stirring memories and serving as an important reminder…please don't forget the importance of fun!" — Christie Casciano Burns, television anchor, author of My Kids Play Hockey, and USA Hockey columnist.
-------
"Win the Youth Sports Game is pure gold. A great read for youth sports athletes, parents, and coaches." — Dr. Jim Afremow, Author of The Champion's Mind and sports psychologist.
-------
"This book is imperative if you are entering or already consumed by the challenges of Sports Parenting. Not only does the author thoughtfully share the journey with his kids from Pee Wee Sports to the College Level, he also lists 54 important obstacles and challenges while emphasizing the realization that most challenges in youth sports are "adult imposed"….a truly important insight."  — Sharkie Zartman, author of #HeySportsParents, professor, all-American volleyball player, and coach.
-------
"Win the Youth Sports Game is a must-read for every parent who finds themselves caught in the grasp of the "youth-sport industrial complex." John nails the challenges, joys, and obstacles that young athletes and their parents face as they climb the competitive ladder. Whether your athlete is two-years- old, 18-years-old, or somewhere in between, you will learn about the road you are traveling and how to navigate it to a positive and healthy destination. Written with clarity, empathy, and good cheer, this book will entertain, enlighten, yes, horrify, and, ultimately, prepare parents for the many rewards and risks of their children aspiring to athletic greatness." — Jim Taylor, Ph.D., author of Raising Young Athletes: Parenting Your Children to Victory in Sports and Life.
-------
John Yeigh gives a unique perspective of the youth sports journey. Keeping the big picture of the real value of youth sports in mind, he covers 54 obstacles and challenges that young athletes must overcome on their journey.  This is eye-opening for parents and coaches alike and is not meant to discourage parents from embarking on the journey with their kids, but to prepare them for the road ahead. This is an important resource for parents because, although nothing fully prepares a parent for the youth sports journey, they will have a clearer picture of what to expect and ultimately make the experience better. Take the time to read John's book if your child is headed into or already on their sports journey. He does a good job of detailing the challenges you will face. —Janis Meredith, author of 11 Habits of Happy and Positive Sports Parents, and coach for sports-parents.
-------
"I love seeing parents think deeply about how to improve children's athletic experience. Win the Youth Sports Game is a valuable contribution to the ongoing conversation about healthy, positive participation in sports." — Angie Abdou, author of Home Ice: Reflections of a Reluctant Hockey Mom.
-------
"I love how John takes the reader on a journey from youth to college sequentially- what a cool concept. He has given a must open gift to parents and coaches who want better for their kids. If you are currently in the "muck" of everyday youth sports, this book will help you get above the mess, so that you can clearly see how to help your athlete thrive in a youth sports world where most are frustrated and burnt out." — Andrew Simpson, author of The Youth Truth, Coaching & Parenting in Today's Crazy Youth Sports World, performance and mindset coach.
-------
"When a kindred spirit takes an enormous amount of time and energy to get out the truth about youth sports, I'm all for it. The book is spot-on for parents to help their athletes. All of it." — Steve Morris author of What Size Balls Do I Need, soccer coach and youth-sports advocate.
-------
"As any parent of a young athlete quickly discovers, youth sports can be a complex and treacherous maze, where good intentions can often get lost in all the competitiveness. John Yeigh's new book is an invaluable guide to navigate this world, written with real insight and perspective by a parent who knows all the ropes. I'd have given a lot to have read it before my own kids started sports! Luckily, it's here now for parents and before investing in new soccer cleats, lacrosse sticks, or hockey skates I'd advise you to buy a copy of Win the Youth Sports Game and digest all its lessons." — W. D. Wetherell, author of Soccer Dad.
-------
"John Yeigh thoroughly addresses the issues confronting successful outcomes for children and sports. The youth sports conflicts are at a boiling point for American children, their families, and schools - and John has identified 54 obstacles we adults must work to recognize and overcome. His is a must-read for those of us involved with children and sport." — John E. Tufte, Ed.D, author of Crazy-Proofing High School Sports.
-------
"Navigating the modern youth sports journey can be taxing and expensive. Win the Youth Sports Game does a phenomenal job of highlighting the challenges and guiding the necessary steps specific to a player's needs. If your child is a dedicated athlete, this is a must read." — Mike Just, author of Just Baseball, coach & former professional.
 
 
Skyhorse, 9781510763456, 224pp.
Publication Date: November 23, 2021
About the Author
John Yeigh is on a mission to help parents better understand and navigate today's youth-sports landscape. He is a sports dad, coach, outdoors enthusiast, writer, speaker, engineer, and former financial business manager. John kept copious notes during both of his children's sports journeys which has supported his pivot to youth-sports advocacy. He likes to jog, lift, hike, bike, sail, swim, ski, and dive especially with his family. He lives in Annapolis, Maryland.

Connect via LinkedIn (preferred) or Facebook.