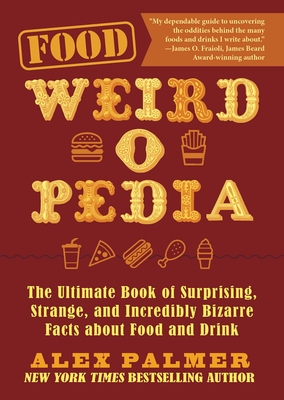 Food Weird-o-Pedia
The Ultimate Book of Surprising, Strange, and Incredibly Bizarre Facts about Food and Drink
Paperback

* Individual store prices may vary.
Description
Hundreds of weird and wonderful facts in this massive encyclopedia of food and drink oddities! A perfect gift for foodies and trivia fans alike!
Food Weird-o-Pedia 
offers up hundreds of off-kilter bits of info about food that will make you rethink what you know about even those dishes you've been eating your whole life. Organized in sections such as "Between-Meal Tidbits: Curious Facts about Snacks" and "Spice Up Your Life: Unexpected morsels about condiments, sauces and spices," each chapter offers an alphabetical encyclopedia of strange facts that will give you plenty to chew over whether reading from cover-to-cover or just flipping to a random page during a lunch break.
Learn weird and obscure facts about fruits, vegetables, baked goods, meat, dairy, seafood, junk food, condiments, sauces, spices, beverages, desserts, and more, such as:
Cherries may have killed the twelfth president of the United States.
Why we call that vulgar sound we make by putting our tongue between our lips and blowing out a "raspberry."
Enzymes on the inside of a banana peel actually encourage splinters to move toward the skin's surface.
Dark soy sauce contains ten times the antioxidants of red wine and contributed to a decrease in risk of cardiovascular disease.
The most egg yolks ever found in a single egg is nine.
Frank Sinatra was buried with a bottle of Jack Daniel's whiskey.
Hershey's Kisses get their names from the smooching sound and motion the machine made when it popped the candy onto the conveyor belt.
And many, many more!
Every one of us has a deeply personal relationship to the food we eat, each as unique as we are. But there is also a lot that can surprise us about what we put in our body—unexpected facts about staple fruits and veggies, strange backstories to our favorite sweets, and ways of whipping up a familiar dish that are downright weird. These odd aspects of the food we eat are what this book is all about. 
Food Weird-o-Pedia 
is sure to provide plenty of fodder to impress friends and family over your next meal—whatever it is you're eating.
Praise For Food Weird-o-Pedia: The Ultimate Book of Surprising, Strange, and Incredibly Bizarre Facts about Food and Drink…
"My dependable guide to uncovering the oddities behind the many foods and drinks I write about." —James O. Fraioli, James Beard Award-winning author
Skyhorse, 9781510763746, 192pp.
Publication Date: August 24, 2021
About the Author
Alex Palmer is a journalist and excavator of fascinating facts. He is the author of the original Weird-o-Pedia as well as books of surprising tidbits including Happiness Hacks, Alternative Facts, and Literary Miscellany. He is also the New York Times best-selling author of The Santa Claus Man and his writing has appeared in Lifehacker, Best Life, Mental Floss, Slate, and Esquire.
or
Not Currently Available for Direct Purchase