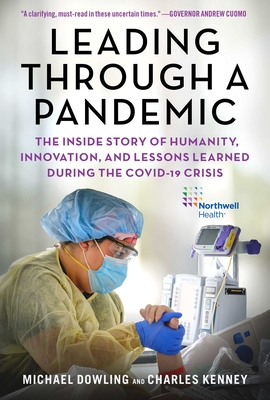 Leading Through a Pandemic
The Inside Story of Humanity, Innovation, and Lessons Learned During the COVID-19 Crisis
Hardcover

* Individual store prices may vary.
Description
"A clarifying must-read in these uncertain times." —GOVERNOR ANDREW CUOMO

Journey behind the front lines of the coronavirus pandemic with Northwell Health, New York's largest health system.

What was it like at the epicenter, inside the health system that cared for more COVID-19 patients than any other in the United States? Leading Through a Pandemic: The Inside Story of Lessons Learned about Innovation, Leadership, and Humanity During the COVID-19Crisis takes readers inside Northwell Health, New York's largest health system. From the C-suite to the front lines, the book reports on groundwork that positioned Northwell as uniquely prepared for the pandemic.

Two decades ago, Northwell leaders began preparing for disasters—floods, hurricanes, blackouts, viruses, and more based on the belief that "bad things will happen and we have to be ready." Following a course highly unusual for an American health system, Northwell developed one of the most advanced non-government emergency response systems in the country. Northwell reached a point where leaders could confidently say "we are comfortable being uncomfortable in a crisis." But even with sustained preparation, the pandemic stands as a singularly humbling experience. 

Leading Through a Pandemic offers guidance on how hospitals and health systems throughout the country can prepare more effectively for the next viral threat. The book includes dramatic stories from the front lines at the peak of the viral assault and lessons of what went well, and what did not. The authors draw upon the Northwell experience to prescribe changes in the health care system for next time. Beyond the obvious need for increased stockpiles of supplies and equipment is the far more challenging task of fundamentally changing the culture of American health care to embrace a more robust emergency response capability in hospitals and systems of all sizes across the nation. The book is a must read for health care professionals, policy-makers, journalists, and readers whose curiosity demands a deeper dive into the surreal realm of the coronavirus pandemic.
Praise For Leading Through a Pandemic: The Inside Story of Humanity, Innovation, and Lessons Learned During the COVID-19 Crisis…
"Leading Through a Pandemic is a riveting account of the COVID-19 experience at New York's largest health system. More than anything else I have read, this account captures the essential lessons for how to prepare for likely surges in the months ahead. It brilliantly captures the emotion of the COVID-19 pandemic while offering a clear-eyed analysis of how to prepare for and respond to ongoing and future emergencies. It's a clarifying, must-read in these uncertain times." —GOVERNOR ANDREW CUOMO
"This is the best description of the multi-dimensional response mounted by a great health care system to COVID-19 that I have seen. It is an amazing "After Action Review" that captures what went right, what fell short, and what we have to do to get ready for next time." —DR. THOMAS LEE, chief medical officer of Press Ganey
 
Skyhorse, 9781510763845, 224pp.
Publication Date: August 25, 2020
About the Author
Michael J. Dowling is president and chief executive officer of Northwell Health. Dowling grew up in Limerick, Ireland. He earned his undergraduate degree from University College Cork (UCC), Ireland, and his master's degree from Fordham University. He also has honorary doctorates from Hofstra University and Dowling College. He played hurling with Limerick and won a National League medal and a Fitzgibbon Cup medal with UCC. Before his public service career, Dowling was a professor of social policy and assistant dean at the Fordham University Graduate School of Social Services and director of the Fordham campus in Westchester County. Afterwards, Dowling served in New York State government for 12 years, including seven years as state director of Health, Education and Human Services and deputy secretary to former governor Mario Cuomo. He was also commissioner of the New York State Department of Social Services.

Charles Kenney serves as the Chief Journalist at Northwell Health and Executive Editor of the Northwell Innovation Series. He is the author of many books, including The Best Practice: How the New Quality Movement Is Transforming Medicine, which the New York Times described as "the first large-scale history of the quality movement." He serves on the faculty of the Institute for Healthcare Improvement in Cambridge, Massachusetts.
or
Not Currently Available for Direct Purchase