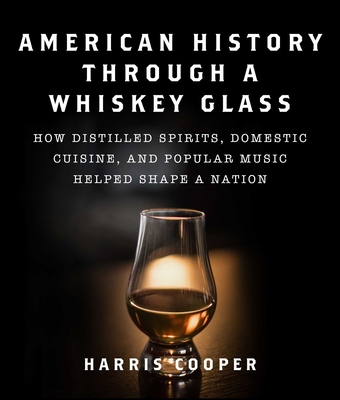 American History Through a Whiskey Glass
How Distilled Spirits, Domestic Cuisine, and Popular Music Helped Shape a Nation
Hardcover

* Individual store prices may vary.
Description
Experience American history like never before with this unique, informative, and fun guide for history buffs, whiskey enthusiasts, folks who like to cook at home, and fans of popular music.
American History Through a Whiskey Glass
presents a unique perspective on American history. It describes how bourbon and rye whiskey played a role in the most important events in American history, including the voyage of the Mayflower, George Washington's failed and successful political campaigns, the Civil War, pioneers moving west, Prohibition (of course), plus many more into the twenty-first century. It does so with descriptions of historical events but also with amusing anecdotes and humorous quotes from the historical figures themselves. The book carefully aligns five elements:
a narrative about whiskey's role in eight periods of American history
descriptions and tasting notes for American whiskeys that represent distilled spirits in each historical period
tutorials on how whiskey is produced and its numerous varieties
period-specific food recipes drawn mostly from historical cookbooks
playlists of the popular music during each period
The book gives readers an integrated and entertaining perspective on popular culture in America at different times, revealing how Americans have politicked, drank their native spirits, ate, and sang. But it does more; readers will not only learn about America's history, they can
experience
it through numerous illustrations, whiskey tasting, food, and music. It provides an opportunity for readers to be involved in a truly immersive approach to life-long learning . . . and it's fun.
Praise For American History Through a Whiskey Glass: How Distilled Spirits, Domestic Cuisine, and Popular Music Helped Shape a Nation…
"In this lively whiskey history book, Harris Cooper proves an engaging host at a series of whiskey and period-based dinner parties, presented with recipes, playlist suggestions, and an appropriate sipper. This book alternates tales of some of American whiskey's greatest characters with tasting notes and technical notes on a number of different whiskies, each paired with a characteristic era—you could read this book neat, but why not mix it up with some friends, music and food?"
—Becky Harris, president, American Craft Spirits Association; founder and chief distiller, Catoctin Creek Distillery

"For a long time, university scholars have snubbed their nose at the true history of the world, ignoring the role drinking has played into our decision-making to form empires. Whether it was a temperance decision or past historians thought man was better than to be influenced, history books tend to forget George Washington was a distiller, among other whiskey-soaked facts. In American History Through a Whiskey Glass: How Distilled Spirits, Domestic Cuisine, and Popular Music Helped Shape a Nation, Harris Cooper shows all those pretentious scholars they may want to grab a whiskey and start reading the true history."
—Fred Minnick, author of Bourbon: The Rise, Fall and Rebirth of an American Whiskey
 
"Harris Cooper has written an enjoyable, humorous book that mashes together history, food, music and, of course, the best of American spirits."
—Clay Risen, author of The Crowded Hour and American Whiskey, Bourbon & Rye
 
"American History Through a Whiskey Glass is a fast and energetic hash of political ephemera, culinary exploration, pop music, and whiskey history all told with animated verve by Professor Cooper. Grab a glass and a full bottle and settle in for some odd connections, trivial pursuits, and spirited fragments that add up to our national sense-memory. Whiskey-fueled, determined, and definitely not the history you learned in school."
—Colin Spoelman, cofounder and master distiller, Kings County Distillery
 
Skyhorse, 9781510764019, 304pp.
Publication Date: June 29, 2021
About the Author
Harris Cooper is the Hugo L. Blomquist Distinguished Professor of Psychology & Neuroscience, Emeritus, at Duke University. At Duke, he has served as chair of two departments and as the Dean of the Social Sciences for the College of Arts & Sciences, helping administer the departments of history, sociology, political science, and cultural anthropology, among others. He is the author of four textbooks, editor of three books on social science research methods, and four books on education policy. He is a Gold Chalk Award winner for Excellence in Graduate Education from the University of Missouri-Columbia. Dr. Cooper has been an avid reader of American history for more than four decades. He is an Executive Bourbon Steward and has visited over sixty distilleries throughout the United States. He lives in the Research Triangle of North Carolina with his wife, Beth.