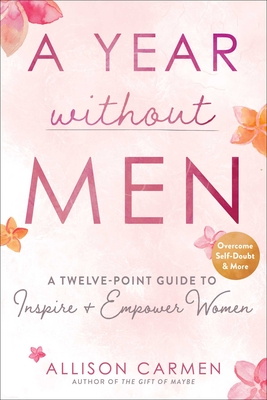 A Year without Men
A Twelve-Point Guide to Inspire + Empower Women
Hardcover

* Individual store prices may vary.
Description
A road map to every woman's success.
 
Glass ceilings. #MeToo. Less than equal pay for equal work. After decades fighting to free ourselves from male-dominated social and economic structures, women still struggle. But many of us are poised to rise up with innovative ways to approach the many problems facing today's world. A Year without Men is an essential guide to every woman's success and liberation.
 
Using the events of a very painful year in her own personal and professional life—her husband left her, her consulting business took an unexpected hit, and she faced a serious health scare—business consultant and life strategist Allison Carmen explores the forces in women's personal and professional lives that hold us back. In A Year without Men, she offers twelve simple, practical tools to help us look within, find our own values, morals, and passions, work on our skills, call on other women, and forge new ways to do business. Together, we can create a new way to earn money, a new way to look at beauty, and so many other new ways to be in the world. 
 
Take a stand and gain the power to overcome any obstacle with A Year without Men.
Praise For A Year without Men: A Twelve-Point Guide to Inspire + Empower Women…
"Helpful for professional-class women stuck in neutral and unsure how to proceed."
—LIBRARY JOURNAL

"Allison Carmen shows us how learning to be ourselves is the key to creating a more balanced, more equal, and more successful workplace for everyone."
—SHARON SALZBERG, author of Lovingkindness and Real Change
 
"This book empowers women to unlock their power and unapologetically share it with the world."
—GABRIELLE BERNSTEIN, The New York Times bestselling author of The Universe Has Your Back
 
"A brilliant and inspiring book for any woman looking to find the courage to express their voice in the world. Life might be uncertain, but Allison Carmen shows us that when as women we can be certain about who we are, we seize our full potential and can rightfully take our seats at the table. It's about time!"
—CATHERINE BIRNDORF, MD, coauthor of What No One Tells You and The Nine Rooms of Happiness
 
"Allison Carmen brings to light a powerful new paradigm for women: You don't have to live in a man's world; you can be fully feminine and lead with compassion as you uncover your most authentic self in the workplace and beyond. This one year without men can be the turning point toward true empowerment."
—KRISTINE CARLSON, author of From Heartbreak to Wholeness and Don't Sweat the Small Stuff for Women
 
"Carmen's lively guide for strength and resilience will enhance your life. Read it and flourish."
—KAREN DUFFY LAMBROS, The New York Times bestselling author of Model Patient and Backbone
 
"With a fabulous premise, Allison Carmen shows us that we need not be a woman in a man's world—not when we can create our own world, instead. I loved this warm, inspiring book."
—CAROLINE LEAVITT, The New York Times bestselling author of Pictures of You and With or Without You
 
"A transcendent manifesto for all women. Applicable to both their personal and professional lives. Allison Carmen's admirable perseverance, strength, and authenticity shine through."
—KAREN BRAILSFORD, author of Sacred Landscapes of the Soul
 
"With heart and beautiful detail on every page, Allison Carmen holds every woman up, reminding each of us that, on our own, we are whole and powerful and capable." —IRIS KRASNOW, bestselling author of The Secret Lives of Wives and I Am My Mother's Daughter
 
"More than a story about heartbreak, it's a wise new narrative for being fully, gratefully, deliciously alive."
—ALLANA PRATT, intimacy expert, HeartMates.app

"This powerful and beautifully-written book will challenge the way you look at life in unexpected ways."
—ELAINE POFELDT, journalist and author of The Million-Dollar, One-Person Business
Skyhorse, 9781510764125, 192pp.
Publication Date: July 6, 2021
About the Author
Allison Carmen is a business consultant, life strategist, podcaster, and author of The Gift of Maybe. She currently serves as CFO of The Motherhood Center, a female-run day hospital for women with perinatal mood and anxiety disorders. Allison writes for several large publications and is a sought-after guest on radio and other media platforms. She lives in New York, New York.