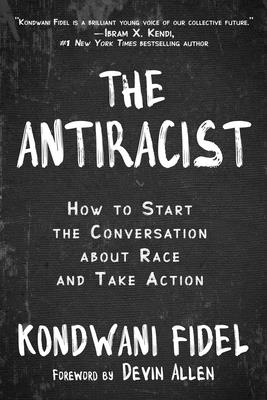 The Antiracist
How to Start the Conversation about Race and Take Action
Hardcover

* Individual store prices may vary.
Other Editions of This Title:
Digital Audiobook (1/4/2021)
Paperback (2/8/2022)
MP3 CD (1/5/2021)
Compact Disc (1/5/2021)
Description
What would happen if people started moving beyond the conversation and took action to combat racism?
 
We are in an era where many Americans express the sentiment, "I thought we were past that," when a public demonstration of racism comes across their radar. Long before violence committed by police was routinely displayed on jumbotrons publicizing viral executions, the Black community has continually tasted the blood from having police boots in their mouths, ribs, and necks. The widespread circulation of racial injustices is the barefaced truth hunting us down, forcing us to confront the harsh reality—we haven't made nearly as much racial progress as we thought.
 
The Antiracist: How to Start the Conversation about Race and Take Action, will compel readers to focus on the degree in which they have previously, or are currently contributing to the racial inequalities in this country (knowingly or unknowingly), and ways they can become stronger in their activism. 
 
The Antiracist is an explosive indictment on injustice, highlighted by Kondwani Fidel, a rising young literary talent, who offers a glimpse into not only the survival required of one born in a city like Baltimore, but how we can move forward to tackle violent murders, police brutality, and poverty.
 
Throughout it all, he pursued his Master of Fine Arts in Creative Writing & Publishing Arts from the University of Baltimore, while being deeply immersed in his community—helping combat racism in schools by getting students to understand the importance of literacy and critical thinking. With his gift for storytelling, he measures the pulse of injustice, which is the heartbeat of this country.
 
Praise For The Antiracist: How to Start the Conversation about Race and Take Action…
"This book is an explosive indictment on the injustices happening in this country. Through Kondwani Fidel's creative spirit, he moves us all to become stronger in our antiracist work. Fidel is a brilliant young voice of our collective future." 
—Ibram X. Kendi, National Book Award-winning and #1 New York Times bestselling author of How to Be an Antiracist and Stamped from the Beginning
 
"Kondwani Fidel is a writer's writer—he masterfully weaves personal accounts of death, police brutality, and other various symptoms of systemic oppression with research and his life experiences in a way that is unmatched. Fidel is honest and raw, using his language to inform and empower in a way that would make James Baldwin proud. Kondwani Fidel's work should be required reading." 
—D. Watkins, New York Times bestselling author of The Cook Up, The Beast Side, and We Speak for Ourselves
 
"Kondwani Fidel writes about issues that have been at the forefront of the Black American consciousness for generations. He shares personal accounts of death and struggle, but always with an eye beyond: a vision of the structural forces that put us here, and a belief in imagination and the power to overcome that will get us past this place."
—Eve Ewing, the Norma Farber First Book Award-winning author of Electric Arches
 
"It is brilliant that a young mind such as Fidel's has been blessed with the conscious and creative spirit that allows him to compose a lesson from a perspective and in a way that no other could."
—Dr. Zoe Spencer, professor of Sociology, Social Work, and Criminal Justice at Virginia State University, Emmy nominated for spoken word performance, "Say Her Name"
 
"As I witnessed Kondwani command the intellect, emotion, and spirit of an international audience of nearly one thousand racial equity leaders, I knew his was a bonafide voice. A standing ovation for Kondwani Fidel."
—Glenn E. Singleton, president and founder, Pacific Educational Group, author of Courageous Conversations About Race
 
"What we are in witnessing in Kondwani Fidel is a living archive of what extraordinary price, both triumph and tribulation, Black America pays by the hour. Kondwani's words are a guillotine. His stories, measure the pulse of the forgotten." 
—Tariq Touré, author of Black Seeds 
 
"Kondwani Fidel skillfully guides readers down a narrow line—his vulnerability on one side, his deafening power on the other. In the end, Kondwani emerges a victor—overtly aware of the ironclad, historical systemic racism that continues to confine his community, yet still a hopeful, suggestive voice with a strong belief in change. His essays will make you cry tears of anger, but also tears of light-hearted laughter." 
—Stephanie Wash, Emmy award winning producer and ABC News journalist
Hot Books, 9781510764200, 192pp.
Publication Date: September 22, 2020
About the Author
Kondwani Fidel, has used the power of storytelling to confront education reform and civil rights all over the world. Fidel was honored in the "Best of Baltimore" issue of the Baltimore Sun for his courage, innovative thinking, and leadership in local schools and communities.

Fidel is the author of Hummingbirds in the Trenches and Raw Wounds. He received his BA in English from Virginia State University, and his MFA in Creative Writing and Publishing Arts from the University of Baltimore. Fidel was honored with the Baltimore City 2018 Civil Rights Literary Award, and his bio-film Hummingbirds in The Trenches was nominated for Amazon's 2019 All Voices Film Festival.

Devin Allen is a self-taught artist, born and raised in West Baltimore. He gainednational attention when his photograph of the Baltimore Uprising was published onthe cover of Time in May 2015—only the third time the work of an amateurphotographer had been featured. Five years later, after the death of George Floyd, Tony McDade, and Breonna Taylor, his photograph from a BlackTrans Lives Matter protest was published on the cover of Time magazine in June 2020.

His photographs have been published in New York Magazine, New YorkTimes, Washington Post, and Aperture and are also in the permanent collections of the National Museum of African American History and Culture, the Reginald F. Lewis Museum, and the Studio Museum in Harlem. Allen is the winner of the 2017 Gordon Parks Foundation Fellowship. In 2017, he was nominated for an NAACP Image Award as debut author for his book A Beautiful Ghetto.

He is founder of Through Their Eyes, a youth photography educational program, and recipient of an award from The Maryland Commission on African American History and Culture for dynamic leadership in the Arts and Activism.