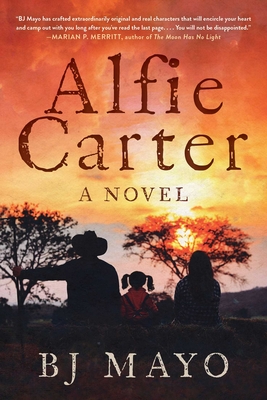 Alfie Carter
A Novel
Hardcover

* Individual store prices may vary.
Description
The seemingly never-ending Cabinda War (1975—) has left multitudes dead in its wake and thousands of children homeless and orphaned. Jackaleena N'denga, a young Angolan girl, has become the sole survivor of one specifically brutal village massacre carried out by a band of guerrilla boy-soldiers.

Jackaleena's resilience leads her to an orphanage on the west coast of Africa, known as Benguela by the Sea, where she and other children are taken in and protected. Her brilliant mind and endless questions capture the heart of her mentor, Margaret, who ensures her that her survival thus far—especially being the only survivor from her village—must mean she has big things ahead of her. When the opportunity arises, she must find her purpose.

Not without a plan, Jackaleena stows away on a mercy ship that has made its yearly visit to the orphanage and is now preparing to return to America. Her journey takes her across the ocean, into the arms of New York City's customs officials, and finally into placement in a temporary foster home in Texas.

Enter Alfie Carter—a workaholic, small-town detective who is also battling memories of his past. His life is forever changed when he meets a young African girl looking for her higher purpose.
Praise For Alfie Carter: A Novel…
"In his debut novel, Alfie Carter, BJ Mayo has crafted extraordinarily original and real characters that will encircle your heart and camp out with you long after you've read the last page. Join Jackaleena and Alfie in their amazing journeys from Africa to Texas in a delightfully original and harrowing path of survival, growth, courage, and faith that showcases grace in its purest form. You will not be disappointed." —Marian P. Merritt, author of The Moon Has No Light

"From the war torn jungles of the African coast to the dusty hills of West Texas, Alfie Carter  is an incredible story of courage, faith and love."  —Robert C. Martinez, PE, president and CEO, Titan Rock Exploration & Production

"A wonderful story masterfully written. The storylines were presented and woven together to make a fascinating read—easy to follow with proper attention given to detail. Highly recommended."  —Rory Pendleton, Texas A&M class of '78

"Bob Mayo is a good storyteller whose attention to detail draws the reader into this wonderful story of hope, perseverance, and faith. A very enjoyable read." —Tommy Knowles, retired oil and gas executive
Skyhorse, 9781510764255, 288pp.
Publication Date: January 19, 2021
About the Author
BJ Mayo was born in an oil field town in Texas. He spent the first few years of his life living in a company field camp twenty-five miles from the closest town. His career in the energy industry took him to various points in Texas, New Mexico, Colorado, Utah, Louisiana, Bangladesh, Australia, and Angola West Africa. He and his wife were high school sweethearts and have been married for forty-six years with two grown children. They live on a working farm near San Angelo, Texas.