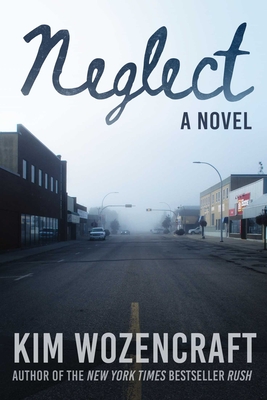 Neglect
A Novel
Hardcover

* Individual store prices may vary.
Description
From the bestselling author of Rush comes a redemptive story of a young mother at war on two fronts.

From bestselling author Kim Wozencraft comes the story of a young mother at war on two fronts: first as a soldier in Afghanistan and then upon her return to rural Granite County, New York, where one terrible mistake threatens her family and her sanity.
 
Erin Hill enlists in the Army Reserve in an act of desperation. She and her husband have both lost their jobs and their marriage is disintegrating. Assured that the odds of deployment are extremely low, Erin now finds herself on an Army base in the middle of a combat zone, where it's sometimes hard to tell who the enemy is—especially when a respected sergeant turns predator.
 
When Erin returns stateside and reunites with her family, her battle for survival truly begins. Flooded with traumatic memories, with no prospects for jobs or treatment for PTSD, her husband involved with a new woman, Erin falls into the bottle head-first. After a nearly fatal night of despair, she is swept up into a vast and indifferent bureaucracy that threatens to take her children from her—forever. Neglect is a profound story of mother love.
Praise For Neglect: A Novel…
"When an Afghanistan vet on the poverty line caves in to PTSD and despair, the state removes her 10-year-old twins.
'Erin, the athlete, the smart one. Erin, who never seemed to need anyone or anything, sailing through high school without studying, doing everything right...Erin, in Tanya's younger-sister eyes, had always seemed invulnerable.' But now Tanya has had to fly home to rural New York, where her sister lies in a psych ward after an alcohol relapse and a suicide attempt, her children sent to live with the father who abandoned them. Wozencraft, author of the 1990 bestseller Rush, which went deep into the psyche of a female narcotics detective, again shows she has no fear of the dark in this astringent novel about the ravages of alcohol, war, poverty, sexual predators, and bureaucracy. Erin joined the Army on impulse because her marriage was crumbling and both she and Eddy had lost their jobs, but when she gets back, there is only less money, less connection, and much more trauma. The novel tracks her through the insane, inhuman obstacle course laid out for her by the justice system and social service authorities if she has any hope of setting eyes on her children again. If she fails, her social worker assures her, she "won't be allowed to have so much as a school picture." At the same time, flashbacks reveal the unholy nightmare of her Afghanistan tour. Also introduced is a young Afghan girl named Fatima, imprisoned for talking to a boy in the public library. As bad as her situation is, "her mother had lived through the Taliban and feared they would once again come to power and once again shut down the schools, rewrite history, force women indoors, and order that windows be blackened so nobody could see females from the streets." The timing of this tense, unflinching drama, as Fatima's mother's fears are realized in current headlines, makes it even more urgent.

Don't even try to look away from this incandescently furious chronicle of a woman's return from hell."
—Kirkus Reviews (starred review)

"Which is worse, the trauma of being in the middle of war or the trauma of coming home to a world you don't feel you belong in anymore? Wozencraft's unmoored young mother, battling PTSD from her horrific time in Afghanistan, makes a terrible mistake, getting herself embroiled with a child custody system that is as chaotic as the battlefield. Gripping, provocative, gorgeously written—and at its heart, so so moving because it's about love at its most fierce."
—Caroline Leavitt, New York Times bestselling author of Pictures of You and With or Without You

"An ambitious, prescient, wise page-turner, Neglect turns on an educated, underemployed Upstate New York mother who crashes and burns through the social safety net. Out of financial hardship, she enlists in the Army Reserve only to be deployed to Afghanistan in 2015. Traumatized by multiple wartime experiences, she returns home with PTSD, turns to the bottle and becomes entangled with the social service bureaucracy that separates her from the very thing in the world she loves most—her twins. The chilling and empathetic novel about America's neglect of the working middle class is an indictment of the Kafkaesque institutions that, through red tape and apathy, have neglected rural America's dispossessed."
—Thelma Adams, bestselling author of The Last Woman Standing

"A powerhouse of a book from a truly great author, Neglect has it all: Grit, drama, action, heart, and characters so multi-faceted and real, you feel as though you know them. Don't miss it."
—Alison Gaylin, USA Today bestselling and Edgar Award-winning author of The Collective

"I finished Neglect on a late summer afternoon, stunned and weeping. It's been a long time since I've been so moved, been so deeply a part of the fraught intricate lives of characters whom I have come to know almost as well as I know myself. And love. Neglect is so beautifully written, so tightly stitched, that time after time I read a sentence that I wanted to transcribe and keep forever. Wozencraft paid close attention to her people, to whom attention must be paid. Thank you, Kim Wozencraft."
—Abigail Thomas, author of Safekeeping and A Three Dog Life

"As timely as tomorrow, Neglect is a runaway train with a great conductor. Kim Wozencraft crafts a story of motherly love, PTSD, the war in Afghanistan, and how one wrong move can change everything."
—Martha Frankel, author; director of Woodstock Bookfest

"Kim Wozencraft has been covering the morning-after nightmare portion of the American Dream since her fearless bestseller, Rush. In Neglect, we see her talent sharpened, matured, even more powerful and no less intrepid: this is a story of post-modern, ex-urban American desperation and dysfunction, addiction and violence, evils passed from the top of the society down to the ever-expanding bottom like so much poisoned candy to children. This world, people scrambling to survive the onslaught of no hope and mindless bureaucracy, is where other writers in more comfortable places don't wish to look: Wozencraft looks, and tells the story of her heroine, Erin Hill, with heart, with flawless clean prose, and with an unfailing eye for the small details of all our daily struggles to carry on. Erin's fall will make you mad and it will move you; her hard-edged redemption will remind you that even in the toughest times we never stop longing for virtue and we never stop looking for, and living for, love. This is an important book."
—Vince Passaro, author of Crazy Sorrow
Arcade, 9781510764392, 312pp.
Publication Date: October 19, 2021
About the Author
Kim Wozencraft is the author of six novels, including the internationally best-selling Rush, which was based on her experiences as an undercover police officer in Texas and was adapted into a film starring Jennifer Jason Leigh. Wozencraft holds an MFA from Columbia University and lives in the Hudson Valley region of New York.