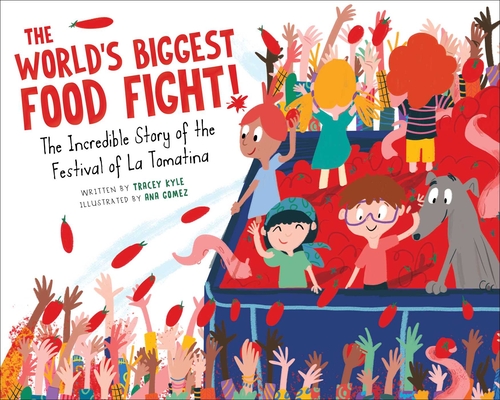 The World's Biggest Food Fight!
The Incredible Story of the Festival of La Tomatina
Hardcover

* Individual store prices may vary.
Description
"Off to the hills of España we go.
Grab a tomato . . . get ready . . . now THROW!"

Every year, the town of Buñol in Spain holds La Tomatina, a grand fiesta featuring the world's BIGGEST food fight! Join in the fun!

Afer putting on goggles and grabbing some squishy tomates, it's time to toss fruit like there's no tomorrow.

"WHOOSH! Tomatoes are filling the air!"

"SPLAT! Tomatoes are stuck in my hair!"

Soon, the entire town is flowing in crimson. Juice flows down ears, drips off noses, runs down ankles, and spreads through toes. And the tomatoes are still flying until . . .

BOOM! The cannon is fired, and it's time to stop for the day, clean up, and go to bed, to dream of all of the fun next year.

A silly, sensory celebration of tradition and gold old-fashioned food fight fun, Splat! is sure to delight.
Praise For The World's Biggest Food Fight!: The Incredible Story of the Festival of La Tomatina…
"This cute and colorful book will make preschoolers giggle!"
—Jacqueline Jules, author of the Zapato Power series

 "Who doesn't love a REAL food fight? Put on your goggles and grab the tomates! Tracey Kyle makes a splash with this little known piece of culture that kids will love!"
—Kathryn Erskine, author of The Badger Knight, Seeing Red, and 2010 National Book Award Winner for Mockingbird

"Want to introduce kids to festivals from other parts of the world? This is a romp through Spain's famous tomato festival. Use it to get kids to explore fun international traditions and celebrations. Kyle's book captures pure joy!" 
—Marcie Flinchum Atkins, International Baccalaureate, Primary Years Programme Librarian and author of Wait, Rest, Pause: Dormancy in Nature

"Who knew a food fight could be so much fun or so colorful! Grab your goggles and wade into a Spanish tomato-throwing festival that will leave readers yelling ¡Ole!"
—Candice Ransom, author of Bones in the White House

"Kyle captures the messy fun and playful chaos of the world's biggest approved food fight, La Tomatina, in her lively snappy, rhyming book." 
—Sue Fliess, author of How to Trap a Leprechaun

"An American child travels to Buñol, Spain, to take part in the town's annual raucous celebration of the tomato. La Tomatina is a large organized food fight in which residents wear goggles and spend the day throwing crushed ripe tomatoes until the streets are covered in one ruby red, pulpy mess. In an easy flowing rhyme, the narrator describes their enthusiastic participation. . . . Cartoon illustrations depict the rowdy, frenzied event as everyone and everything is splattered and splashed in the fruit's squishy juices. . . . A high-spirited celebration of a unique experience."
—Kirkus Reviews
Sky Pony, 9781510764583, 32pp.
Publication Date: August 3, 2021
About the Author
Tracey Kyle grew up in New Jersey and spent much of her childhood reading and writing poems. After seeing the boy band Menudo perform on a Latino TV station in middle school, she decided to learn Spanish fluently. Eventually she studied in Madrid, Spain. She spends most of her time as "Señora Kyle," teaching Spanish to a fun group of 8th graders. When she's not writing lesson plans or working on a new story, she loves to read, cook and practice yoga. She lives in Virginia with her husband and two cats.

Ana Gomez studied fine art at Salamanca University, but was always looking for a way to express the ideas and characters in her head. Illustration was the outlet for that. She lives in Madrid, Spain.