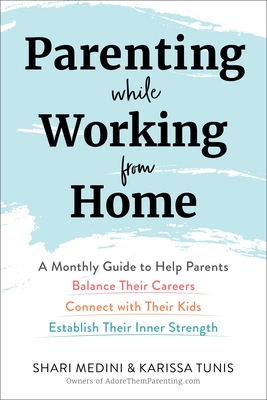 Parenting While Working from Home
A Monthly Guide to Help Parents Balance Their Careers, Connect with Their Kids, and Establish Their Inner Strength
Hardcover

* Individual store prices may vary.
Description
Parenting in December is very different from parenting in July―especially while working from home!
As more parents work from home than ever before, there are unique challenges when it comes to meeting the demands of their job, helping their kids thrive, and finding even five minutes to take care of themselves. 
Parenting While Working from Home 
offers tips, strategies, and reflections to help parents balance their careers, connect with their kids, and establish their inner strength over the course of a year. Parenting experts and founders of the popular website, Adore Them Parenting, Karissa Tunis and Shari Medini share actionable tips, heartfelt insight, and planning strategies to help you enjoy your own parenting journey while working from home.
Building on the authors' own experiences and the most common challenges they hear parents voicing today, 
Parenting While Working from Home
encourages parents to make intentional changes that will result in happier families and thriving careers. This practical guide will teach you how to:
Manage your time so that both your kids and your job get the attention they need
Build a professional network and maintain your productivity from home
Create a kid-friendly environment that encourages independence and strong sibling bonds
Consistently tune in to your own needs so that you can meet your true potential
And so much more
While it isn't always easy, working from home while raising a family can (and should) be an incredible experience.
Parenting While Working from Home
offers comfort in shared struggles, new solutions, and calmer days ahead!
Praise For Parenting While Working from Home: A Monthly Guide to Help Parents Balance Their Careers, Connect with Their Kids, and Establish Their Inner Strength…
"The authors successfully make the case that parenting while working from home, rather than being merely possible, can be a positive experience. Parents will finish the book feeling inspired and empowered." —Publishers Weekly 

"Whether working from home while parenting as a temporary solution or a more long-term plan, readers will get advice for finding a rhythm, maintaining positivity, and balancing everything, while still having fun." —Booklist

"This timely book will help you navigate the chaos of working from home with kids successfully. Practical tips and activities help you connect with your family, improve your personal care, and boost your work—all with a positive outlook!" —Elizabeth Pantley, author of The No-Cry Solution parenting series

"Parenting While Working from Home is laid out like no book I have seen before. Every other book floods you with ideas and options, but this book gives you something simple to work on and tackle each month. It's a breath of fresh air for a working mom. I don't need more things to do, I need guidance on how to live a happier life, be a better parent, and build my business . . . and this book is the perfect field guide." —Dana Malstaff, CEO of Boss Mom LLC

"Shari and Karissa provide tangible ways to set goals with your family, engage in epic activities and experiences, enhance the relationship with your kids, and ultimately manage the tension of the new normal while working from home." —Justin Batt, author and founder of Daddy Saturday
Skyhorse, 9781510764828, 200pp.
Publication Date: January 19, 2021
About the Author
Shari Medini is a writer and co-owner of AdoreThemParenting.com. Her parenting articles have been published in dozens of print and online publications. Shari's past experience includes working with children and families in the mental health field, mentoring and speaking as a mindset coach, and working as a freelance writer and marketing strategist for companies across the country. She understands the demands of working from home and loves sharing tips to help balance it all. When she's not on her laptop, Shari can be found spending quality time with her husband and two sons exploring their hometown of Lancaster County, Pennsylvania.
 
Karissa Tunis is a writer, event organizer, and co-owner of AdoreThemParenting.com. Through these ventures she has been able to share inspiring, heartfelt insight with large audiences both within local communities and across the country. As a work-from-home mom of four children, Karissa understands the need for family-focused organization and time management. She consistently provides insight into child behavior that has helped fellow parents achieve their goals of calmer, happier homes. Karissa also makes it a priority to soak in all of the southern specialties that Charleston, South Carolina, has to offer with her husband and their children.