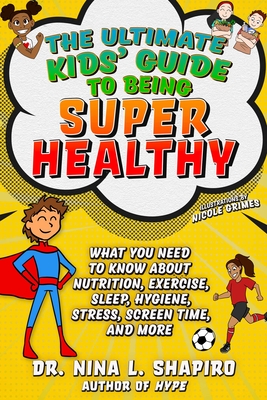 Ultimate Kids' Guide to Staying Healthy
What You Need To Know About Diet, Exercise, Sleep, Hygiene, Stress, Screen Time, and More
Paperback

* Individual store prices may vary.
Description
Attention all grown-ups! Kids have questions! Now they'll have answers.

Kids of all ages have some important questions about how their bodies work—and why their parents and other adults have some strong ideas on what needs to get done every day in order to stay healthy. Children often hear:

"No more screen time!"
"Eat your vegetables!"
"You can't have cookies for dinner!"
"You need to take your medicine!"
"Wash your hands! With soap!"
"It's getting late! Get ready for bed!!"

In this book, Dr. Nina L. Shapiro embarks on an amazing journey through the body as it gets fed, protected, exercised, cleaned, energized, and rested. Each chapter provides kids with age-appropriate explanations and illustrations that address their very good questions about their bodies and health with solid (and fun!) science-based answers. By receiving an in-depth understanding of what it means to be healthy, strong, clean, rested, and energized, kids will soon be able to make smart decisions on their own.

The human body is incredible, and the science behind how our bodies work, how the world affects our bodies, and how our bodies affect the world around us is pretty cool, too.
Praise For Ultimate Kids' Guide to Staying Healthy: What You Need To Know About Diet, Exercise, Sleep, Hygiene, Stress, Screen Time, and More…
Praise for HYPE

"Written with a surgeon's incisiveness and clarity, Dr. Nina Shapiro 'cuts' through the clutter of confusion when it comes to the best advice for your health. In an age of information overload, it has become increasingly challenging to find trusted voices, which is why Hype could not come at a better time. As a top-doctor but also as a mom, wife and friend, Shapiro knows what matters most to her readers. She also knows how to skillfully blend knowledge with engaging and entertaining stories. Every home should have a copy of Hype."―Sanjay Gupta, MD, CNN Chief Medical Correspondent and New York Times bestselling author

"In Hype, Nina Shapiro leads us carefully along the frontier between medical knowledge and uncertainty. She is one of the best doctors I know, and now her wisdom and bedside manner are available to everyone, at book length. If you want to remain sane while facing some of life's greatest challenges―read this book."―Sam Harris, New York Times bestselling author of The End of Faith, The Moral Landscape, and Waking Up

"If you're tired of reading competing, confusing headlines in the health sphere or wondering if the latest 'clinically-proven' trend is worthy advice, then Hype is a must-read book. In this clear, concise, no-nonsense guide to understanding what's truly good for you―and not―Dr. Nina Shapiro inoculates you with the data-driven truth. Filled with knowledge and engaging stories, this book reveals facts that will surprise you, all of which will empower you for total well-being." ―David B. Agus, MD, New York Times bestselling author of The End of Illness, Professor of Medicine and Engineering, University of Southern California, and
Founding Director and CEO, Lawrence J. Ellison Institute for Transformative Medicine

"Hype is an indispensable book packed with history, research, and personal anecdotes. It is the antidote to overwhelming internet searches, floods of health information, and endless tips from friends or family members who are not trained in health care. Nina Shapiro has become the expert at cutting through spin and guiding freaked out patients off the ledge. Since unsolicited advice isn't going away, the best next step is to arm yourself with the information in this book. This should be mandatory reading."―Cara Natterson, MD, New York Times bestselling author of The Care and Keeping of You Series

"In these times, the lines have blurred between real and fake news. Likewise, in healthcare, there are abundant false claims, fictions, and fabrications. In HYPE, Dr. Nina Shapiro, a medical truth–seeker and master explainer, takes us on a path of scrutiny and veracity."―Eric Topol MD, Professor, Scripps Research Institute, and author of The Patient Will See You Now

"In Hype, Nina Shapiro and Kristin Loberg guide us through the dense thicket of seductive medical advice offered by the media, celebrities, activists, and health hucksters. Unlike most skeptics, however, they aren't simply naysayers, but instead willing to tell us what works and what doesn't. Some of their advice, no doubt, will surprise you."―Paul A. Offit, MD, author of Pandora's Lab and Autism's False Prophets

"[A] feisty, fact-filled diatribe. [Shapiro's] skeptical, no-nonsense approach and probing assessment of fact versus fiction make for lively reading that is likely to help readers make better health and medical choices."―Publishers Weekly

"An extremely useful, easy-to-read handbook."―Booklist
Sky Pony, 9781510764934, 160pp.
Publication Date: October 5, 2021
About the Author
Dr. Nina L. Shapiro has been taking care of children for more than two decades, and they have asked some excellent questions throughout the years. Most of the time, she has a pretty good answer, but sometimes she gets stumped. She is professor and surgeon at the David Geffen School of Medicine at UCLA, and is the Director of Pediatric Ear, Nose, and Throat at the Mattel Children's Hospital UCLA. When not at work, she enjoys spending time with her own children, who are stuck with two surgeon parents at the dinner table each night. She is the author of Take a Deep Breath: Clear the Air for the Health of Your Child and HYPE: A Doctor's Guide to Medical Myths, Exaggerated Claims and Bad Advice: How To Tell What's Real and What's Not, which was a Publisher's Weekly Best Book of 2018.