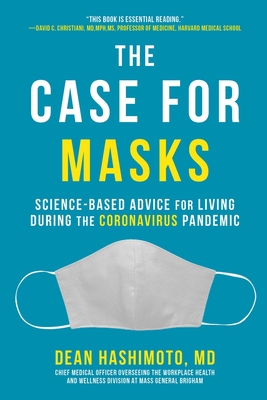 The Case for Masks
Science-Based Advice for Living During the Coronavirus Pandemic
Hardcover

* Individual store prices may vary.
Description
The science behind wearing a mask to stop the spread of Coronavirus, from a top expert in the field.

In America, the debate over whether or not masks should be worn to prevent the spread of COVID-19 has become enmeshed with political affiliation, views on religious and personal freedoms, and conflicting media reports on the benefits and dangers of facial coverings. But now, several months into this pandemic, what does science say? What have we learned from international case studies? Dr. Hashimoto, the chief medical officer who oversees the Workplace Health and Wellness division at Mass General Brigham, a Harvard Medical School affiliated healthcare system, presents the current research, making the case that wearing masks in public is a key part of saving lives and bringing this pandemic to a halt. 

Citing specific examples of situations where infected individuals wore masks versus ones who didn't and how that changed the outcome, as well as population-based studies in individual states and by country, and the undeniable effect that universal masking had on Mass Brigham Hospital's staff of 75,000, Dr. Hashimoto offers a clear and compelling argument for the benefits of masking. In addition, he explains the complementary roles of social distancing, washing hands, coronavirus testing, and face shields, and a thorough exploration of what kinds of masks are most effective at stopping the spread of viruses and how they should be fitted and worn. He addresses safety concerns and medical misconceptions about mask wearing, why the CDC didn't recommend universal mask wearing at the beginning of the pandemic, and how employers can promote mask wearing in their workplaces.

Don't  wear a mask just because someone told you to. Find out the real reasons for masking and understand the science for yourself.
Praise For The Case for Masks: Science-Based Advice for Living During the Coronavirus Pandemic…
"This is a clear and compelling manifesto advocating universal masking as a key public health tool for pandemic mitigation and control.  Dr. Hashimoto grounds his recommendations in the latest science and his own extensive experience.  His insights and advice can inform concerned members of the public, health care practitioners, and policy makers committed to public protection." —Gregory R. Wagner, M.D., Harvard T.H. Chan School of Public Health

"Controlling respiratory infection at the source by a face mask is a well-established strategy. Dr. Hashimoto presents a clear case, based on solid data, that universal use of masks, especially when combined with physical distancing and hand-washing arms us with the tools we need to defeat SARS-Cov 2. This book is essential reading." —David C. Christiani, MD,MPH,MS, Professor of Medicine, Harvard Medical School

"Dr. Hashimoto has presented a compelling case for the importance of masks as part of a culture of community safety in addressing the coronavirus pandemic. He understands from his personal experiences the need for building a culture of health and safety to promote and protect the health of employees. He has ably translated this knowledge to provide practical solutions for using masks as part of the context for community-wide prevention." —Glorian Sorensen, PhD, MPH, Professor of Social and Behavioral Sciences; Director, Center for Work, Health and Wellbeing, Harvard T.H. Chan School of Public Health

"Dr. Dean Hashimoto's The Case for Masks is essential pandemic reading. Authored by a highly experienced physician, a specialist in occupational medicine who directs the Workplace Health and Wellness Program at Mass General Brigham, the major Harvard Medical School hospital network, The Case for Masks explains why masks are the single most important tool for controlling the COVID-19 pandemic. Dr. Hashimoto's clear, accessible, jargon-free prose cuts through conflicting media reports on the pros and cons of masks. It tells you when and how to wear a mask. It gives everyday guidance for how to live thrive in the coronavirus pandemic. I recommend it highly." —Philip J. Landrigan, MD, MSc, Director, Program for Global Public Health and the Common Good, Boston College; former Division Director, National Institute for Occupational Safety & Health (NIOSH)

"The Case for Masks by my colleague, Dr. Hashimoto, should be informative and empowering to large segments of the public. Until we reach herd immunity through vaccinations and natural infection, universal masking in situations where ventilation and social distancing are insufficient will be the key to keeping workplaces, retail outlets, and schools open along with frequent hand-washing and other sanitation measures." —Stefanos N. Kales MD, MPH, FACP, FACOEM; Professor of Medicine, Harvard Medical School; Professor & Director, Occupational Medicine Residency, Harvard TH Chan School of Public Health

 
Skyhorse, 9781510765238, 128pp.
Publication Date: October 27, 2020
About the Author
Dean Hashimoto, MD, is the chief medical officer who oversees the Workplace Health and Wellness division at Mass General Brigham, a Harvard Medical School affiliated healthcare system. His division provides clinical services for 78,000 healthcare workers, implements illness and injury prevention programs for its 12 hospitals, and supports research in association with the Harvard Center for Work, Health, and Wellbeing. He teaches healthcare policy at Boston College Law School.