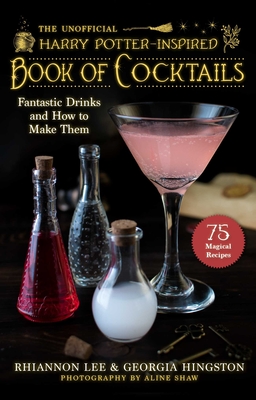 The Unofficial Harry Potter–Inspired Book of Cocktails
Fantastic Drinks and How to Make Them
Hardcover

* Individual store prices may vary.
Description
Magical Masterpieces of Mixology Inspired by the Harry Potter Universe​
With simple instructions and insider bartender know-how,
The Unofficial Potter–Inspired Book of Cocktails
is the perfect guide of spell-tacular spirits for age-appropriate witches and wizards. The seventy-five potions and elixirs featured in this book are cocktail classics that have been given a magical makeover using unique ingredients such as activated charcoal, popping candy, and dry ice, transforming the mundane mixed drink into a bewitching brewed beverage.
Charm guests with color-changing concoctions, fizzing cocktail bombs, and flaming creations, including:
Butterscotch Beer
Nearly Legless Nick
Expecto Martini
Hex on the Beach
Tom Riddle-Collins
And more!
Whether you're a witch, wizard, squib, or muggle, everyone can enjoy that magical feeling of finding their perfect sip with
The Unofficial Harry Potter–Inspired Book of Cocktails.
Praise For The Unofficial Harry Potter–Inspired Book of Cocktails: Fantastic Drinks and How to Make Them…
"If there are two things we know and love, it's Harry Potter and fun cocktails. In this book, Rhiannon and Georgia bring both together in a magical way. Ten points to Gryffindor! Cheers!"
—Harry Potter and the Half-Drunk Podcast
 
"Rhiannon and Georgia have done a marvelous job bringing these magical potions to use in safe form. Their spellbinding work with creative elixirs and delightful banter has my staff eager to craft some of these otherworldly cocktails and attend a meeting for once!"
—Rita Mock-Pike, author of The Unofficial Hogwarts for the Holidays Cookbook and editor-in-chief of MockingOwlRoost.com
Skyhorse, 9781510765245, 168pp.
Publication Date: October 26, 2021
About the Author
Rhiannon Lee (Ravenclaw) and Georgia Hingston (Gryffindor) grew up together in the United Kingdom where they developed a shared love of all things witchcraft, wizardry, and mixology. Their adventures have seen them sampling drinks all over the world, bartending their way across America and Europe. Bringing together expertise in chemistry and creative writing, Rhiannon and Georgia combine their skills in this book to bring you a truly magical collection of cocktails.