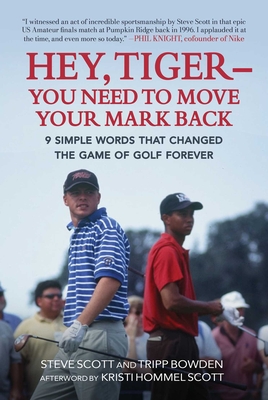 Hey, Tiger—You Need to Move Your Mark Back
9 Simple Words that Changed the Game of Golf Forever
Hardcover

* Individual store prices may vary.
Description
Experience the thrill, twenty-five years later, of Steve Scott's epic finals match against Tiger Woods in the 1996 United States Amateur Championship!
In August of '96, Steve Scott went head to head against Tiger Woods at Pumpkin Ridge Golf Club in the finals of the US Amateur Championship. Five thousand three hundred forty-five players whittled down to two. Scott found himself a surprising 5-up after the first 18, but at hole 35 Tiger squared the grueling match with an improbable 40-foot birdie putt. With the result coming down to the last hole, the difference in the outcome actually came earlier, when Scott reminded Woods to move his mark back to its rightful place on hole 34. Had Scott not done the morally correct thing, Tiger would have been penalized and, in turn, not have won three straight U.S. Amateur Championships (something not even the great Jack Nicklaus or legendary Bobby Jones had done), forever changing the course of Tiger's career and golf history.

In Hey, Tiger—You Need to Move Your Mark Back, Scott teams up with esteemed storyteller Tripp Bowden to explain, twenty-five years later, what led to that life-changing moment and to describe, in his own words, the exhilaration of that '96 U. S. Amateur Championship and how it ultimately changed golf history and the two competitors' lives.

Forever.

Hey Tiger—You Need to Move Your Mark Back is a story for the ages for golf fans looking for an unlikely new perspective on the greatest game in the world.
Praise For Hey, Tiger—You Need to Move Your Mark Back: 9 Simple Words that Changed the Game of Golf Forever…
"I witnessed an act of incredible sportsmanship by Steve Scott in that epic US Amateur finals match at Pumpkin Ridge back in 1996. I applauded it at the time, and even more so today." —PHIL KNIGHT, cofounder of Nike

"The '96 US Amateur had all the check marks on it. It was the first big golf event that I ever hosted with a prime-time audience, and it was truly magical stuff. Steve Scott and Tiger Woods will be attached in amateur golf history forever."

—DAN HICKS, lead host of NBC's award-winning golf coverage and the Olympic Games for nearly thirty years

"Of all the matches I reported as an analyst for almost thirty years for NBC Golf, Steve Scott's finals match with Tiger was the Most Exciting Drama I ever witnessed in my career! It was so close to being one of the biggest upsets in golf history, had Steve not told Tiger to move his mark back."

—JOHNNY MILLER, two-time major champion winner and world golf hall of famer

"Being there, witnessing game-changing history at Pumpkin Ridge, was one of the highlights of my time in serving golf. The act of sportsmanship of Steve Scott is was what makes golf so special. I will never forget it. It was the stuff, truly, of Bobby Jones."

—RON READ, longtime starter for the US Open

"Hey Tiger—is a beautiful story of these eight poignant moments in time: A two-time defending US Amateur champion, a thrilling and unbelievable comeback, a meaningful 'oh, by the way' act of sportsmanship, a girlfriend/caddie later to become a wife, the world's wealthiest marshal, a captivating 38-hole marathon on national television., and a new USGA venue that would soon host 6 championships in 10 years. What a moment frozen in time for Pumpkin Ridge, Steve Scott, and Tiger Woods."

—GAY DAVIS, cofounder of Pumpkin Ridge Golf Club

"This game we love so much has a central principal: Play the ball as it lies, play the course as you find it, and if you cannot do either, do what is fair. Hey Tiger—You Need to Move Your Mark Back, is Tripp Bowden's fourth book. Bowden's previous three tell many very different real-life golf stories, but all converge on the true spirit of golf—do what is fair, do what is right. Steve Scott did just that on the 34th hole of that unforgettable August 25th day at glorious Pumpkin Ridge. May all of us who play, and love golf, do the same."

—DR. JOE, retired surgeon, active Episcopal priest at St. Paul's in Augusta, Georgia
Skyhorse, 9781510765290, 256pp.
Publication Date: June 1, 2021
About the Author
Tripp Bowden is a former Augusta National caddy, the first full-time white caddy in the history of the elite private club. He' s also a former collegiate golfer and alum of Augusta University and a former copywriter, first with McCann Erickson New York and later with his own company, Creative Wizards. Tripp is the author of the New York Times-praised Freddie & Me: Life Lessons from Freddie Bennett, Augusta National' s Legendary Caddy Master, and All the Memorable Rounds: Golf Adventures and Misadventures from Augusta National to Cypress Point and Beyond. A frequent speaker at prominent golf clubs and sports venues across America and beyond, Tripp lives with his wife Fletch and children Arrie B. and Holly Mac in Augusta, Georgia.