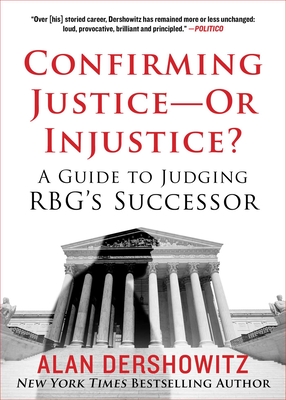 Confirming Justice—Or Injustice?
A Guide to Judging RBG's Successor
Hardcover

* Individual store prices may vary.
Description
In Confirming Justice—Or Injustice?, Alan Dershowitz—New York Times bestselling author and one of America's most respected legal scholars—contemplates the past, present, and future of the Supreme Court, from the death of Ruth Bader Ginsburg to the confirmation battle looming over President Trump's nomination of Judge Amy Coney Barrett.
 
Alan Dershowitz has been called "one of the most prominent and consistent defenders of civil liberties in America" by Politico and "the nation's most peripatetic civil liberties lawyer and one of its most distinguished defenders of individual rights" by Newsweek. He is also a fair-minded and even-handed expert on the Constitution and American government, and in this book offers his knowledge and insight to help readers understand the current circumstances surrounding the Supreme Court and the looming partisan battle for its future.
 
Confirming Justice—Or Injustice? is an analysis of every aspect of the possible confirmation of Judge Amy Coney Barrett to fill the vacant seat left by the death of Ruth Bader Ginsburg. It includes timely commentary on the history and process of confirming justices to the Supreme Court, notes about what might happen if the process is changed—such as by court packing or instituting age or term limits for justices—and discussion of the roles of the various people and groups who might have input on the confirmation, from the president to the senate to the judiciary committee to the Constitution itself. 
 
In the end, Confirming Justice—Or Injustice? represents an icon in American law and politics reckoning with an increasingly politicized and polarized nomination-and-confirmation process for judges and what those shifts might mean for the country, both now and in days to come. It is essential reading for anyone interested in or concerned about Trump's nomination of Amy Coney Barrett and the process of her possible confirmation, the legacy of Ruth Bader Ginsburg, and the future and fate of the Supreme Court—and American democracy itself.
 
Praise For Confirming Justice—Or Injustice?: A Guide to Judging RBG's Successor…
PRAISE FOR ALAN DERSHOWITZ

"Alan Dershowitz speaks with great passion and personal courage." —Eli Wiesel

"Alan Dershowitz is a living profile in courage." —Steve Forbes

"Over [his] storied career, Dershowitz has remained more or less unchanged: loud, provocative, brilliant and principled." —Politico

"The fearless, peerless Alan Dershowitz." —Rabbi Lord Jonathan Sacks, Chief Rabbi, Great Britain

"The truth has no greater defender than Alan Dershowitz."—Benjamin Netanyahu

"There are great legal minds; there are those who can also communicate well on television; then there is Dershowitz. The professor is uniquely capable of arguing a position, while putting a premium on legal and ethical legitimacy, not its popularity. Bravo, Dershowitz!"—Chris Cuomo, Anchor and Reporter, Cnn

"Anyone interested in the true merits of criminal law and very fine writing must read Alan Dershowitz's book."—Truman Capote
 
"Love him or hate him, Dershowitz has lived a life that matters, hugely and enduringly. He is a man in full at a time when most of us aspire to be little more than a presence on Twitter."—New York Times Book Review

"Courage and principle are rare today. Professor Dershowitz has them both."—Senator Ted Cruz
 
 
Hot Books, 9781510765672, 120pp.
Publication Date: October 13, 2020
About the Author
Alan Dershowitz is one of the most celebrated lawyers in the world. He was the youngest full professor in Harvard Law School history, where he is now the Felix Frankfurter Professor of Law, Emeritus. The author of numerous bestselling books, from Chutzpah to Guilt by Accusation to The Case Against Impeaching Trump to The Best Defense to Reversal of Fortune (which was made into an Academy Award–winning film) to Defending Israel, Dershowitz has advised presidents and prime ministers and has represented many prominent men and women, half of them pro bono.
or
Not Currently Available for Direct Purchase