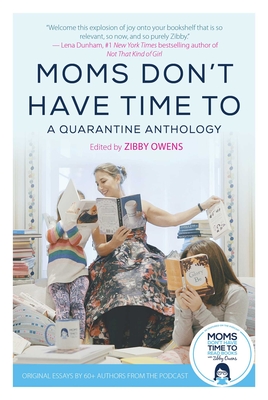 Moms Don't Have Time To
A Quarantine Anthology
Hardcover

* Individual store prices may vary.
Other Editions of This Title:
Paperback (11/2/2021)
Description
JOIN AWARD-WINNING PODCASTER ZIBBY OWENS OF MOMS DON'T HAVE TIME TO READ BOOKS ON A JOURNEY FILLED WITH FOOD, EXERCISE, SEX, BOOKS, AND MORE.
 
It's impossible to ignore how life has changed since COVID-19 spread across the world. People from all over quarantined and did their best to keep on going during the pandemic. Zibby Owens, host of the award-winning podcast MomsDon't Have Time to Read Books and a mother of four herself, wanted to do something to help people carry on and to give them something to focus on other than the horrors of their news feeds. So she launched an online magazine called We Found Time.

Authors who had been on her podcast wrote original, brilliant essays for busy readers. Zibby organized these profound pieces into themes inspired by five things moms don't have time to do: eat, read, work out, breathe, and have sex. Now compiled as an anthology named Moms Don't Have Time To, these beautiful, original essays by dozens of bestselling and acclaimed authors speak to the ever-increasing demands on our time, especially during the quarantine, in a unique, literary way.

Actress Evangeline Lilly writes about the importance and impact of film. Bestselling author Rene Denfeld focuses on her relationship with food after growing up homeless. Screenwriter and author Lea Carpenter and Suzanne Falter, author, speaker, and podcast host, focus on loss. New York Times bestselling authors Chris Bohjalian and Gretchen Rubin write about the importance of reading. Others write about working out, love and sex, eating and cooking, and more. Join Zibby on her journey through the winding road of quarantine and perhaps you, too, will find time.
Praise For Moms Don't Have Time To: A Quarantine Anthology…
"Zibby Owens is a genius at throwing a party—the kind where all the guests will like each other, the chatter won't stop, and everybody leaves feeling like they're part of a chic bookish girls club. But with the pandemic throwing a wrench in IRL parties, Zibby found that she was just at home throwing a party via essay collection and that's what this is: a vertical rolodex of friends who will remind you that women can, do, and always have had the power to balance entire impossible lives—and still read books. Welcome this explosion of joy onto your bookshelf that is so relevant, so now, and so purely Zibby." —LENA DUNHAM, #1 New York Times bestselling author of Not That Kind of Girl

""Zibby Owens is a maven and a connector, a book lover whose passion for people and genuine interest in their stories has transformed a global community of readers into an intimate and supportive society of friends. This collection is the product of Zibby's talent, passion, and constant quest to find the stories both big and small that make our lives meaningful. As a mother, as a wife, as a reader, as an author—simply as a human being— I cherished this collection of honest, thought-provoking, and funny essays." —ALLISON PATAKI, New York Times bestselling author of The Queen's Fortune

""Zibby's essay collection is just like her: warm, inclusive, literary, at times funny, and always refreshingly real. Every piece in here will make you think, shift your perspective, and touch your soul." —LORI GOTTLIEB, New York Times bestselling author of Maybe You Should Talk To Someone: A Therapist, Her Therapist, and Our Lives Revealed

"Even before COVID changed the way we live and work and communicate with each other, Zibby Owens was already a force for good: promoting books through her 'Moms Don't Have Time to Read Books' podcast and events and bringing people together who shared her passion for reading. Throughout the pandemic, she continued to be The Great Connector, making us all feel less alone during a time of unprecedented anxiety, isolation, and uncertainty. Moms Don't Have Time To is the product of the many writers readers she connected—"virtually"—in lockdown: a network of women encouraging each other, showing up for each other, and supporting each other through both our best and our toughest moments. Funny, moving, and hopeful, these pieces will forever remind us how we all got through this singular moment in history: together, and with a lot of great books!" —LAURA ZIGMAN, author of Animal Husbandry and Separation Anxiety

"The perfect reminder for every mom that none of us have it all together, all of us are doing our best and most importantly ... even your worst days make a great story." —NORA McINERNY, author of No Happy Endings and host of popular podcast Terrible, Thanks for Asking

"Each of these brilliant essays shines as bright as Zibby Owens herself, who is a Fourth-of-July firework in human form. Actually, I've always wished that everyone could have the opportunity to experience Zibby's pure energy in person. She's a connector of people, a bolt of energy, a burst of unconditional love. But then, after reading this book, I realized you don't actually have to meet Zibby in person to experience her pure Zibbyness. You can read these essays, which she has lovingly nurtured and curated in the midst of both a global pandemic and her own personal losses therein, and feel that Zibby godlight shining through all of our clouded souls." —DEBORAH COPAKEN, New York Times bestselling author of Shutterbabe, The Red Book, and her new upcoming memoir, Ladyparts

"This moving collection, curated by Zibby Owens, runs the gamut of human relationships. These essays examine our connection with our bodies, our lovers, our kids, our friends, and our minds. Each one is poignant and sharp, slipping between the mundane and the spiritual, and is utterly refreshing during a time of universal longing and loneliness. Moms Don't Have Time To is an absolute gift." —STEPHANIE DANLER, bestselling author of Sweetbitter and Stray

"Zibby Owens is a force for the good in more ways than I can count. In this anthology borne of a longing to connect and heal, she has gathered a group of wise and generous writers—herself included!—who are quite simply the best company. Curl up with this book and I promise you'll be surrounded by kindred spirits." —DANI SHAPIRO, New York Times bestselling author of Inheritance

"In a time when we need to feel connected more than ever, Zibby Owens has done what she does best—bring together extraordinary voices in the literary world to give us words that make us feel less alone. This anthology will be one to keep handy for years to come, something to turn to when you just need to be reminded of how perfectly imperfect we all really are." —CLAIRE BIDWELL SMITH, author of Anxiety: The Missing Stage of Grief

"Zibby isn't just a tireless champion for books, she's a community builder who was able to make readers and authors feel less alone during a year of terrible isolation and uncertainty. This collection of warm, relatable, funny, unfailingly honest essays feels like hanging out at a book club full of smart, funny women once the Chardonnay hits. It's the Algonquin Roundtable in yoga pants. As an author and a mom, I'm so glad I found time for Moms Don't Have Time To. The dishes on the other hand..." —BESS KALB, bestselling author of Nobody Will Tell You This But Me 

"From 'Awake, 3:01 AM' to 'Sheltering with Ghosts' to 'How to Have Sex with a Germaphobe,' this collection of essays, written in real time during the spring and summer of 2020, is a boon pandemic companion. Writer Zibby Owens has created an anthology full of emotion, humor, and good advice for these troubled times and beyond." —LILY KING, New York Times bestselling author of Writers & Lovers

"Zibby Owens has assembled some of the best writers around and the result is a hilarious, inspiring collection of essays about all the things we don't have time for, and yet must do to keep ourselves joyful and engaged--or at the very least, sane. A delightful read from start to finish." —J. COURTNEY SULLIVAN, New York Times bestselling author of Friends & Strangers 
Skyhorse, 9781510765962, 312pp.
Publication Date: February 16, 2021
About the Author
ZIBBY OWENS is the creator and host of award-winning podcast Moms Don't Have Time to ReadBooks. Zibby, named "NYC's Most Powerful Bookfluencer" by New York Magazine's Vulture, conducts warm, inquisitive conversations with authors as wide-ranging as Alicia Keys and Lena Dunham to Delia Owens and Brit Bennett, making her show a top literary podcast as selected by Oprah.com two years in a row.

Before the pandemic, Zibby ran a literary salon, hosted her own book fairs, and was a frequent bookstore event moderator. During the quarantine, Zibby hosted a daily Instagram Live author talk show "Z-IGTV," a weekly live show with her husband "KZ Time," launched an online magazine called We Found Time, and started Zibby's Virtual Book Club.

Zibby is a regular contributor to Good MorningAmerica online and the Washington Post, and has contributed to Real Simple, Parents, Marie Claire, Redbook, and many other publications. She has appeared on CBS This Morning, the BBC, NPR's AllThings Considered, Good Day LA, and local new outlets.

Zibby, a graduate of Yale University and Harvard Business School, currently lives in New York with her husband, Kyle, and her four children.