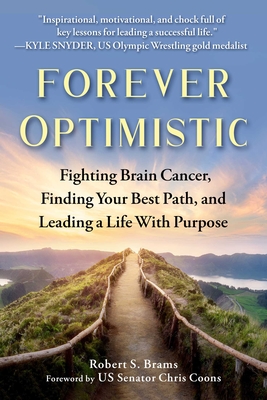 Forever Optimistic
Fighting Brain Cancer, Finding Your Best Path, and Leading a Life With Purpose
Hardcover

* Individual store prices may vary.
Description
Join a high-powered lawyer on his fight for life against brain cancer and his continuing efforts to remain Forever Optimistic.

At age fifty-five, Robert S. Brams, a former college athlete, was in perfect health. Bob was blessed with a beautiful family, including his wife and two children. He had a circle of close friends and a hard-driving international law practice as partner at one of the most prestigious firms in Washington, DC. But after a fateful car accident, an MRI scan revealed a shadow on his brain that suddenly shattered his carefully constructed life. Brams was diagnosed with brain cancer—one of the most overwhelming challenges a person can face. What would the future hold for Brams and his family?

Brams has been through six extraordinary years—four hospitals, two brain surgeries, a seizure, a stroke, a coma, life support, ICUs, radiation, chemotherapy, various rehab regimens, a hemophilia diagnosis, and countless MRIs. With all this, Brams's insurers categorized him as a "Catastrophic Loss." Despite all that's happened, Brams is still in the fight, and he is determined to achieve an important purpose—to help beat brain cancer. While his legal career has ended, his continuing struggles have caused him to reprioritize his values and change his perspective on what really matters in life.

Having stood at death's door and now confronted with an uncertain prognosis, Brams's insights on life, love, family, education, business, and finding your passion take on a distinctive power and clarity. Readers from every walk of life looking for inspiration and motivation will find it in Brams's remarkable story. Struggles, setbacks, and failures in his youth were "no fun," but with optimism and determination, Brams found his best path and ultimately succeeded. He reminds us that it's not where you start, but rather where you finish.
 
Inspiring, powerful, and eminently readable, Forever Optimistic: Fighting Brain Cancer, Finding Your Best Path, and Leading a Life With Purpose is by turns moving, humorous, and brimming with hard-won wisdom. Brams's story is one of remarkable courage in the face of tragedy. Please support the brain cancer fight at www.1MBBC.com.
Praise For Forever Optimistic: Fighting Brain Cancer, Finding Your Best Path, and Leading a Life With Purpose…
"Bob's story is inspiring on many levels. His story is deeply moving, surprisingly humorous and brimming with hard won wisdom for readers from every walk of life. I hope you find deep value in reading about Bob's compelling journey."
—US Senator Chris Coons, Delaware, from the Foreword
 
"Straight talk from a straight shooter. Bob and I began as client/counsel on many Discovery Communications real estate transactions; just as those developed into a complex headquarters project, our relationship has grown into friendship. This book deals with many life challenging topics like health management, child rearing, and even the possibility of  miracles. You may not have the same background or experiences, but in his story Bob gives insights that will certainly make you ask 'what if?' and perhaps even influence future choices. Kudos to the Brams family for sharing this battle and continuing the fight!"
— Pandit Wright, former Discovery Channel senior executive, and president and CEO of the Boys & Girls Club of the National Capital Region
 
"I had the honor and privilege of reviewing Bob Brams's new book, Forever Optimistic. This story of his survival against all odds is nothing short of extraordinary. Bob walks us through a harrowing tale of his two craniotomies on both the East and West Coasts, as well as radiation and chemotherapy treatments. Following his first surgery, Bob battled a stroke, a coma, life support, and even hemophilia. Bob was left with difficulties walking, thinking, and speaking; and he had to undergo lengthy 24/7 care at the National Rehabilitation Hospital in Washington, DC followed by years of therapy. 

The aftermath of his myriad medical procedures, problems, and therapy, led him to search his soul on how he had led his life and what it takes to lead a successful and fulfilling life. Bob explores many of the precise issues that have come up throughout my many years of psychiatry practice. Bob's thoughts and conclusions are spot on. Bob has a lovely wife and two children so he's seen a lot. I found the book fascinating, captivating, and full of keen insights about life's many trials. Brain tumor or not, I believe that all readers from parents, to students, to professionals—virtually anyone—will find Bob's book to be a thoroughly insightful and captivating read."
—Jerrold M. Post, MD, professor emeritus, George Washington University, and president, Political Psychology, Ltd
 
"While always self-effacing, our author Bob Brams never underestimates himself. His new book paints a picture of a man struck down by a brain cancer diagnosis at the peak of his legal career. He fights the battle with unrelenting adversity, courage, common sense, humor, and proportionality. However, he neglects to inform the reader that he fell from a high perch. Indeed Bob rose to the top of the vaunted Washington, DC legal profession. He did so through hard work and his gift for the law. I believe that one of the reasons that he's risen so high is that he would always assert only well-reasoned arguments. Bob also has an uncanny ability to never let his professional relationship with adversaries interfere with the personal relationship he would develop with them. He has maintained friendships with clients and adversaries to this day.  Confronting a deadly brain tumor, Bob has applied his positive attitude, force of character, and diligence to achieve a quality of life of a different sort, as he shares in this riveting account of his illness, pas de deux with the medical profession, and application of his life skills to a new normal. This is must-read for a broad range of readers from those struggling through a devastating illness or other situations to those individuals struggling to find success in law, business, and life."
—Judge Christine O.C. Miller, United States Court of Federal Claims (Ret.)
 
"I'm honored to endorse Bob Brams's book Forever Optimistic. Bob's medical experience was nothing short of devastating, but he's come out of it all with the greatest of insights on choosing your path and leading life. Bob's battle back from tragedy has led him to reflect on valuable thoughts on overcoming failures to benefiting from his many achievements in the legal profession … Bob's cancer battle took him right up to the edge of death. He's definitely been the beneficiary of so many miracles that only the good Lord can provide. While he fights on with continually perplexing MRIs, Bob's come out of it all with wisdom that should be invaluable for all. Bob's book is inspirational, motivational, and chock full of key lessons for leading a successful  life. I'm confident that Bob's story will be powerful and healing for so many."
—Kyle Snyder, US Olympic gold medalist in wrestling; three time NCAA champion in wrestling 
Skyhorse, 9781510766167, 200pp.
Publication Date: June 29, 2021
About the Author
Robert S. Brams practiced law for over thirty years, including as a partner in the Washington, DC offices of Patton Boggs and Greenberg Traurig. In both firms, he served as either a practice group chair or co-chair of the Real Estate, Government Contracts, and Construction Projects groups. He handled development matters, as well as claims and disputes around the world on major infrastructure projects, frequently in the Middle East. He served as lead counsel on the Hurricane Katrina and the Super Storm Sandy cleanup projects. He has handled matters involving dams, tunnels, airports, bridges, railways, corporate headquarters, and data centers, as well as disputes arising on the Big Dig project in Boston. He was a frequent author and lecturer on a variety of infrastructure development issues. He has been recognized as a "Best Lawyer" by various organizations and publications, and identified as an "Eminent Practitioner" by Chambers, the leading publication ranking top lawyers in the world.