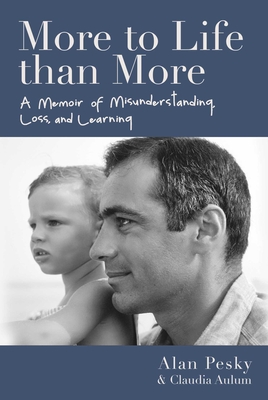 More to Life than More
A Memoir of Misunderstanding, Loss, and Learning
Hardcover

* Individual store prices may vary.
Description
At the age of thirty, just as everything was falling into place for him, Lee Pesky died of brain cancer. For his father, Alan, grief came with the realization that he had lost the chance to love Lee as he was—not as he wanted him to be. Ambitious, successful, and always striving for more, Alan had a hard time relating to a son who struggled with learning disabilities at a time when there was little understanding or help for kids who had them. Their relationship was complicated, and now, Lee was gone.

More to Life Than More is a memoir of misunderstanding, loss, and learning. After Lee's death, Alan's conception of more crumbles. He launches himself into keeping Lee's memory alive by helping kids in a way he wasn't able to help his son. It was too late to change his relationship with Lee, but he could create something positive and enduring from his loss: Lee Pesky Learning Center, a non-profit in Idaho dedicated to understanding and helping those with learning differences.

In 25 years, LPLC has benefited more than 100,000 children and has become a national force for early childhood literacy. And for Alan, it has meant getting to know the son he had misunderstood and lost.
Praise For More to Life than More: A Memoir of Misunderstanding, Loss, and Learning…
"An articulate, unflinchingly honest, and touching account brimming with joy, heartbreak, and love." —Kirkus Reviews

"Pesky's memoir about the death of his middle son, Lee, suddenly to cancer and the founding of Boise's Lee Pesky Learning Center soars with emotion, hard lessons and zippy writing. It's a compelling story of learning from our most difficult loved ones and healing from loss with a dedication to public service that anyone would enjoy, especially if you have an interest in education." —Idaho Press

"I was crying by page three, learning by page five, and inspired by every following page in Alan Pesky's memoir of insights, More to Life Than More. This is a necessary book for parents and teachers. It needs to be read and shared." —Barbara Morgan, public school teacher and NASA astronaut
"At times this well written, gut wrenching memoir reads like a thriller. At other times, a labor of love. Alan Pesky takes us on a journey of immense loss and grief, but pulls us back from the edge with a sleight of hand—he dedicates the third act of his life to helping others overcome some of the hurdles his late son faced.

In this mesmerizing account of childhood in the boroughs of 1930's New York City to his rise to Madison Avenue and the very top of advertising, the trails filled with unexpected twists. At once sad and heartbreaking, it is also a humanistic, purely American tale that takes Pesky, his incredible life partner Wendy, and the reader from despair and regret to inspiration and self-sacrifice. Starting a non-profit to confront and deal with learning disabilities that so many face, he and Wendy leave behind a legacy of hope and support." —Ridley Pearson, NY Times bestselling author of more than sixty novels

"Alan Pesky's transformation from high powered advertising executive to dedicated and passionate non-profit entrepreneur- was driven by the loss of a son he misunderstood. More to Life Than More is a poignant read for anyone who loves. teaches, or works with someone who has learning challenges or disabilities." —David Ellis, President Emeritus, Museum of Science Boston and President Lafayette College

"There is an abundance of wisdom and inspiration for all in Alan Pesky's story. Particularly for parents of kids who learn differently. More to Life Than More is a must-read." —Dr. Robert Ballard, lifelong explorer and discoverer of the Titanic

"Readers of many backgrounds will find meaning in this wonderful book—parents who have lost a child, parents of a child with learning difficulties, and anyone who is still in pursuit of their life's purpose. Alan Pesky's honest and soul-searching memoir weaves together a series of related narratives, but the heart of the book is its discovery and exploration of empathy and love. A highly recommended book." —Dr. Louisa Moats, researcher and author focused on language-based learning difficulties
Skyhorse, 9781510766358, 232pp.
Publication Date: September 7, 2021
About the Author
Alan Pesky is the founder of Lee Pesky Learning Center (LPLC), a non-profit working with families, schools, and communities to overcome obstacles to learning. In its 25 years, LPLC has become a nationally known force for early literacy. Alan was a founding partner of the advertising agency, Scali, McCabe, Sloves. He and his wife are ardent supporters of humanitarian causes and were honored in 2005 as Outstanding Philanthropists of the Year in Idaho. Alan has served as trustee of his alma maters, The Tuck School of Business at Dartmouth, and Lafayette College. He resides in Ketchum, Idaho.

Claudia Aulum is a first-generation American and graduate of Georgetown University's School of Foreign Service. Claudia explores divisions and borders—physical, invisible, or imagined—that impact how we relate to ourselves and others. More To Life Than More is her first book. She resides in Ketchum, Idaho.