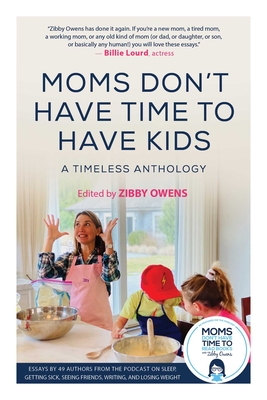 Moms Don't Have Time to Have Kids
A Timeless Anthology
Paperback

* Individual store prices may vary.
Other Editions of This Title:
Hardcover (2/16/2021)
Description
53 SHORT ESSAYS FOR BUSY PEOPLE . . . BY 49 AMAZING AUTHORS.
 
Too tired to think? No time to read books? Zibby Owens gets it. Award-winning podcaster of Moms Don't Have Time to Read Books and mother of four (ages six to fourteen) compiled fifty-three essays by forty-nine authors to help the rest of us feel understood, inspired, and less alone. 
 
The authors, all previous guests on her podcast (go listen!), include fifteen New York Times bestselling authors, five national bestsellers, and twenty-nine award-winning/notable/critically acclaimed writers. The super short essays were inspired by a few other things moms don't have time to do: sleep, get sick, write, lose weight, and see friends. Read one a week and you'll finish the whole book in a year: accomplishment! 
 
Topics range from taking care of an aging grandmother, mourning the loss of a family member, battling insomnia, wrestling with body image, coping with chronic illness, navigating writer's block, the power of women's friendship, and more juicy stuff.  
 
You'll laugh, cry, think, and feel like you just had coffee with a close friend. If that best friend were a world-renowned author. 
 
Contributors include: Aimee Agresti, Esther Amini, Chandler Baker, Adrienne Bankert, Andrea Buchanan, Terri Cheney, Jeanine Cummins, Stephanie Danler, KJ Dell'Antonia, Lydia Fenet, Michael Frank, Elyssa Friedland, Melissa Gould, Nicola Harrison, Kristy Woodson Harvey, Joanna Hershon, Angela Himsel, Richie Jackson, Shelli Johannes, Lily King, Jean Kwok, Heather Land, Brooke Adams Law, Caroline Leavitt, Jenny Lee, Shannon Lee, Elizabeth Lesser, Gigi Levangie, Emily Liebert, Lynda Loigman, Abby Maslin, Sarah McColl, Jeanne McCulloch, Malcolm Mitchell, Arden Myrin, Carla Naumburg, Rex Ogle, Zibby Owens, Camille Pagán, Elizabeth Passarella, Allison Pataki, Lindsay Powers, Susie Orman Schnall, Susan Shapiro, Melissa T. Shultz, Claire Bidwell Smith, Rev. Lydia Sohn, Laura Tremaine, and Cecily von Ziegesar.
Praise For Moms Don't Have Time to Have Kids: A Timeless Anthology…
"Zibby Owens has done it again! Tender, funny, thought-provoking, and wry, this diverse collection of short, readable pieces about motherhood and its challenges will entertain and inspire parents at every age and stage. Reading it feels like hanging out with your smartest and most empathetic friends—the ones who tell you the truth in a way that feels like love."
—Christina Baker Kline, #1 New York Times bestselling author of Orphan Train and The Exiles

"These essays are both timeless and made for this (our) time. Each one is a bite-sized gem, but at heart, this hilarious collection from an astonishing array of literary lights is about how we balance that high-wire act of being human. Each essay drew me in and elicited that comforting feeling of talking with my best friend and the astonishing joy at making a new friend."
—Annabelle Gurwitch, New York Times bestselling author of I See You Made an Effort and You're Leaving When?, and co-host of the Tiny Victories podcast

"Zibby has brought literary luminaries together in this beautifully curated collection of essays. She has a way of bringing us all together to share in the camaraderie of humanity. I inhaled her book in a single sitting. With each essay I felt more connected and less alone—like a warm embrace at the end of an exhausting journey through this pandemic-ravaged year. Zibby's constant quest to connect to the stories that give our lives meaning is a beacon of hope. A must-read for anyone seeking heartfelt, soul enriching connection to a community of fellow travelers on the road of life."
—Stephanie Thornton Plymale, author of American Daughter: A Memoir, CEO of Heritage School of Interior Design, and host of the podcast Overcoming

"These essays help cut through the intense loneliness and isolation of being a mother. Their succinct and often hilarious prose will remind us all that we are in this together. I'm blown away by the incredible women brought together in this single collection."
—Jo Piazza, bestselling author of Charlotte Walsh Likes to Win and the upcoming novel We Are Not Like Them; host of podcasts Under the Influence and Committed

"Dear Zibby, 'Pick me, Pick me!' to contribute to your next anthology! You have a gift for uniting the strongest, most inspiring voices all in one happy place. Moms Don't Have Time to Have Kids made me say YAY!"
—Meaghan B. Murphy, author of Your Fully Charged Life and editor in chief of Woman's Day magazine

"Zibby Owens has done it again. If you're a new mom, a tired mom, a working mom, or any old kind of mom (or dad, or daughter, or son, or basically any human!), you will love these essays."
—Billie Lourd, actress

"Moms don't have time NOT to read this wonderful anthology, curated by Zibby Owens, the patron saint of authors. Brimming with heartfelt and relatable essays, it will have you laughing, crying, and shouting, 'I am not alone!' from the proverbial rooftops."
—Jane L. Rosen, author of Eliza Starts a Rumor
Skyhorse, 9781510766396, 264pp.
Publication Date: November 2, 2021
About the Author
ZIBBY OWENS is the creator and host of awardwinning podcast Moms Don't Have Time to ReadBooks. Zibby, named "NYC's Most Powerful Bookfluencer" by New York Magazine's Vulture, conducts warm, inquisitive conversations with authors as wide-ranging as Alicia Keys and Lena Dunham to Delia Owens and Brit Bennett, making her show a top literary podcast as selected by Oprah.com two years in a row.
 
Before the pandemic, Zibby ran a literary salon, hosted her own book fairs, and was a frequent bookstore event moderator. During the quarantine, Zibby hosted a daily Instagram Live author talk show "Z-IGTV," a weekly live show with her husband "KZ Time," launched an online magazine called We Found Time, and started Zibby's Virtual Book Club.
 
Zibby is a regular contributor to Good Morning America online and the Washington Post, and has contributed to Real Simple, Parents, Marie Claire, Redbook, and many other publications. She has appeared on CBS This Morning, the BBC, NPR's All Things Considered, Good Day LA, and local news outlets.
 
Zibby, a graduate of Yale University and Harvard Business School, currently lives in New York with her husband, Kyle, and her four children.