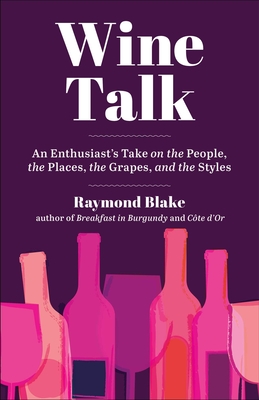 Wine Talk
An Enthusiast's Take on the People, the Places, the Grapes, and the Styles
Hardcover

* Individual store prices may vary.
Description
In Wine Talk, seasoned wine professional Raymond Blake, who has been writing about wine for twenty-five years, caters to those who want to drink their wine without ceremony but with some engagement. For those who have been put off by highfalutin terminology and forbidding ritual. For those who want the message simplified but not dumbed down and for those who love a glass of wine but for whom technical details are a turn off. Through Blake's well-told vinous tales and anecdotes, readers will learn effortlessly about a topic that often appears a mystery to so many. Sections include:
* The fascinating process of vineyard work
* All about bubbly wines (champagne and other)
* Legacy wines, i.e. Sherry, Port, and Madeira
* Wines from Down Under 
* The business of food and wine matching
* Wine gadgets and accessories
* And more!

This book makes the perfect gift for those looking to wet their palate on various wine topics.

 
Praise For Wine Talk: An Enthusiast's Take on the People, the Places, the Grapes, and the Styles…
"Raymond Blake is an exquisite writer on wine–and probably anything else he would care to apply his lyrical command of the language to– and he can go deep and talk the talk with the best of them, but he can also pull back on the reins and use his considerable knowledge to more mainstream effect without even a scintilla of condescension. In Wine Talk Blake has written his most page-turningly accessible book. Witty, informative, reminiscent of Jay McInerney's terrific essays on wine, Wine Talk ranges so agreeably and even breezily over so many aspects of wine, from viticulture to regions to exploring new vinous experiences, this is simply one of the most pleasurable books on wine I have ever read. Blake abandons the pedagogy and goes straight for the heart of what we all love about wine: its mystery, its soul. What an exultant joy we have here in Wine Talk. Blake has come down out of the clouds and vouchsafed us hoi polloi a book that speaks to all of us who love a glass of wine."
–​Rex Pickett, author of Sideways and the upcoming The Archivist

"A really new voice is always welcome in the chorus of wine-lovers who feel the urge to write about their delight in the stuff. Perhaps it helps to be Irish; Raymond has that way with words, and that original voice. Welcome, fellow-sufferer!"
–​Hugh Johnson OBE, the world's bestselling wine writer

"Raymond's book oozes with so much personal experience (both delightfully hazy and precise) and feisty opinion that it is easy to forget that this is actually a tremendous Global Introduction to Wine. It's just that he misses out the boring stuff but gives you both barrels on what's fun and interesting, and then soaks the lot in the happy drinking remembrances of one of Ireland's finest wine men."
–Oz Clarke OBE, world renowned wine writer
Skyhorse, 9781510767027, 216pp.
Publication Date: February 8, 2022
About the Author
Raymond Blake is a writer and the wine editor of Food & Wine magazine in Ireland. He is the author of Breakfast in Burgundy: A Hungry Irishman in the Belly of France and In Black and White: A History of Rowing at Trinity College, Dublin.