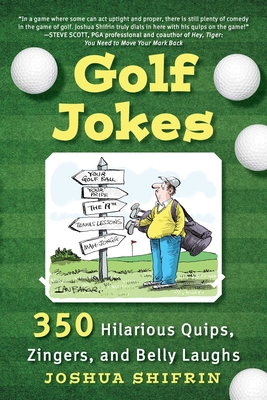 Golf Jokes
350 Hilarious Quips, Zingers, and Belly Laughs
Paperback

* Individual store prices may vary.
Description
In 
Golf Jokes
, Josh Shifrin has put together a list of the funniest, most humorous, side-stitching, belly busting, and toe-tickling list of comedic prose to keep you laughing throughout anything this amazing game can throw at you. From concise one-liners to fuller-length quips, Shifrin takes you from the fairway to the green and beyond. Some of the hundreds of jokes include:
Why do true golfers always avoid pie whenever possible? Because they are worried that they might get a slice.
Why are golf balls similar to eggs? Because they're white, normally sold by the dozen, and every week you need to buy more of them.
How many golfers does it take to change a light bulb? Fore!
What gives most golfers nightmares? The Bogeyman.
Where can you find a golfer on most Saturday nights? Out clubbing, of course.
Golf is very similar to paying your taxes. You strive for the green but eventually come out in the hole.
And many more!
The perfect gift for golf gurus everywhere!
Praise For Golf Jokes: 350 Hilarious Quips, Zingers, and Belly Laughs…
"In a game where some can act uptight and proper, there is still plenty of comedy in the game of golf. Joshua Shifrin truly dials in here with his quips on the game!" --Steve Scott, PGA professional and coauthor of Hey, Tiger: You Need to Move Your Mark Back
Skyhorse, 9781510767041, 144pp.
Publication Date: October 26, 2021
About the Author
Joshua Shifrin is a professor of psychology, licensed psychologist, writer, and avid sports fan. He has previously written five books, including Dingers: The 101 Most Memorable Home Runs in Baseball History, From the Links: Golf's Most Memorable Moments, and 101 Incredible Moments in Tennis.