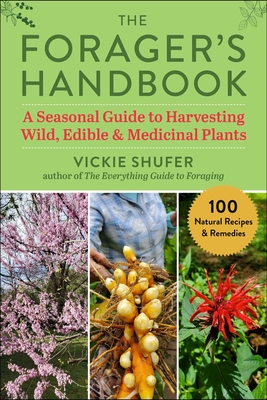 The Forager's Handbook
A Seasonal Guide to Harvesting Wild, Edible & Medicinal Plants
Paperback

* Individual store prices may vary.
Description
Learn the way of the forager and identify, harvest, and prepare wild plants by season.
Have you ever wondered what it would be like to gather wild plants growing around you for your food and medicine instead of a drugstore to treat a common ailment?
The Forager's Handbook
is an essential guide for living this lifestyle year-round.
With more than forty years of experience in the world of plants, forager Vickie Shufer empowers you to maintain and improve your health by following the way of the forager. She highlights plants that are available through each season and how to use those plants for food and medicine. Sustainable harvesting and preparation techniques are included as well as foraging ethics. Other topics include:
Forest bathing  
Plant cycles
Preventive medicine
Simple recipes for edible and medicinal plants
And so much more
Follow the seasons and harvest wild, edible, and medical plants with
The Forager's Handbook
.
Praise For The Forager's Handbook: A Seasonal Guide to Harvesting Wild, Edible & Medicinal Plants…
"An excellent book on food foraging and herbal medicine for all levels of plant enthusiasts. The author generously and abundantly shares her knowledge of herbalism and wild food foraging. Filled with great recipes, beautiful photos, and a wealth of information, The Forager's Handbook guides us through the seasons, introducing us to local plants for health and healing. The recipes alone make this book worth having—they are many and fabulous!" —Rosemary Gladstar, herbalist and author 

"There is something so special about gathering wild foods and herbs and making delicious recipes and tasty teas. For many people, getting started is rather daunting or scary. This detailed book will give you the confidence, knowledge, and recipes needed to become a skilled forager and wild foods aficionado." —David Winston, RH, clinical herbalist and ethnobotanist

"When it comes to wild foods and medicines, Vicki has always been a teacher's teacher. The Forager's Handbook now brings her years of experience into a beautifully illustrated and well-crafted book that is accessible to all levels of plant lovers. The seasonal journey through the year is extremely helpful and the recipes are inviting. With each herb that she discusses, Vickie allows the reader to know this is written by someone who has known the plants for years and therefore is a trustworthy guide to the wonderful world of wild foods." —Kat Maier, author of Energetic Herbalism
 
"Vickie Shufer is the ultimate forager: knowledgeable, brave, and adventurous. She makes learning fun and accessible no matter your background or age. You will want this book in your backpack!" —Teresa Boardwine, RH (AHG)
 
"When I first met Vickie Shufer she was knee-deep in a marsh on the North Carolina Outer Banks showing folks how to dig cattail roots and gather wild cranberries. Since that time she has been more than knee-deep in her research and experimentation with edible and medicinal wild plants. Now she shares her expertise in this marvelously comprehensive volume packed full of recipes, foraging advice, botany lessons, as well as descriptions, natural history, and nitty-gritty details of how to use a great variety of our common wild plants." —Doug Elliot, author of Wildwoods Wisdom, Wild Roots, and Swarm Tree
 
"After spending time with Vicki identifying medicinal plants and foraging in a number of different ecosystems, I know her to be well-seasoned in the subject. The Forager's Handbook certainly shows her expertise in an engaging and informative way. The book elegantly weaves a story about the joys of spending time in nature with down-to-earth information, beautiful illustrations, and delicious 'wild' recipes. I'll be recommending it, not only to all my herbal students far and wide, but everyone with an interest in our green world. Thank you, Vicki, for putting your deep knowledge together in such a digestible format!" —Claudia Joy Wingo, MPH, RN, FNHAA, clinical herbalist
Skyhorse, 9781510767867, 176pp.
Publication Date: March 1, 2022
About the Author
Vickie Shufer is a forager and author of The Everything Guide to Foraging. She is currently the owner of Wild Woods Farm, an eleven-acre certified native nursery where she grows and sells native and medicinal plants year-round.