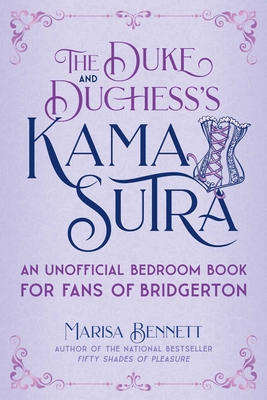 The Duke and Duchess's Kama Sutra
An Unofficial Bedroom Book for Fans of Bridgerton
Hardcover

* Individual store prices may vary.
Description
The talk of the town is behind closed doors. 
Have everything you burn for with
The Duke and Duchess's Kama Sutra
. In this companion guide to the Regency bedroom, you and your gentleman will be offered Grosvenor Square's best-kept secrets to seduction, passion, and the refined etiquette of fulfilling every desire. Feel how furtive glances and the yearning of a long-awaited touch leads to brimming passion, discover how the language of flowers—and of lust—can turn your courtship into a thrilling romance, and explore how achieving
positions
of high society can make your love's flame one that endures for all time. This guide will reveal how to:  
Turn coy courtship into conquered desires
Use letters, flowers, and other elegant techniques as foreplay
Embrace fantasy scenarios, self-pleasure, and role-playing
Master sensual Duke and Duchess positions—from the tasteful to the blush-worthy
Heighten anticipation, prolong intimacy, and honor shared pleasure
While a lady and a gentleman never disclose their confidences, this guide to pleasure and passion whispers all the best secrets of love done so right that even Lady Whistledown would blush to repeat them.  
Praise For The Duke and Duchess's Kama Sutra: An Unofficial Bedroom Book for Fans of Bridgerton…
Praise for Netflix's Bridgerton

"A heady, inviting fantasy of pleasure." —Vulture

"A sparkly period piece." —The New York Times

"A scandalous, sexy romantic fantasy that lives up to the hype." —Good Morning America

"Shonda Rhimes' debut series for Netflix applies her signature flair for juicy drama to a tale of high-society matchmaking in Regency-era England. . . . a breezy waltz through a world of balls and duels, courtiers and curtseys, true love and ladies who may not be so interested in waiting . . . There's a charming wink to it all." —Rolling Stone

"A confectionary treat of a romance . . . a swoony, refreshingly modern take on Regency romance." —Variety

"Glitters with period drama glory. . . . To some, Bridgerton might seem like a combination of Pride and Prejudice and Gossip Girl: An unseen gossipmonger plays loose with the lives of well-to-do young socialites in 19th-century London. But dismissing a story set in upper-class England as an Austen copycat is reductive. As formidable and beloved a writer as she was, Austen never penned anything so unabashedly sexy, so deliciously melodramatic and with so many orchestral versions of pop songs (try to pick out the Billie Eilish and Taylor Swift hits)." —USA Today

"A Moreish Treat."  —Guardian

"Scintillating." —Roger Ebert

"A horny historical romance for the ages." —Entertainment Weekly

"Sexy, charming, and endlessly entertaining." —Glamour
Skyhorse, 9781510768208, 224pp.
Publication Date: August 10, 2021
About the Author
Marisa Bennett is the author of the national bestseller Fifty Shades of Pleasure. Her work has appeared in Cosmopolitan, Allure, Penthouse, and HuffPost, among others, and her best-selling sex guides have been sold worldwide and translated into more than a dozen languages. She lives with her husband in Minnesota.