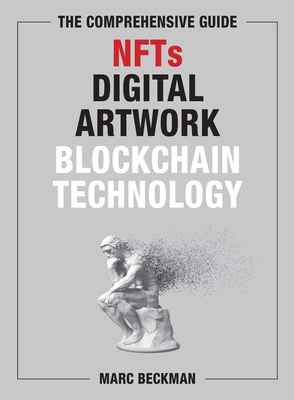 The Comprehensive Guide to NFTs, Digital Artwork, and Blockchain Technology
Hardcover

* Individual store prices may vary.
Description
The ultimate guide to the NFT revolution: How non-fungible tokens are poised to transform the digital world.

Non-fungible tokens, or NFTs, are the most important digital innovation since the creation of blockchain and cryptocurrency. NFTs share the best elements of both of these, while also representing an entirely new step forward for technology. But how did NFTs arise, how will they impact art and business in the decades to come, and—perhaps most importantly—how can savvy entrepreneurs position themselves today for success in the NFT-driven world of tomorrow? 
 
This guide by industry leader and entrepreneur Marc Beckman delves into the underpinnings of NFT technology in a way that makes the subject clear and comprehensible to the layman, while drawing on Marc's branding experience to explore exactly how NFTs are poised to change fashion, sport, fine art, and even social justice. In this book he explores how NFTs will create entirely new asset classes and investment possibilities, such as fractional ownership in dynamic works of art. And in doing so, he also tells the story of how he personally discovered and became entranced by this powerful new tool, and where he believes NFTs will take business and branding throughout the 21st century.
 
Praise For The Comprehensive Guide to NFTs, Digital Artwork, and Blockchain Technology…
"Marc Beckman is a visionary who sees future opportunities ahead of most. His vast knowledge of NFTs and longterm strategy in this growing business separates him from all the other people who are just in it for a fast dollar." —Steven Cooper, Sony

"Comprehensive is an understatement. Marc Beckman's thoroughly necessary text outlines the past, present, and likely future of NFTs. A worthwhile primer for the artists, collectors, investors, and marketers among us." —Dina Fierro, NARS Cosmetics  
Skyhorse, 9781510768420, 160pp.
Publication Date: December 14, 2021
About the Author
Marc Beckman is the cofounder of Truesy, the premier luxury NFT digital artwork platform, featuring galleries from select artists worldwide. Marc founded the award-winning agency, DMA United, with a modern vision: combining commercially oriented principles with branding and advertising. Today, DMA United boasts the lead position at the center of superior Style & Design. A sampling of Marc's clients include the NBA, Karl Lagerfeld, MoMA, LVMH, Warner Brothers Entertainment, Sony Music, and Nelson Mandela. In recent years, Beckman has structured several high-profile deals and partnerships such as Russell Westbrook x Barneys New York, Nelson Mandela x KITH, Pepsi x Puma, and Gucci x Azede Jean-Pierre. Beckman was admitted to the State Bar Association of New York, New Jersey, and Washington, DC, after graduating with a JD from Hofstra University School of Law, and a Bachelor of Liberal Arts from Boston University. He is also an Adjunct Professor with NYU Stern's MBA Program and is co-chairman of NYU Stern's Luxury & Fashion Council. Beckman lives in Manhattan with his wife and their two children.