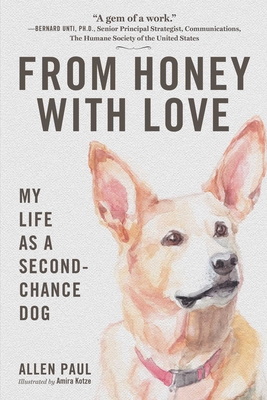 From Honey With Love
My Life as a Second-Chance Dog
Paperback

* Individual store prices may vary.
Description
In From Honey With Love, Honey—a swamp dog living in the wild—tells her own harrowing story in a charming southern voice. Barely a year old, her high-stakes drama begins when she gets trapped and nearly shot. Convinced that she's a coyote or a "ditch dog," trappers want to wipe out her breed, perhaps the oldest in North America. But Honey gets rescued by Miss Jane and taken to Banbury Cross Farm, where she rescues and raises Honey's breed—the Carolina Dog or American Dingo.

At the farm, Honey quickly bonds with Mr. Billy, the Field Master for fox hunters, and Ace, the farm manager. They quickly bond as a pack, like the one Honey left in the swamp.

Honey's quickness causes Ace, Miss Jane, and Mr. Billy to train her to become an agility champion. How she runs the race of her life, and how the killers in the swamp get caught, lives in legend. Along the way, Honey learns a lesson she'll never forget: the strength of the wolf is the pack, and the strength of the pack is the wolf. 
Praise For From Honey With Love: My Life as a Second-Chance Dog…
"I was delighted to read Allen Paul's From Honey With Love, a great human-animal bond story, a wonderful romp through Carolina dog lore, a sweet tale of canine redemption on the nature/culture border and a wonderfully composed animal autobiography in a pleasing southern idiom. The thirst for good writing on dogs and our deep mutual connections is strong both within and outside of the animal protection movement, and the story of this 'second chance dog' is bound to please an American readership that includes tens of millions of animal adopters. Honey's trust, affection, faith and empathy--and her triumphs--make this a gem of a work." --Bernard Unti, Ph.D., Senior Principal Strategist, Communications, The Humane Society of the United States
Sky Pony, 9781510768567, 144pp.
Publication Date: May 3, 2022
About the Author
Allen Paul began his career with the Associated Press and later became a speechwriter in Washington, DC for senior public officials. His book about the Katyn Forest Massacre was a bestseller in four countries. He was a Fulbright Fellow to Poland and has twice been awarded by the Polish government. He resides in North Carolina.