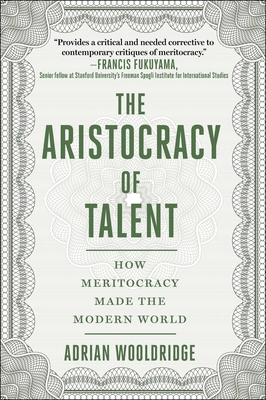 The Aristocracy of Talent
How Meritocracy Made the Modern World
Hardcover

* Individual store prices may vary.
Description
Meritocracy: the idea that people should be advanced according to their talents rather than their birth. While this initially seemed like a novel concept, by the end of the twentieth century it had become the world's ruling ideology. How did this happen, and why is meritocracy now under attack from both right and left?

In The Aristocracy of Talent, esteemed journalist and historian Adrian Wooldridge traces the history of meritocracy forged by the politicians and officials who introduced the revolutionary principle of open competition, the psychologists who devised methods for measuring natural mental abilities, and the educationalists who built ladders of educational opportunity. He looks outside western cultures and shows what transformative effects it has had everywhere it has been adopted, especially once women were brought into the meritocratic system.

Wooldridge also shows how meritocracy has now become corrupted and argues that the recent stalling of social mobility is the result of failure to complete the meritocratic revolution. Rather than abandoning meritocracy, he says, we should call for its renewal.
Praise For The Aristocracy of Talent: How Meritocracy Made the Modern World…
"Erudite, thoughtful and magnificently entertaining book."
--James Marriott, The Times (London)

"This unique and fascinating history explains why the blame now being piled upon meritocracy is misplaced—and that assigning responsibilities to the people best able to discharge them really is better than the time-honored customs of corruption, patronage, nepotism, and hereditary castes. Wooldridge upends many common assumptions and provides an indispensable back story to this fraught and pressing issue."
--Steven Pinker, Johnstone Family Professor of Psychology at Harvard University

"Wonderful...The Aristocracy of Talent provides an important and needed corrective to contemporary critiques of meritocracy.  It puts meritocracy  in an illuminating historical and cross-cultural perspective that shows how critical the judgment of people by their talents rather than their bloodlines or connections has been to creating the modern world.  Highly recommended."
--Francis Fukuyama, Senior Fellow at Stanford University's Freeman Spogli Institute for International Studies

"This is an important, fascinating  and superbly written book. The Aristocracy of Talent pulls the rug out from under the current assault on meritocracy.  How quickly we forget that reformers struggled for centuries to displace privilege  of birth with merit-based judgments. Rejecting merit in favor of equal outcomes, Adrian Wooldridge persuasively argues, is like handing the keys of the future to China and other cultures focused on results. Does the assault on core values leave you at a loss for words?  Read this book."   
--Philip K Howard, author of The Death of Common Sense and founder of Common Good
Skyhorse, 9781510768611, 504pp.
Publication Date: July 13, 2021
About the Author
Adrian Wooldridge is the political editor and a columnist at the Economist. He earned a doctorate in history from Oxford University, where he was a Fellow of All Souls College. He is the author of ten previous books, including Capitalism in America co-written with Alan Greenspan and seven co-written with John Micklethwait: The Wake-Up Call, The Witch Doctors, A Future Perfect, The Company, The Right Nation, God is Back, and The Fourth Revolution.