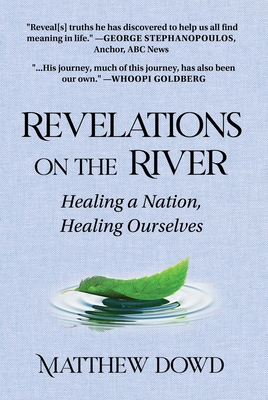 Revelations on the River
Healing a Nation, Healing Ourselves
Hardcover

* Individual store prices may vary.
Description
At a moment of incredible change and profound disruption, all of us are examining our lives and delving into the meaning of our journey. Through a global pandemic, economic upheaval, and fundamental adjustments in our way of life, each of us are looking for how to navigate the rapids and bends as we move forward in discovery with a desire for connection.  
 
Taking us along on his own journey with its ups and downs, renowned thought leader Matthew Dowd presents Revelations on the River: Healing a Nation, Healing Ourselves, an inspirational book of his revelations on key questions and lessons he learned that apply to each one of us. Through an examination of steps in his own personal story along with lessons learned from world leaders in history encompassing spirituality and politics, he reveals both practical and spiritual epiphanies that are applicable to each of us as we struggle to discover the truth in a troubled world.
 
Revelations on the River visits key topics like love, fears and trauma, forgiveness and reconciliation, faith and science, interconnection, and legacies. This examination of values that bind us together and that can lead us to a more enlightened place is an opening for contemplation for not only our own individual worlds, but for those who want to lead in the larger communities and world we all inhabit.  
Praise For Revelations on the River: Healing a Nation, Healing Ourselves…
"In what can be a divisive and maddening world, Matthew's beautiful words and gentle guidance put us more deeply in touch with what's true and simple, removing the obstacles of our conditioned minds. Nature herself becomes our teacher." —JANE LYNCH, Emmy Award-winning actress
 
"Matthew traipses boldly into space no political strategist—even of Matthew's caliber—has ever dared to travel, and that's because Matthew is so much more than what most people see on television. I knew this side of Matthew from what people don't see on television—as a former colleague and friend—but I've never seen it laid out in such a user friendly way. The premise is that enlightenment is there for the taking—for all of us—that's the good news—the bad news, is it's only there if we're willing to be vulnerable—to risk pain and struggle. Matthew is a gentle guide through the spiritual arts for those of us who haven't dabbled in them, but it's a journey well worth taking." —NICOLLE WALLACE, anchor, Deadline: White House, MSNBC
 
"This book is not a 'read once and done,' you're going to want to mark the spots you want to remember and give to those who won't think they need it and to those who've been looking for it. Matt's gift is his ability to take us with him as we slowly realize his journey, much of this journey, has also been our own." —WHOOPI GOLDBERG, EGOT-winning actress and cohost of The View
 
"Matthew has always been a truth-teller in politics, but in this new, compelling, inspirational book he brings us into his own heart and soul to reveal truths he has discovered to help us all find meaning in life." —GEORGE STEPHANOPOULOS, anchor, ABC News
Skyhorse, 9781510768635, 168pp.
Publication Date: November 9, 2021
About the Author
MATTHEW DOWD, a renowned entrepreneur and strategist, is widely viewed as one of the most creative thought leaders in America today. As a bestselling author interpreting change in America and the globe, Dowd wrote a groundbreaking book on leadership in this disruptive and crucial moment titled A New Way: Embracing the Paradox as We Lead and Serve. Dowd, who served as chief political analyst for ABC News, now regularly appears on many media outlets and brings his insights on cultural, economic, and spiritual trends.

Dowd has worked on both sides of the aisle while serving presidents, governors, and senators, and throughout has always been a proud Texan devoted to leading with integrity. For his innovative political work, he was awarded Strategist of the Year by the bipartisan American Association of Political Consultants. His plea for our politics today is for leaders to put country over party, for which he started an online community to encourage. Over the years, Dowd has given advice to Bono and the One Campaign, the Bill and Melinda Gates Foundation, and the National Basketball Association.