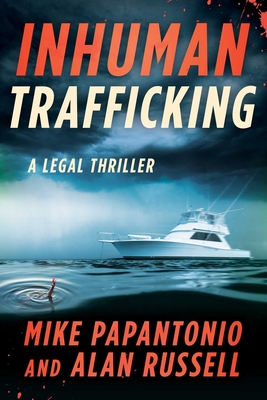 Inhuman Trafficking
A Legal Thriller
Hardcover

* Individual store prices may vary.
Description
A fast-paced thriller in the tradition of John Grisham, Joseph Finder, and John Lescroart
                                        
For Nick "Deke" Deketomis, going where angels fear to tread in waging legal battles has long been a way of life. As managing partner for one of the nation's largest plaintiffs' law firms, Deke has gone toe to toe with some of the largest corporations in the world. His firm specializes in the tough, even quixotic, cases that few lawyers would dare to take on. Like human trafficking.
 
Deke's target this time is Welcome Mat Hospitality, a firm known for its truck stops and lodging throughout the United States. What Welcome Mat doesn't advertise is the human trafficking—for sex work and slave labor—going on at many of its properties. For the sake of better profits, Welcome Mat's ownership has turned a blind eye to this lucrative enterprise.
 
As invested as Deke is in the case, though, it takes on even greater urgency when the past comes calling with word that his fifteen-year-old goddaughter, Lily Reyes, is missing. When Deke learns that Lily has fallen prey to a notorious trafficker, his personal and professional worlds converge. For his goddaughter to survive, Deke must prevail not only in the legal arena but outside of it.
 
Praise For Inhuman Trafficking: A Legal Thriller…
"A solid beginning to what could be a wildly entertaining and thematically powerful thriller saga."—Kirkus Reviews

"It is a great legal thriller that is worth picking up."—San Francisco Book Review

"It's a story that will keep you on the edge of your seat, but is all the more fascinating because it's based on the truth."—OnMic with Jordan Rich (WBZ in Boston, iHeart Radio)

"A very very good read! It brings you into the issues and helps you understand what they are."—The Law Business Insider Show

"You keep people on the edge of their seat while still providing people with the information."—The Neil Haley Show

"The book is extraordinary!" —Poppoff (KAHI-AM+FM/Sacramento CA)

"A suspenseful ride to the finish."—WBZ Book Club (WBZ 1030 News Radio in Boston; iHeart Radio)

"A very very good read! It brings you into the issues and helps you understand what they are." —Real News with Rick Outzen

"Overall, I give this book 5 out of 5 stars. . . . I'd recommend this to those who enjoy legal thrillers and stories that raise serious emotions about tragic social issues "—Books I Think You Should Read

"This is a well researched, fictional book that shines a light on one of society's more despicable cockroaches, human trafficking. .. . The book is written as a novel but sheds light on a societal issue that is frequently ignored. There is action and characters you can like as well as a cast of deplorable villains. . . . I strongly recommend it." —Pick of the Literate

"The ending is filled with twists, turns and with a final scene that will make you wonder who lives, who survives and the result of their cases. Authors Mike Papantonio and Alan Russell take readers inside the minds of sex traffickers, deceptions, bribes, betrayals and one girl named Lily who was used as a pawn as so many were, are, and will be in the future if more eyes are not on it, if every state and country are not vigilante and is some countries stop looking away from what is happening right in front of them."—Just Reviews

"This would make a great film. It is a fast-paced legal thriller. The focus is on the grim topic of sex trafficking. "—Jim Holroyd blog

"Inhuman Trafficking is a thriller about a timely and important issue that's all too real: the insidious business of human trafficking." —@JillTatter

"The characters were interesting and you wanted to see the good guys prevail and the bad guys get their comeuppance. This was a legal thriller with some action thrown in, a thoroughly enjoyable read." —@books.tea.happy Reviews, features, lists, excerpts

"A propulsive legal thriller fueled by the righteous indignation of a legal team fighting against one of the darkest scourges of modern society: the invisible epidemic of sex trafficking and sexual slavery. Through Machiavellian courtroom maneuvering, undercover investigation, and military-style interventions fraught with personal danger, trial attorney Nick 'Deke' Deketomis and his team of life-scarred legal heroes put everything on the line."—William L. Myers, Jr., trial attorney and author of the bestselling Philadelphia Legal Series

"In this well-crafted and suspenseful legal thriller, the reader will witness how innocent victims are manipulated by the criminal world of human trafficking and the atrocities they must endure."—Stephen W. Frey, author of The Chairman and Trust Fund
"As someone who has previously tackled the subject matter, I can say that Inhuman Trafficking is on the nose with its realism and at times disturbing depiction of a serious problem in the USA and other countries. Authors Papantonio and Russell deliver a fast-paced legal thriller with hard-hitting conflict—sometimes 'Bondian' action!—that introduces an engaging team of protagonists and an equally despicable group of baddies."—Raymond Benson, author of In the Hush of the Night and Blues in the Dark

Praise for Law and Addiction
"The legal maneuvering, courtroom drama, and brisk pace make this a satisfying tale of greed, corruption, lust, and murder."—Publishers Weekly

"The author's passion for this issue is nothing short of eye-opening. Moreover, the main character's refusal to quit, even when his own life is in imminent peril, and his determination to survive in order to see that justice is served makes for a thrilling read."—Florida Bar Journal 

"Law and Addiction could be used as a guide for how to successfully win a complicated torts case. While the thriller is filled with legal strategy and facts about opioids, Papantonio skillfully weaves all that information into a narrative where the action never lets up. Besides 'show don't tell,' the best advice given to authors is 'write what you know.' Mike Papantonio certainly does that, one reason why his legal thrillers are so riveting."—Woman Around Town, New York Press Club Award winner

"[Law and Addiction] is a great legal novel with a stellar story and a hero in Jake. He is determined to get this case done and avenge his brother's death and all the others that are suffering. Author Mike Papantonio being a lawyer really makes reading this book very realistic. It took the reader on a journey and it showed how hard lawyers really have to work on their cases. You root for Jake and the team to win this case."—Red Carpet Crash
 
Skyhorse, 9781510768871, 312pp.
Publication Date: October 5, 2021
About the Author
Mike Papantonio is a senior partner of Levin Papantonio, one of the country's largest plaintiffs' law firms, and was one of the youngest inductees into the Trial Lawyer Hall of Fame. He has aggressively taken on Big Pharma, tobacco, weapon manufacturers, and the automobile industry, among other bastions of corporate greed, and uses his own cases as springboards for his novels. Papantonio is also a well-known media presence as host of America's Lawyer and co-host of the syndicated radio show Ring of Fire. He is based in Pensacola, Florida.

Alan Russell is the #1 bestselling author of seventeen mystery and suspense novels, including Burning Man, Shame, St. Nick, and A Cold War. Russell's novels have been nominated for most of the major awards in crime fiction, and he has won a Lefty award for best comedic mystery, a USA Today Critics' Choice Award, multiple San Diego Book Awards, and the Odin Award for Lifetime Achievement from the San Diego Writers/Editor Guild. He lives with his wife in Encinitas, California.