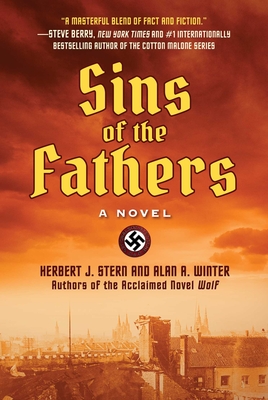 Sins of the Fathers
A Novel
Hardcover

* Individual store prices may vary.
Description
In the tradition of Herman Wouk, author of Winds of War and War and Remembrance, the novel Sins of the Fathers is the thoroughly researched historical sequel to Wolf.

History hinged on a call as the German high command waited for Hitler's order to invade Czechoslovakia. That was the signal that would launch their revolt to bring down the Reich.

Every detail of the coup was in place. Access roads to Berlin would be blocked. The city sealed. Communication centers taken. A commando squad―sixty hand-picked men―were ready to storm the Chancellery and seize Hitler. The only open question: to try Hitler as a traitor or execute him on the spot.

Sins of the Fathers is the eye-opening novel―based on historical facts―of the efforts of German military leaders, career civil servants, and clergy to solicit England's assistance to bring down the tyrant in 1938. When Prime Minster Neville Chamberlain refused to meet with them, they turned to Winston Churchill, who secretly supported their cause. Armed with a strongly worded letter from the future prime minister, they waited for Hitler's telephone call ordering German troops to invade Czechoslovakia―the signal for their uprising. But the call did not come. Instead, Prime Minister Chamberlain went to Hitler's apartment in Munich only to bow to the dictator's will. The invasion was over before it began―and with that, so was the coup. Flying home, Chamberlain announced he had obtained "peace for our times."

Sins of the Fathers―the sequel to Wolf about Hitler's rise to power―tells the dramatic true story of the foolish prime minister that undermined the coup to topple the regime, delivered Czechoslovakia to Hitler, saved the Führer's life, and paved the road to World War II.
Praise For Sins of the Fathers: A Novel…
"[T]he authors' command of the relevant historical information is simply extraordinary . . . this is a gripping work of historical fiction, authentic and captivating. An impressive blend of literary drama and historical commentary." 
—KIRKUS REVIEWS

"[Sins of the Fathers] is a simply riveting read from first page to last and as a work of fiction nicely dramatizes the real people and the real event that has lapsed into historical history."
—MIDWEST BOOK REVIEW

"The suspense of Sins of the Fathers pulsates and persists." —DAVID L. CODEN, San Diego Union-Tribune

"Sins of the Fathers illustrates the powerful impact of historical fiction. Herbert Stern and Alan Winter engage the audience with a pulse-pounding thriller that will leave many gripping the pages in anticipation with each subsequent chapter. The history may have been written, but the path proves to be a riddle, with forks and dangerous curves featuring prominently in this fine book."
—PHILIP ZOZZARO, San Francisco Book Review

"[T]his dramatically presented and heretofore obscure series of pre-war events makes for a riveting, thought-provoking, and thoroughly entertaining read from cover to cover, Sins of the Fathers is unreservedly recommended for community library World War II Historical Fiction collections."
—WISCONSIN BOOKWATCH

"This was an exciting novel I simply couldn't put down! From the action-packed opening chapter, set in Munich in 1936, readers are in for a nail-biting journey where history and fiction blend almost seamlessly . . . Sins of the Fathers is a tour de force in its masterful research and exceptional writing."
—MONIQUE SNYMAN, BookTrib 
"Authors Herbert J. Stern and Alan A. Winter are giving historical fiction fans reason to cheer. Their new thriller based on events leading up to World War II, Sins of the Fathers, may be the 21st century's Winds of War . . . The historical accuracy and lives depicted in Sins of the Fathers serve to heighten the tension at every twist and turn. Historians and teachers may use this book in their curricula for a more accurate picture of how Hitler and the Nazis came to power with the goal to conquer Europe. For the rest of us, it's a thrill ride that feels all too real because it was."
—AUSTIN CAMACHO, The Big Thrill 

"Not a lot of authors are writing historical thrillers these days, which makes the scintillating Sins of the Fathers by Herbert J. Stern and Alan Winter stand out even more for its seamless mix of fact and fiction . . . This is historical thriller writing par excellence, on par with the best of both Jack Higgins' The Eagle Has Landed and Ken Follett's The Eye of the Needle. The research is impeccable and Sins of the Fathers is further distinguished by the requisite double-crosses, politics and duplicitous characters out to serve their own ends. A great book in all respects."
—JON LAND, The Providence Journal

"This one poses a fascinating question—could World War II have been avoided? The answer is going to shock you. Sins of the Fathers is a masterful blend of fact and fiction and will have you thinking about it long after the last page is read."  
—STEVE BERRY, New York Times and #1 internationally bestselling author of the Cotton Malone series

"A superb and exciting blend of intrigue and history that will keep you on the edge of your seat from beginning to end."
—WILLIAM BOYD, the Pulteney St. Survey, Hobart and William Smith Colleges

"Masterful … both a realistic portrait of the time and an exciting thriller."
—HANS PETTER GRAVER, dean of the Faculty of Law, University of Oslo, Norway

"Works like Sins of the Fathers combine solid research and creative imagination with accessible prose to set a standard that scholars will appreciate and embrace."
—JEFFREY S. GUROCK, Klaperman Professor of Jewish history, Yeshiva University

"I learned history from Barbara Tuchman, felt seat-of-the-pants tension with Robert Ludlum; however, neither one took me to that place of epiphany where an unexpected tear falls from the eye, yet Herb Stern and —Alan Winter do all three with an explosive ending as gut-wrenching as it is shocking. If this were a boxing match, it's the punch you didn't see coming."
—STEVE FOREMAN, screenwriter of The Jazz Singer with Neil Diamond and author of the novels Toehold, Chasing Gideon, and Journey'

"Most people today do not realize that an anti-Nazi underground was at work to overthrow Adolf Hitler in Germany during the 1930s. Sins of the Fathers is an excellent novel, based on actual facts, about the anti-Hitler movement and its leaders, a courageous group of Germans who faced a horrible death at the hands of the Gestapo if they had been caught. If Britain had supported the underground movement, Hitler might have been overthrown and the Second World War might have been averted. I greatly enjoyed reading this book."
—DAVID ALAN JOHNSON, author of Righteous Deception: German Officers Against Hitler
Skyhorse, 9781510769427, 432pp.
Publication Date: February 22, 2022
About the Author
Herbert J. Stern, formerly US attorney for the District of New Jersey, who prosecuted the mayors of Newark, Jersey City and Atlantic City, and served as judge of the US District Court for the District of New Jersey, is a trial lawyer. He also served as judge of the United States Court for Berlin. There he presided over a hijacking trial in the occupied American Sector of West Berlin. His book about the case, Judgment in Berlin, won the 1974 Freedom Foundation Award and became a film starring Martin Sheen and Sean Penn. He co-authored Wolf: A Novel, and he also wrote Diary of a DA: The True Story of the Prosecutor Who Took on the Mob, Fought Corruption, and Won, as well as the multi-volume legal work Trying Cases to Win.

Alan A. Winter  is the co-author of Wolf: A Novel, and the author of four other novels, including Island Bluffs, Snowflakes in the Sahara, Someone Else's Son, and Savior's Day, which Kirkus selected as a Best Book of 2013. Winter graduated from Rutgers University with a degree in history and has professional degrees from both New York University and Columbia, where he was an associate professor for many years. He edited an award-winning journal and has published more than twenty professional articles. Alan studied creative writing at Columbia's Graduate School of General Studies. His screenplay, Polly, received honorable mention in the Austin Film Festival, and became the basis for Island Bluffs.