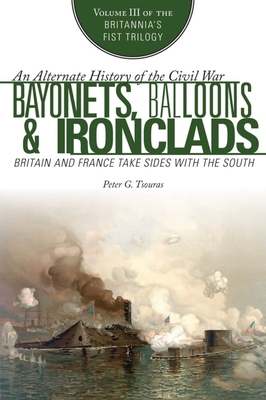 Bayonets, Balloons & Ironclads
Britain and France Take Sides with the South
Paperback

* Individual store prices may vary.
Other Editions of This Title:
Hardcover (2/17/2015)
Description
This fascinating third volume in the Britannia's Fist series will have you pondering how easily history could have been swayed differently.

Peter G. Tsouras presents the third installment in his Britannia's Fist alternate history series. The winter of 1863 had rung down a white curtain on the desperate struggle for North America. The United States and Great Britain had fought each other to a bitter draw. On both sides of the Atlantic the forges of war glowed as they poured out the new technologies of war. British and French aid transformed the ragged Confederate armies and filled them with new confidence. Both sides strained to be ready for the coming campaign season. Both sides seek to anticipate each other.

The British strike suddenly at Hooker's strung out army in winter quarters in upstate New York in a brutal swirling late battle across frozen fields and streams. Besieged Portland shudders relentless assault. The French attack Fort Hudson on the Mississippi. At Lincoln's direction, two great raids are launched at the United Kingdom itself as Russia enters the war on the side of the Union to raid the Irish Sea. These are only preliminaries to the great gathering of modernized armies and ironclad fleets and with them are deadly submersibles and balloons. Battle rages from Maine to northern Virginia and the Chesapeake Bay, down to steamy Louisiana. And far away across the sea Dublin stands siege as Russia cast eyes upon Constantinople. For Americans, blue and gray, Britons, Irish, Frenchmen, and Russians, the summer of 1864 is the crescendo battle of destinies and dreams.

Skyhorse Publishing, as well as our Arcade, Yucca, and Good Books imprints, are proud to publish a broad range of books for readers interested in fiction—novels, novellas, political and medical thrillers, comedy, satire, historical fiction, romance, erotic and love stories, mystery, classic literature, folklore and mythology, literary classics including Shakespeare, Dumas, Wilde, Cather, and much more. While not every title we publish becomes a New York Times bestseller or a national bestseller, we are committed to books on subjects that are sometimes overlooked and to authors whose work might not otherwise find a home.
Skyhorse, 9781510769465, 456pp.
Publication Date: October 25, 2022
About the Author
Peter G. Tsouras is an historian who retired from the Defense Intelligence Agency, where he was a senior intelligence officer. He also served with the 1st Battalion, 64th Armor, in Germany. Tsouras is the author or editor of twenty-two books on military operations and alternate history.