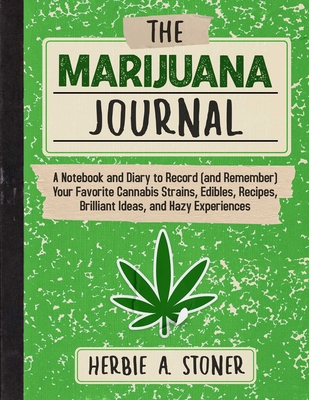 The Marijuana Journal
A Notebook and Diary to Record (and Remember) Your Favorite Cannabis Strains, Edibles, Recipes, Brilliant Ideas, and Hazy Experiences
Paperback

* Individual store prices may vary.
Description
Take your weed-tasting to the next level with TheMarijuana Journal!
Ever have that perfect high but couldn't remember how to get there? Or try a perfect cannabis recipe, but forgot the ingredients after coming down? And with all the different strains out there how are you supposed to remember which ones you like the most? Fret no more! This convenient, pocket-sized journal is perfect to documenting your best (and your worst) pot experiences. Included within are:
Full set of strain criteria and ranking system—everything from potency to color to the flavor profile of the strains.
Blank lined pages alongside criteria for easy journaling, note-taking, drawing, doodling, contemplating, and pontificating.
Quotes about Marijuana from notable people such as Bob Marley, Carl Sagan, Hunter S. Thompson, and more!
Top 10 lists of your favorite sativas, indicas, and hybrids.
Light-hearted and casual, this dope logbook is filled with silly art and tricks and tips for getting the most out of your "Mary Jane." So, light it up and start writing in
The Marijuana Journal
!  
Skyhorse, 9781510769922, 176pp.
Publication Date: November 21, 2023
About the Author
Herbie A. Stoner is a marijuana aficionado and connoisseur. He has been studying and consuming cannabis for more than three decades, and believes not only in the medicinal treatments that the marijuana plant can offer, but appreciates the psychedelic effects as well. He lives in a state where recreational cannabis is legal, and uses it safety and respectfully.