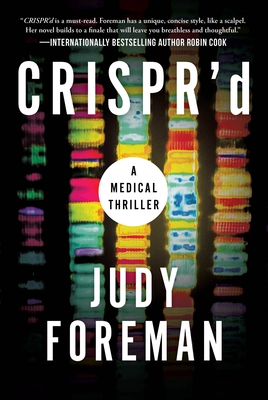 CRISPR'd
A Medical Thriller
Hardcover

* Individual store prices may vary.
Description
For fans of Julia Buckley and Tess Gerritsen, a debut featuring a killer in plain sight using a microscopic murder weapon, the cutting edge gene-editing technology: CRISPR.

Boston geneticist Dr. Saul Kramer is on the cutting edge of genetic disease research. Revered among clients at his IVF clinic, he harbors a dark secret. In addition to helping infertile couples conceive healthy babies, Dr. Kramer is obsessed, for his own dark reasons, with an alternate mission as well. In certain patients, he uses the gene editing technology CRISPR to tamper with embryos, not to improve the health of the embryos, but to replace a healthy gene with a deadly mutation. A young female journalist, Sammie Fuller, begins to suspect what he has done when three infants conceived at his clinic die mysteriously, all at about one year old.  She and a molecular biologist work secretly in his MIT lab to identify any genetic defects in the deceased children and together make a chilling discovery. Thanks to Sammie's blockbuster stories, which go viral, Dr. Kramer is charged with murder and winds up in court. In the subsequent dramatic court scenes, his feisty defense lawyer stuns the world with her defense. Set in this uneasy time of genetic engineering with CRISPR technology, Foreman, spins a compelling tale of love, revenge, and murder.
 
Praise For CRISPR'd: A Medical Thriller…
"Judy Foreman's debut novel, CRISPR'd, is a must-read. A former science writer and health columnist for The Boston Globe, Foreman has written a  page-turner—a medical thriller cum cautionary tale—that will not just have you on the edge of your seat but will enlighten you about the power, and potential dangers, of the new gene-editing technology, CRISPR. Foreman has a unique, concise style, like a scalpel. Her novel builds to an exciting, and unexpected, finale that will leave you breathless, and thoughtful." —bestselling author, Robin Cook 

"Perhaps you haven't been "CRISPR'd" yet, but regardless, you should read Judy Foreman's novel (which is also 'novel' as in 'cutting-edge' and thought-provoking). Her mastery of non-fiction in previous books shines through and combines with a well-paced cautionary-tale. An intriguing and very welcome view point." –—George M. Church, Professor at Harvard Medical School and MIT, and author of Regenesis: How Synthetic Biology Will Reinvent Nature and Ourselves

"CRISPR holds the key to discovering the horrors unleashed by a vengeful IVF physician.  A satisfying and well-paced genetics detective story." –George Annas, Professor of Health Law, Boston University, and author of Worst Case Bioethics.

"Want to take an incredibly exciting journey to the cutting edge of genetic engineering, the law and crime? This is the book for you.  In the expert hands of Judy Foreman, a cast of credible characters in an engaging tale shows how today's emerging techniques for altering humans might become the stuff of courtroom drama and ethical contention in the very near future." —Arthur Caplan, Mitty Professor of Bioethics, NYU Grossman School of Medicine

"Fans of Jodi Picoult will love this first novel from former Boston Globe science and medicine reporter Judy Foreman. With the care that she brought to her news reporting and scientific books and with an incredible ability to make science understandable for all of us, Foreman weaves a powerful story around new genetic technologies and ancient social and ethical issues: When is killing murder and when is it not? Is vengeance ever justified? I could hardly put down this book and resented every interruption in my reading! For anyone who cares about bioethics, this is a 'must-read': deftly crafted, balancing humor and pathos, and combining courtroom drama with the needed twists and turns of a mystery story. May this be the first of many novels from this skilled author."—Karen Lebacqz, former member of the National Commission for the Protection of Human Subjects of Biomedical and Behavioral Research and Bioethicist in Residence at Yale University, chair of the Advisory Council of the Center for Christian Bioethics at Loma Linda University, co-author of Sacred Cells: Why Christians Should Support Stem Cell Research, and co-editor of The Human Embryonic Stem Cell Debate.

 
Skyhorse, 9781510769939, 264pp.
Publication Date: February 15, 2022
About the Author
Judy Foreman is a former Boston Globe health columnist and the author of THREE  works of nonfiction. A Wellesley College grad (Phi Beta Kappa), She spent three years as a Peace Corps Volunteer in Brazil and has a Masters from the Harvard Graduate School of Education. She was a Lecturer on Medicine at Harvard Medical School, a Fellow in Medical Ethics, also at Harvard Medical School, a Knight Science Fellow at MIT and a Senior Fellow at the Schuster Institute for Investigative Journalism at Brandeis University. She has won more than 50 journalism awards including a George Foster Peabody Award and a Science In Society award from the National Association of Science Writers. She lives outside of Boston. CRISPR'd is her first novel.