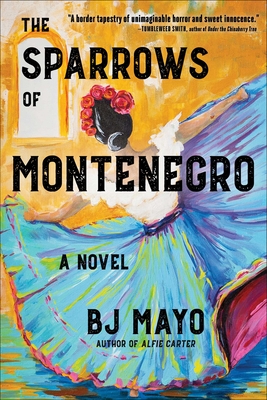 The Sparrows of Montenegro
A Novel
Hardcover

* Individual store prices may vary.
Description
Tree "Bigfoot" Smith and Cedar Jones first meet on the day they join the US Cavalry's Fourth Cavalry Regiment based out of the Historic Fort Concho in what is now San Angelo, Texas, in 1870.

Their journey takes them into the heart of the dangerous Llano Estacado region known as the Comancheria. The area is ruthlessly defended by a band of Quahadi Comanche and their stoic leader, Lonely Horse. The Troop encounters a large group of Comanches and the gun-running Comancheros at Mushaway Mountain, close to Gail, Texas. A quick battle ensues that leaves eight men dead.

Post Cavalry life finds Tree Smith and Cedar Jones as cowhand and cook on the large Rolling J cattle ranch in South Texas bordering the Rio Grande River. The ranch employs two Vaqueros from the village of Montenegro in Mexico, just across the river, whom Tree befriends.

The quiet life on the Rolling J ranch is brought to an abrupt halt when a local sheriff warns that a band led by the cold-blooded, sadistic killer known as Gato Montes has been preying on the ranches along the Rio Grande. After the sheriff is nearly killed by these men, Tree is tasked with tracking them down, only this time, he is traveling alone and the dangers are greatly multiplied. His epic journey takes him back into the Llano Estacado where he is captured by Lonely Horse and taken to Mushaway Mountain where the Comanche carry out their own form of frontier justice.

Tree's return journey puts him on the same path as Marco, a Mexican goat herder, who rides with him to the Mexican Village of Montenegro, where Tree meets Julia, who changes his life forever after he becomes involved in and bears witness to the wonderful celebration of Dia de los Muertos.
Praise For The Sparrows of Montenegro: A Novel…
"This mild-mannered west Texas rancher has woven a border tapestry using yarns made of unimaginable horror and sweet innocence." —Tumbleweed Smith, author of Under the Chinaberry Tree

"I could not put this one down. Mayo has masterfully written a character-driven page-turner, a compelling tale for the reader who seeks something more than the stereotypical western novel." —Ron Schwab, author of Goldsmith and the Law Wranglers series

"A thoroughly enjoyable read—a cowboy's trail you'll want to follow, with a memorable cast of characters, renegades, soldiers, lawmen, and simple folks, and a hero that you'll want more of." —John J. Jacobson, author of All the Cowboys Ain't Gone

"An epic story of the frontier, Sparrows of Montenegro will take you on an unforgettable adventure with a cast of characters true to the American West. Tree 'Bigfoot' Smith, Cedar Jones, Julia, and . . . oh, that bandit!  A daring novel you won't put down until finished." —Steve Green, retired oil and gas professional

"Sparrows of Montenegro is a fantastic story told by BJ Mayo. The attention to detail is remarkable and the characters are as rough and real as BJ himself. It is the most enjoyable book I have ever read." —Dub Roberts, retired oil and gas manager

"Bob Mayo's The Sparrows of Montenegro is an incredible journey through post Civil War southwest Texas, exploring the rich cultures of Native Americans, Mexicans, and the American ranchers. Historically sound and detailed, I gained great respect for those who lived, endured, and survived during this era. Meticulously woven, every chapter leads to a very heart-warming end." —Richard A. Harris, United States Military Academy class of '76
 
"B.J Mayo has managed to intertwine the sometime brutal violence of the Old West with the traditions and compassion of the people just over the border in Old Mexico. Bravo, B.J.! 'The Dance' reminds me of a saying my mother used to tell us as we were growing up: 'Como las palomitas, ya cuando se van del nido.'" —Mark Martinez, oil and gas account executive

Praise for Alfie Carter

"In his debut novel, Alfie Carter, BJ Mayo has crafted extraordinarily original and real characters that will encircle your heart and camp out with you long after you've read the last page. Join Jackaleena and Alfie in their amazing journeys from Africa to Texas in a delightfully original and harrowing path of survival, growth, courage, and faith that showcases grace in its purest form. You will not be disappointed." —Marian P. Merritt, author of The Moon Has No Light

"From the war torn jungles of the African coast to the dusty hills of West Texas, Alfie Carter  is an incredible story of courage, faith and love."  —Robert C. Martinez, PE, president and CEO, Titan Rock Exploration & Production

"A wonderful story masterfully written. The storylines were presented and woven together to make a fascinating read—easy to follow with proper attention given to detail. Highly recommended."  —Rory Pendleton, Texas A&M class of '78

"Bob Mayo is a good storyteller whose attention to detail draws the reader into this wonderful story of hope, perseverance, and faith. A very enjoyable read." —Tommy Knowles, retired oil and gas executive
Skyhorse, 9781510770669, 312pp.
Publication Date: February 8, 2022
About the Author
BJ Mayo was born in an oil field town in Texas. He spent the first few years of his life living in a company field camp twenty-five miles from the closest town. His career in the energy industry took him to various points in Texas, New Mexico, Colorado, Utah, Louisiana, Bangladesh, Australia, and Angola West Africa. He and his wife were high school sweethearts and have been married for forty-six years with two grown children. They live on a working farm near San Angelo, Texas. He is also the author of Alfie Carter: A Novel.