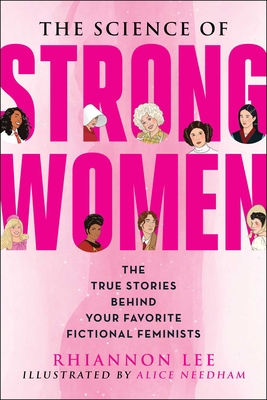 The Science of Strong Women
The True Stories Behind Your Favorite Fictional Feminists
Paperback

* Individual store prices may vary.
Description
Discover all there is to know about strong women in fiction: Hermione Granger, Wonder Woman, Princess Leia, and more!
A strong woman is not just a badass lady who solves her problems with a high kick and a sassy comeback, all the while looking fabulous in a cape (although the cape is a plus!). A strong woman is a pioneer for bravery, intelligence, determination, and social justice for all.
Compelling, humorous, and brilliantly illustrated in equal measures,
The Science of Strong Women
showcases a collection of fifty fantastic fictional feminists we all know and love. Through media analysis and awe-inspiring discoveries, this inspirational guide delves deeper into female-forward fiction and features a truly diverse collection of strong women including:
June Osborne
Star Carter
Katniss Everdeen
Elizabeth Bennet
Éowyn
Jo March
Buffy Summers
And many more
Here's to strong women. May we know them, may we be them, and may we learn from them with
The Science of Strong Women
.
Praise For The Science of Strong Women: The True Stories Behind Your Favorite Fictional Feminists…
"Rhiannon Lee has compiled the ultimate collection of fictional feminist heroes across literature and pop culture without shying away from problematic histories—a master class in the deeply feminist tension of critiquing and celebrating cultural icons in the same breath. From the characters we met in high school lit to the characters in our Netflix queue, The Science of Strong Women is a must-read book for all the Starr Carters, Leslie Knopes, and Leia Organas out there."
—Renee M. Powers, founder of FeministBookClub.com

"A total sensation! Beautifully illustrated frank, funny, and an inclusive guide to true feminism and some of the world's greatest badass babes. Girl power!"
—Ella Norman, The Pink Room
 
Skyhorse, 9781510770874, 216pp.
Publication Date: August 2, 2022
About the Author
Rhiannon Lee holds a PhD in chemistry and is a strong campaigner for the recognition of women in science. She hopes to bring her own experience of how strong women have influenced her own life and the decisions she makes today. Rhiannon resides in the United Kingdom.